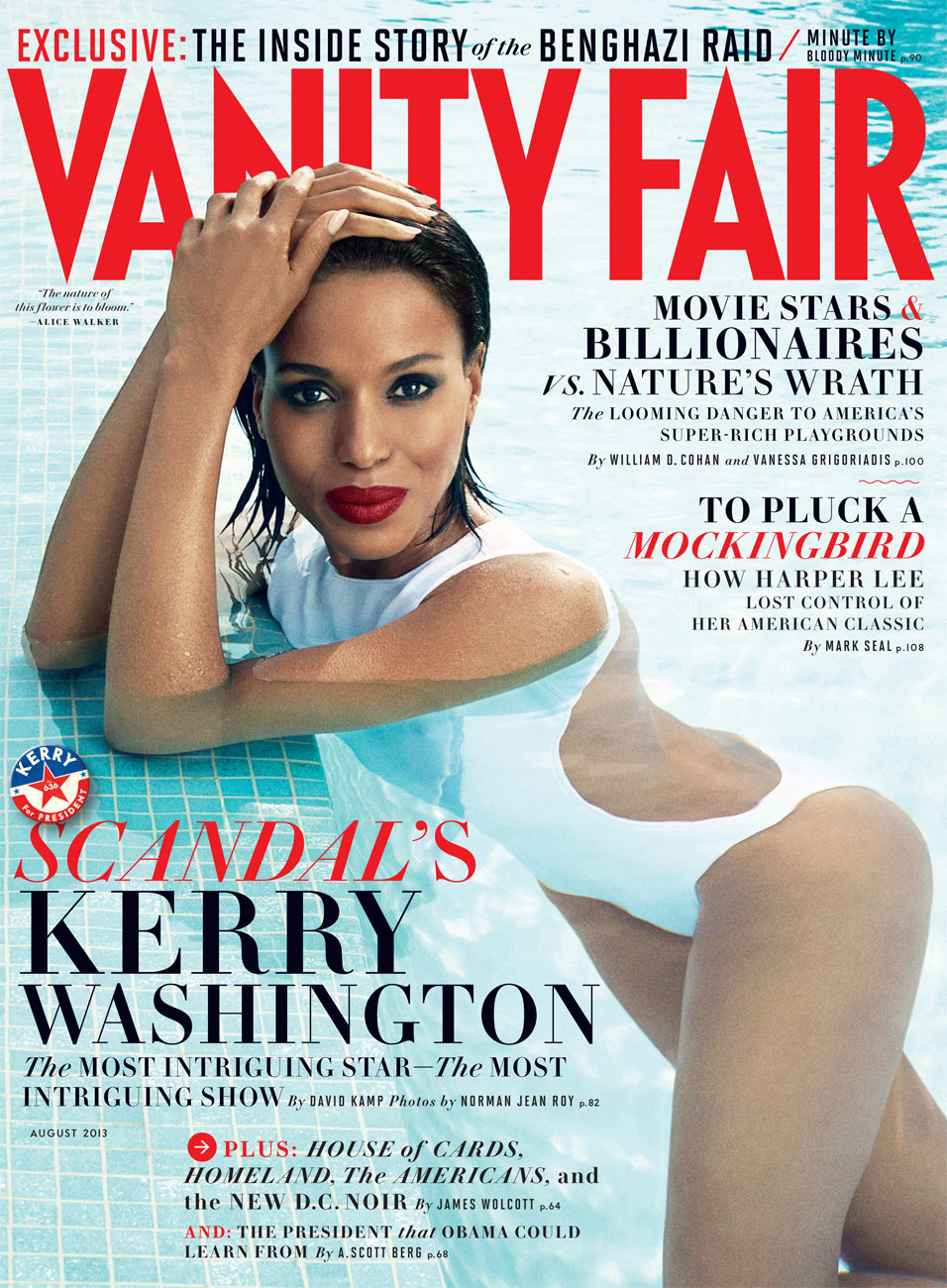 Kerry Washington covers the August issue of Vanity Fair. It's a really big deal – Jezebel points out that VF in particular has a race problem, as do many of the "major" magazines, and VF hasn't had a solo black woman on their cover since Beyonce in 2005! So, while it's good that VF is choosing to recognize someone incredibly worthy of more attention (Kerry is the first African-American female lead of a TV drama in DECADES, Scandal is a huge hit, etc), it's not all sunshine and roses in pop culture race relations, you know? Now, let me get off my soapbox. Kerry's cover is lovely and striking, and I like the cut-out swimsuit on her and I love the red lipstick (she's one of the few women who can get away with that shade). The interview sounds interesting too, so I can't wait for my issue to come:
Kerry Washington, who portrays Washington, D.C., fixer Olivia Pope on ABC's hit drama Scandal, tells Vanity Fair contributing editor David Kamp in the August cover story that "one of the most profound things for me about the show is the number of white women of all ages who come up to me and say, 'I want to be Olivia Pope.'"

"It's especially profound in a place like South Africa," she continues. "It's called The Fixer over there, and it just started its second season. The fact that white women can see this woman of color as an aspirational character is revolutionary, I think, in the medium of television. I don't think white women would feel that way about Olivia if her identity as a woman, period, wasn't first in their mind."

Washington sees the role of fixer as inherently feminine: "What I think is cool about Olivia is that she fully owns being a woman. There's a very nurturing sense of 'I'm going to take care of you—don't worry about it. I'm gonna be your mom in this situation. You come stay in my office, have a cup of tea, and let my gladiators take care of you.' There's something very maternal about it. But there's also something very executive about her, and I mean 'executive' in a presidential way."

Washington assures Kamp that she is not Olivia Pope and says she is not as smart as the character she plays: "I have to learn things to be her all the time." Her actor's prep includes some student-like cramming—for example, reading Jeffrey Toobin's The Nine to better understand Supreme Court machinations—and regular phone conferences with Judy Smith, the real-life D.C. crisis-management expert upon whom Olivia is loosely based.

The only child of two Bronx-based professionals, Washington had a socially conscious upbringing. She tells Kamp that at 13 she was taken to Yankee Stadium to see the newly freed Nelson Mandela speak, and upon turning 18, she recalled, "my becoming a voting citizen was celebrated the way other people would celebrate a Sweet 16. My parents took me out to dinner, and we talked about who I was going to vote for." She also says that she took up swimming as a child because her parents told her it was the one sport in which proficiency might mean the ability to save a life.

Washington tells Kamp that some of the best actor training she ever had was as a teen safe-sex advocate, performing self-written sex-ed sketches with an educational troupe in schools and community centers: "We would stay in character after the show, and the audience would interact with us. It taught me the importance of really understanding everything about who you're playing, because you never knew what question was going to come."
Kerry is a really interesting young woman, isn't she? I hope that little girls (of all colors) find her to be an inspirational woman. I love the voting age story – I wish I had parents like that! Kerry is a college graduate too – she went to George Washington University, and she double-majored in anthropology and sociology. Anyway… I really need to start watching Scandal. I have the first season DVDs, I just haven't had the time to watch them. I will get on it, I promise.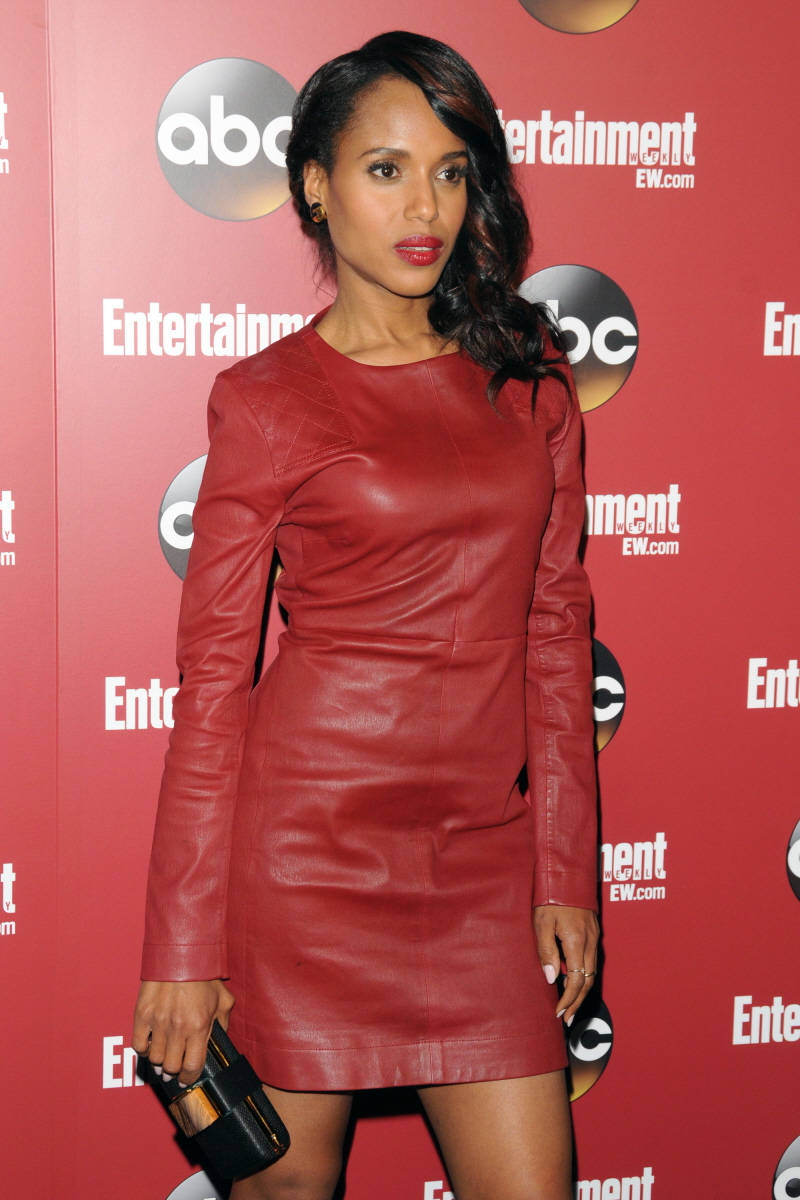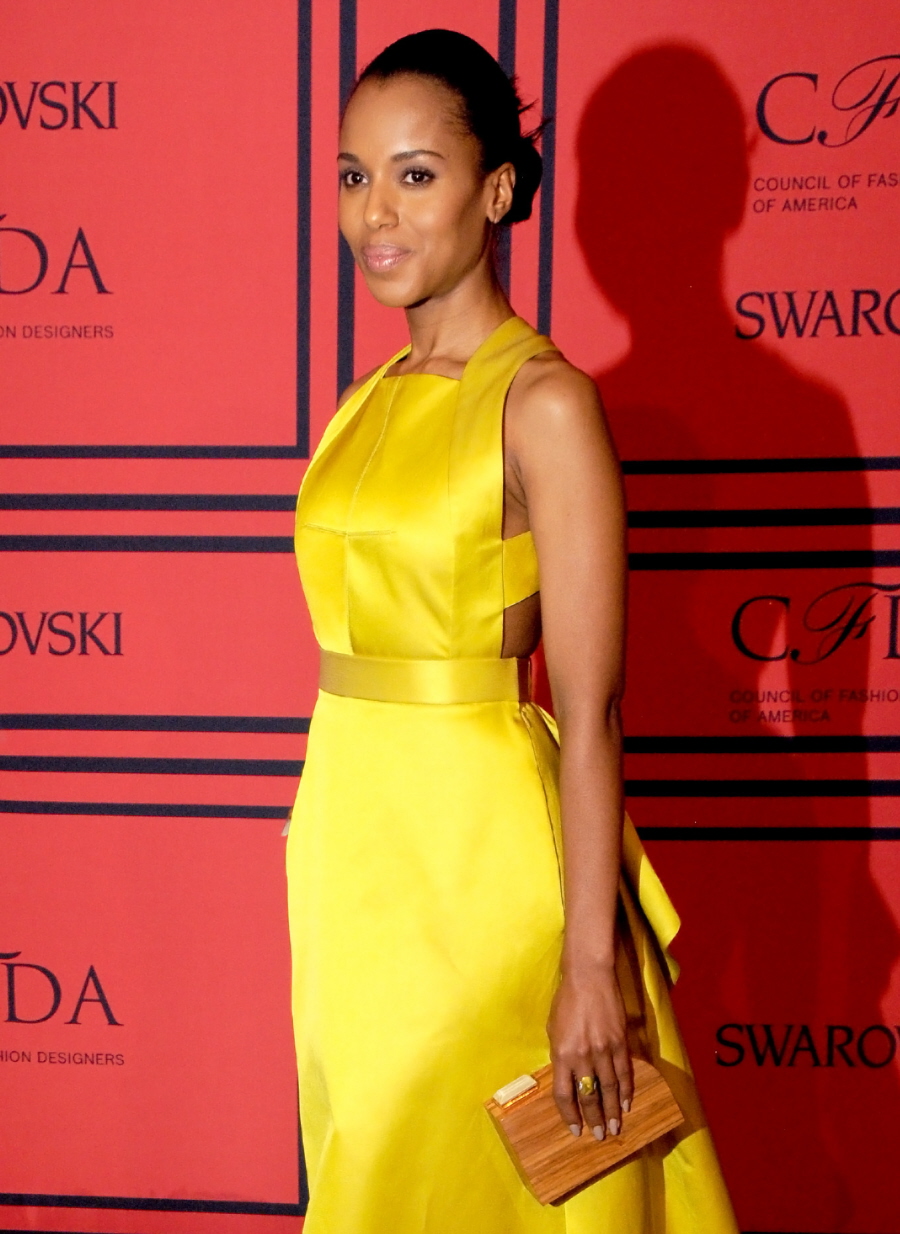 Cover courtesy of Vanity Fair, additional photos by WENN.