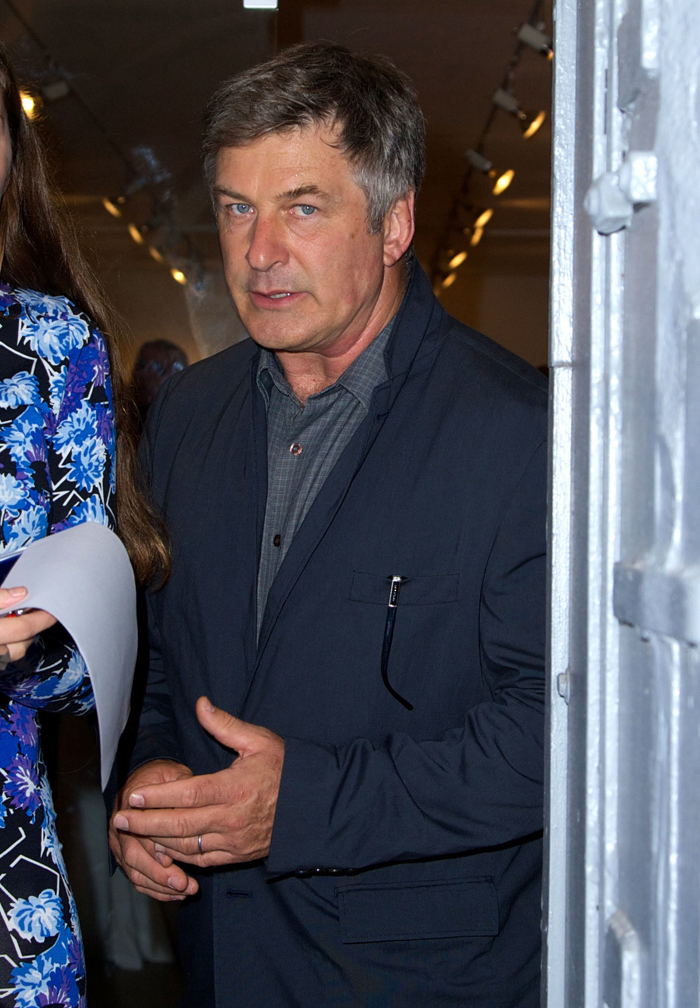 Here's Alec Baldwin on Monday at the opening party of the "Rock Paper Photo" photographic collection which he "curated." Let me first say that the word "curated" has cracked me up ever since Gwyneth Paltrow started using that word to describe what she does at her Goop site. I'm not making fun of legitimate curators at all. For many years, my grandma was an art museum curator and travelled the world to do so. What Alec has done here is to simply collect 30 photos of his favorite music and film legends, and his selections include the Beatles, David Bowie, the Stones, and Liz Taylor. You know, the usual legends. Yet he's acting like it's some huge, creative endeavor to pick out his favorite photos and show them in a gallery.
Now Alec's speaking to Vanity Fair under the guise of promoting this collection, but we know what this is really about, right? Let me put it to you this way — the last time Alec covered VF (and this new interview isn't for the cover, just an online feature), the conversation devolved into how he'd love to stab, "gut & kill" Harvey Levin of TMZ. Likewise, this conversation about Alec curating a photo collection has turned into him whining about people calling him out for his latest Twitter rant wherein he threatened to "f— up" a "toxic little queen" for writing that his wife tweeted during James Gandolfini's funeral.
Poor Alec Baldwin has been so plagued with actual, legitimate criticism, and he just doesn't know what to do, you know? He's probably written a check apologized to GLAAD, and yet people haven't instantly forgiven him. It's not like this is a Paula Deen scenario wherein Alec has lost sponsorships or anything, but still, Alec thinks it's so unfair. Dude doesn't realize that he's the one with a problem, and that problem is the anger that consumes his entire person. But let's do this: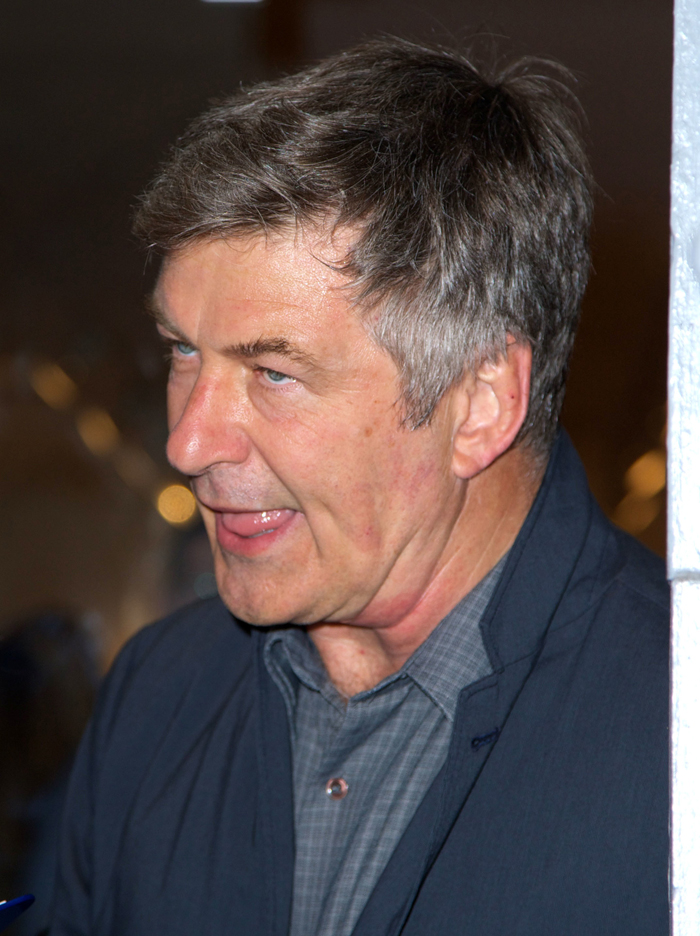 He loves classic movies & music: "I'm 55, man, yeah. It's all classical now. My whole life is classical now. Except my wife. I don't have a classical wife. I have a classy wife, but I don't have a classical wife."

His odd home collection: "I collect travel alarm clocks. I was in a flea market in France once, in 1994, and I opened up this beautiful Jaeger-LeCoultre folding eight-day winding clock folded into a beautiful case, and I went, Wow, man. And I've been collecting travel alarm clocks since 1994. I have them planted on different surfaces, but my wife now is telling me we have to get rid of them. She thinks it's a little Tim Burton. She's waiting for Johnny Depp to come walking in the room with, like, a cape on or something."

Will he ever tweet again? "Never. No. I went to Jimmy Gandolfini's funeral, and when I was there I realized Jimmy Gandolfini didn't have Twitter. Jimmy Gandolfini was so beloved as a person, and he was so admired as an actor, and he didn't give a f* about social media. I really learned a lesson at the funeral. I said to myself, This is all a waste of time. Meaning it's fun sometimes, but less and less, and less. It's just another chink in your armor for people to come and kill you. I stopped and said to myself, I'm going to try where I just don't do this anymore."

He'd love to not be famous: "I'm having a baby. And everyone has seen how certain things have played out with my daughter, which as been very painful–it's been really unpleasant. That has consequences, and I do not want that to happen with my next child. I have one dream in my life and that is that this daughter I'm having–she comes to me about seven or eight years from now, she has a friend, and she's at her house and she says, 'Daddy, Susie's mom says you used to be on TV. Daddy, is that true?' She has no knowledge of me as a public person. That would be heaven for me."

Will he quit acting? "I'd love to if I could, yeah. That would be the greatest thing in the world. I would love to. If I could find something else to do."
[From Vanity Fair]
I didn't quite catch what Alec was saying about the tweeting-related epiphany he had at Gandolfini's funeral. It sounds like Alec's trying to make us believe that he decided during the funeral that he didn't want to tweet anymore and basically decided to push the self-destruct button on his account. But he's only trying to retroactively justify deleting his Twitter page after his latest temper tantrum.
Also, that's interesting what Alec says about Hilaria, isn't it? Very nice, really (I'm being serious), and yet she wants to get rid of his travelling alarm clock collection. He truly adores the woman, but I'm also wondering if Alec realizes that he might lose his trophy wife if he steps out of the limelight, which would mean that he feels so trapped in the awful life of an actor who earns several million dollars per year. Poor guy.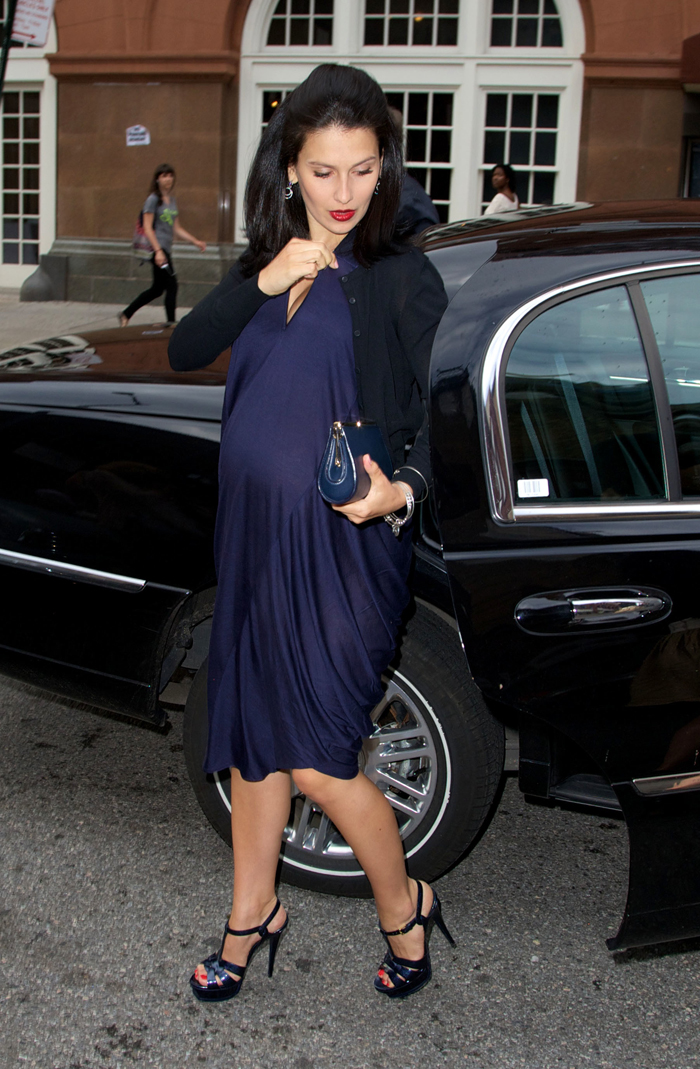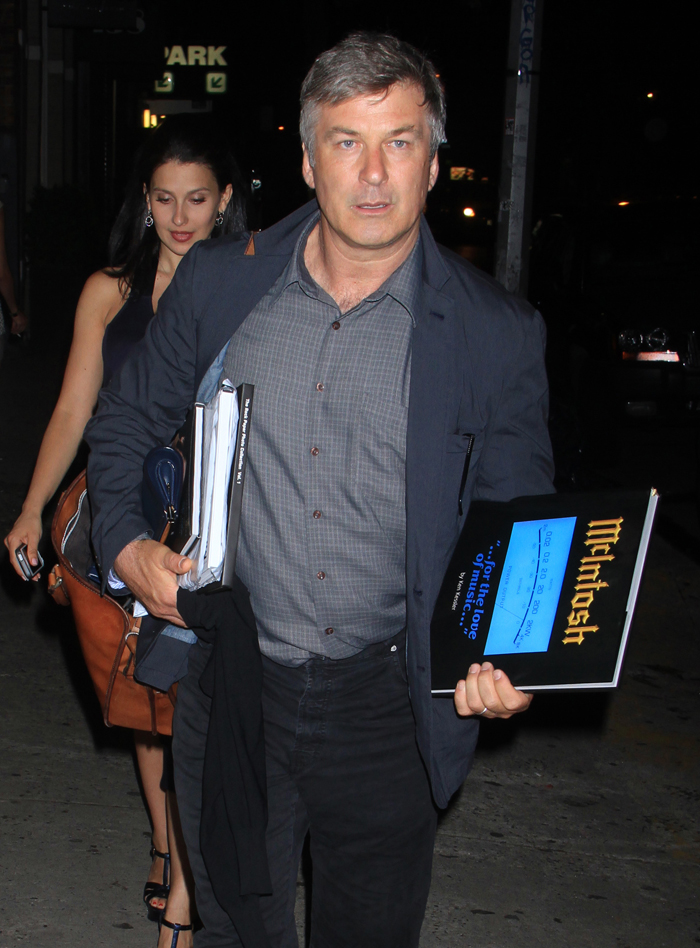 Photos couresty of Fame/Flynet and WENN