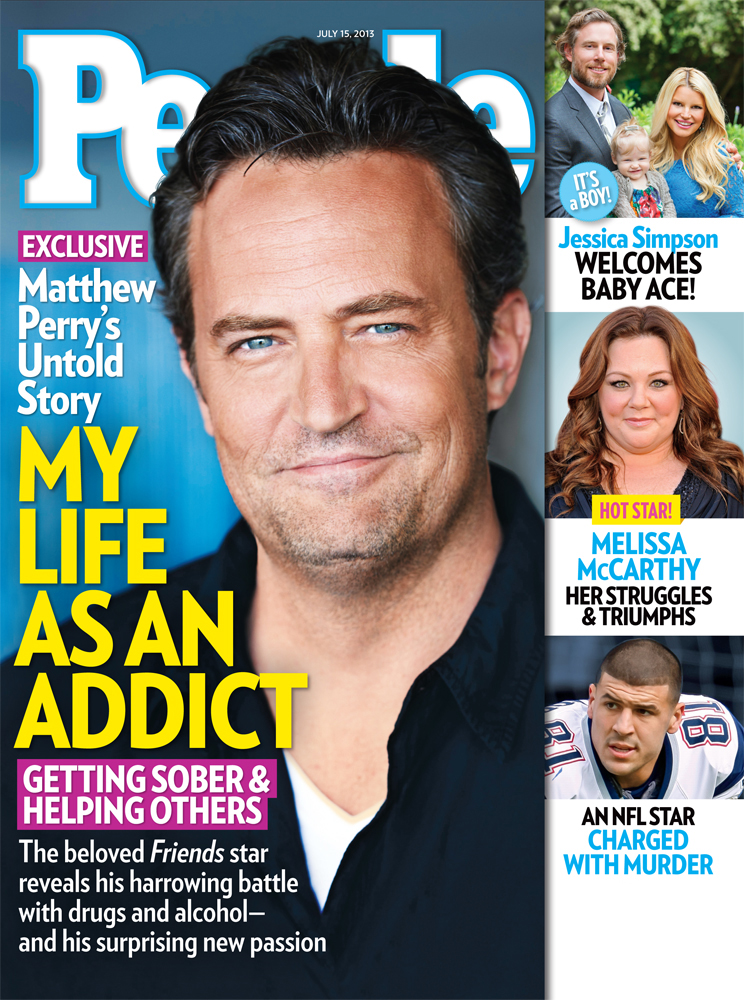 A scruffy, smirking Matthew Perry covers this week's People Magazine with the tagline "My Life as an Addict." Perry, 43, has been sober for years after publicly battling addiciton during the height of his fame in the late 90s and early aughts. We last heard him talk about his addiction issues during interviews he did a little over a month ago, when he was discussing his advocacy work. Perry was honored at the White House a few weeks ago for his work advocating for drug courts, which attempt to use rehabilitation for addicts instead of incarceration.
He's really put his money where his mouth is, and donated his entire house in Malibu to be used as a men's sober living facility called Perry House. So it's kind of heart-warming to see Perry cover People this week, and to see him him get the recognition he deserves. He's not even promoting anything so kudos to People. Here's a preview of their upcoming story:
For a decade, Matthew Perry was living an actor's dream: he had an iconic role as sardonic Chandler Bing on the beloved No. 1 sitcom Friends and a salary that reached $1 million an episode.

But behind the scenes, Perry was struggling. "I had a big problem with alcohol and pills and I couldn't stop," he tells PEOPLE in an exclusive new cover story. "Eventually things got so bad that I couldn't hide it, and then everybody knew."

After a harrowing, years-long battle with addictions to alcohol and Vicodin, Perry, 43, finally got sober. "Something clicked," he says. "You have to want the help." And he's now dedicated to helping other addicts. He turned his former Malibu beach home into a men's sober living facility called Perry House, and he's becoming a passionate advocate for drug courts, through which non-violent substance abusers receive treatment instead of incarceration for their offenses.

Perry, who recently starred on the sitcom Go On and appears in recurring role on The Good Wife, says that sobriety and helping others have led him to finally find "true happiness" in his life. "The interesting reason that I can be so helpful to people now is that I screwed up so often," he says. "It's nice for people to see that somebody who once struggled in their life is not struggling any more."
Several of you commented on our last Matthew Perry story that he's been with actress Lizzy Caplan since 2006. I didn't know that! I really liked her in Hot Tub Time Machine and "True Blood." The make a cute couple, but they're not attention seeking in the least. I've never seen a photo of them together on a red carpet or anything. (There are photos of them at sporting events together, but I didn't notice until now.)
Perry was so good in "Go On" and I'm bummed that the show was canceled. Decent sitcoms are rare, and he really has the comedic chops to carry his own show, he just needs the right vehicle. Maybe Perry could find a home on cable. He would be awesome in a raunchier comedy I think.
While I'm psyched that Perry is getting some love I can't help but think that Melissa McCarthy over on the right sidebar there could have earned a full cover. The Heat is a big hit and she's a bona fide movie star now. Maybe she didn't grant People an exclusive interview though.