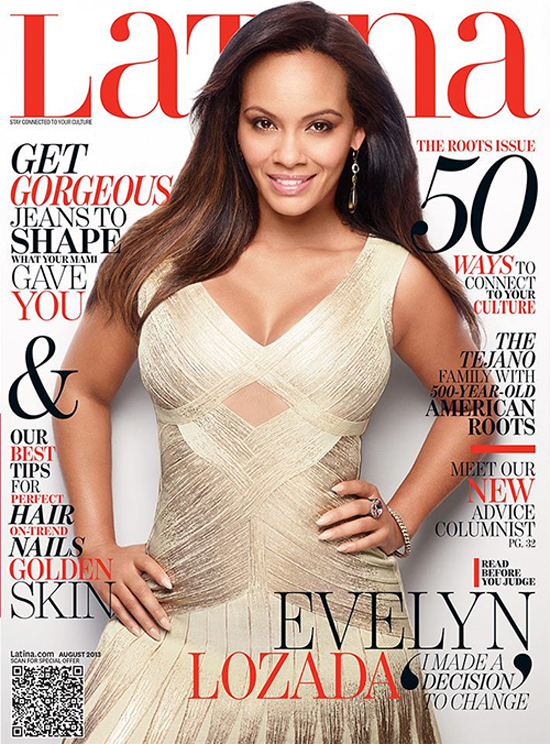 Evelyn Lozada covers the August issue of Latina magazine, and she really looks like a bustier version of Zoe Saldana on this cover, doesn't she? It's like some enterprising photoshop artist superimposed Zoe's face on Evelyn's body. Strange.
Evelyn is using her interview as a forum to discuss her super-major life overhaul that she's embarked upon following the end of her relationship with Chad "Ochocinco" Johnson last year. The Fourth of July would have been their one-year wedding anniversary, but of course, Evelyn filed for divorce after six weeks of marriage when Chad head-butted her during an argument about a receipt for condoms that she found in his car. I would use the word "allegedly," but Chad plea-bargained his way out into probation for the incident, so he pretty much gave up the right to declare himself innocent. Further, gruesome photos of Evelyn's forehead gash surfaced about a month ago, and they tell a tale all by themselves. In addition, Chad obviously didn't take the situation seriously at all because he recently slapped his lawyer's ass in open court and earned himself a revocation of his probation and 30 days in jail. Here are some excerpts from Evelyn's interview:
On her time with Chad: "When times were good, times were great. We would laugh a lot. It was just one of those things… There was nothing in the middle — when it was great, it was great; but when it was bad, it was real bad. There was no in between."

On the domestic abuse: "We had issues. Nothing like that though. Obviously nothing like that. But I will say this: what's sad is that if that day, if I didn't have physical wounds, I probably would've walked right into that house [after arguing] because I wouldn't have wanted anyone to know. I would've been embarrassed. I wouldn't have wanted my family to know. I think that happens a lot with women and even men because I've had a lot of men, especially gay men, tell me that they've been in abusive relationships. You're embarrassed and ashamed."

On her feelings after the violent abuse of her ex-husband during an argument: "At that point, I knew my life would never be the same. I knew the world was going to laugh at me and be mean and nasty and blame me for everything. But I had no choice. I had to go to the hospital."

On why she plans to start a foundation to help victims of domestic violence called Pain Is Not Love: "I get e-mails every single day from women who are still with their abusive partner and they're like, 'I need help.'[...] Being an advocate for domestic violence, you don't choose that. I got chosen via the circumstances that happened. But I cannot imagine me being in that situation and not being able to do anything, just being stuck. So that's how the foundation came about. To help women get out."

On trying to reform her life with the help of life coach & being re-baptized: "Tony [Gaskins Jr.] was talking to me about soul ties, and I felt like I needed to cut that cord [with Johnson]. I wanted to do things differently, to start over. I'm still going to be Evelyn, but I have a different vision of my life."

On being a reality star: "I really don't [see myself doing this forever]. I see myself working behind the scenes — whether it's working on my books or doing stuff on TV shows. I really want to have a family. And if that presented itself to me, I would probably just enjoy the moment because I feel like, with my daughter, it went by so fast! I really didn't have the chance to just enjoy that moment of having a family. I have a desire for that."
[From Latina magazine]
I'm not a religious person at all, but is it even possible to be "re-baptized"? Well I'm sure it's possible in a technical sense, and I guess it's a matter of what one believes that the scripture allows, but it's a controversial concept, and not all Christian denominations allow the practice.
Meanwhile, I know that some of you think that Evelyn is a bit of a famewhore (to put it mildly), but that doesn't in anyway lessen her status as a victim of domestic violence. If she's truly preparing to launch a foundation to help fellow victims, that can only be applauded. Now as to her insistence upon wearing leopard print … that's a different story.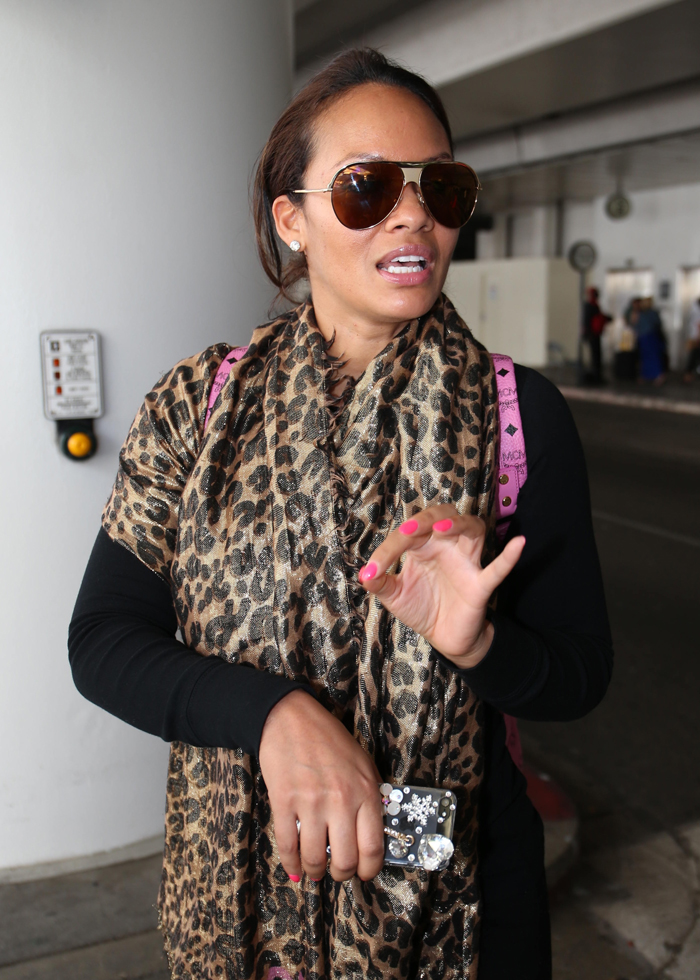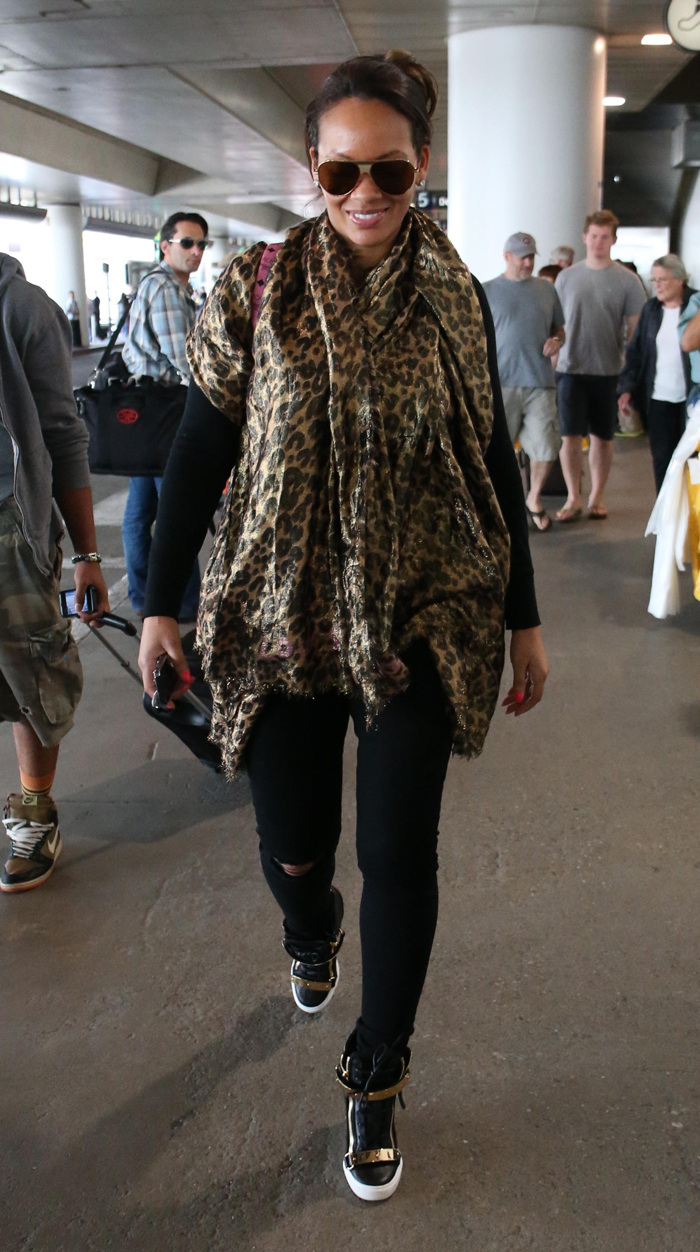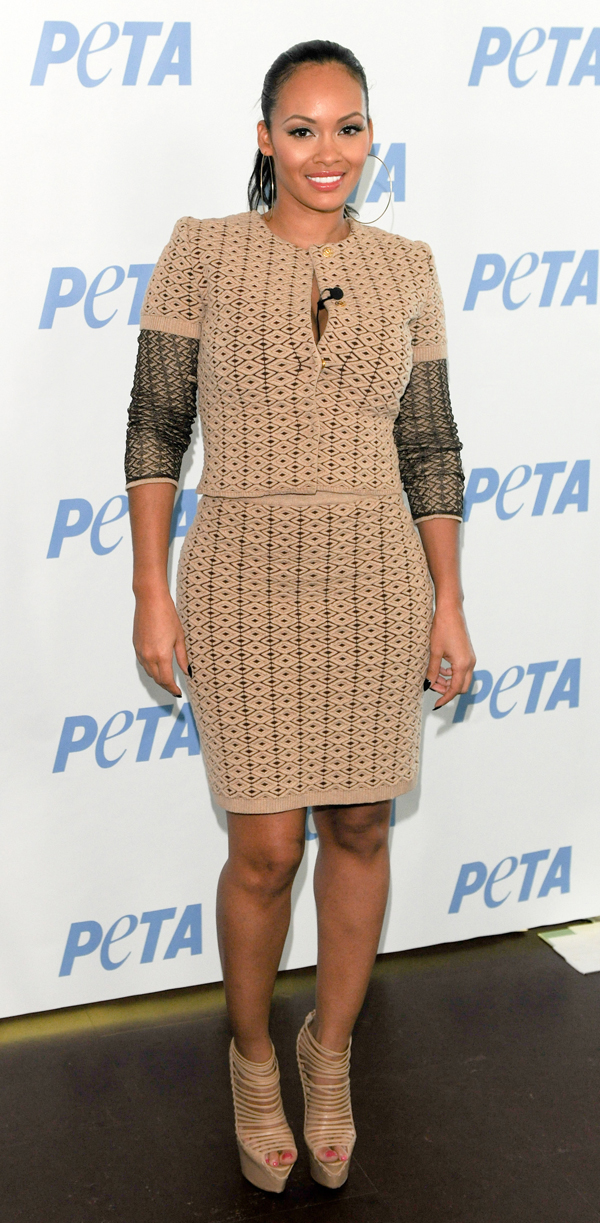 Photos courtesy of Latina magazine and WENN