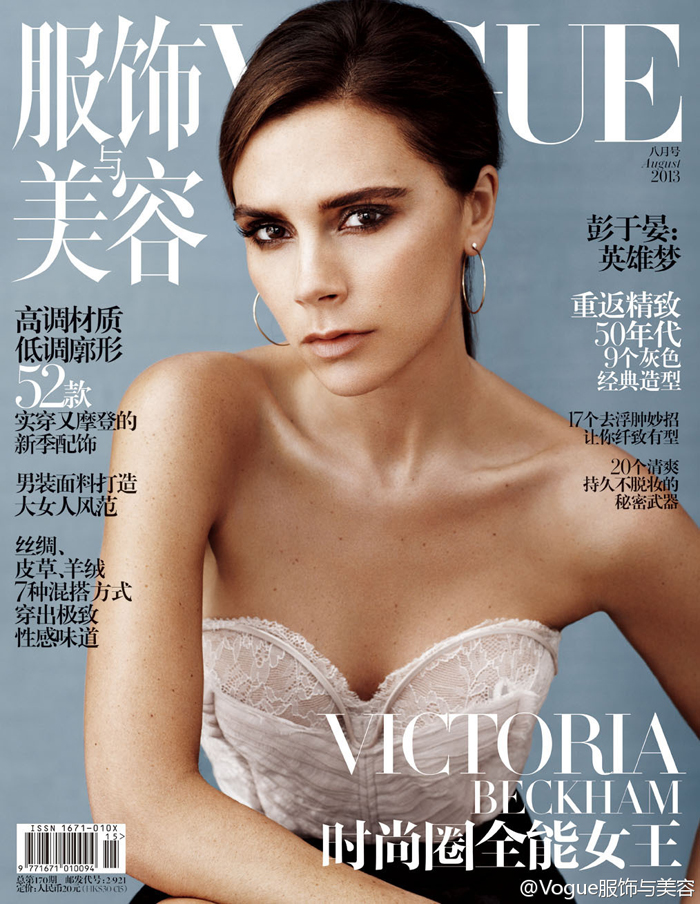 Victoria Beckham covers the August issue of Vogue China, and she looks like a delicate little … China doll. Over the past decade or so, I've always thought that Victoria seems incredibly fragile from a physical standpoint as she is not naturally thin but appears to deprive herself by looking at a cake and choosing to eat a celebratory fruit plate even on special occasions such as birthdays. I honestly don't mean to knock ultra-skinny people at all, but Victoria always looks so hungry and full of self deprivation, and this cover is no exception. I love her sarcastic, witty personality, but I worry about Posh. For real.
While the bustier shot on the cover isn't very flattering, Victoria fares better in the editorial, which is rather subtle and photographed by Josh Olins. This black coat is rather gorgeous, isn't it? That's my favorite shot of the bunch. The interview isn't anything special and mostly involves VB talking about her work-induced guilt as a mother of four. Victoria has talked about this subject very recently in terms of balancing work and motherhood, but I suspect that it weighs very heavily on her mind especially after giving birth to little Harper Seven: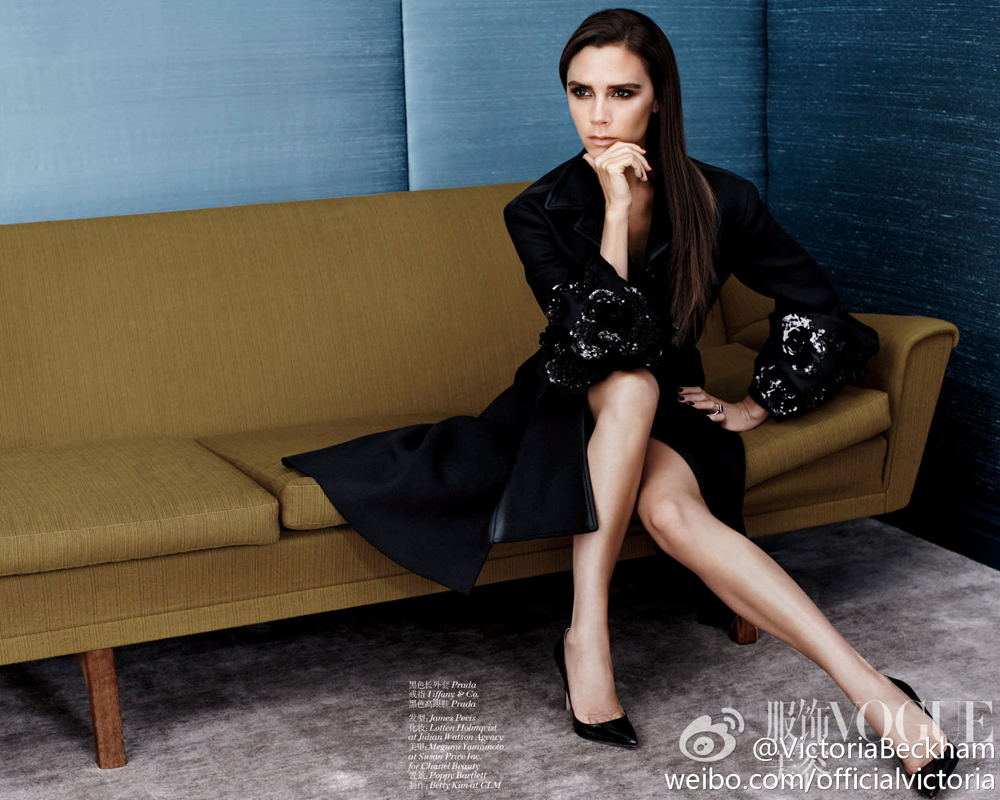 On staying on top: "When you are successful, the hardest thing is maintaining that level of success, so you work harder to maintain what you have achieved."

Working motherhood is tough: "It's a huge juggling act, when you are a working mother and looking after your family. Millions and millions of women around the world are doing this every day, but it's not easy and yes, you feel guilty every time you walk out of the door to go to work."

But it's all worth it: "I have been in the limelight for over 20 years. I am not on an ego trip; empowering women and making them feel sexy and great when they wear my clothes means more than thousands of people clapping. Empowering women is what makes me feel good."

She's a China girl: "I love China. The women really understand fashion and I can honestly say the women who come to my events are some of the most beautiful women I have ever seen. They have remarkable bodies and are happy and positive and I love that. I think they know what looks good, how to accessorise and have beautiful hair and flawless skin."
[From Vogue China]
I suspect that, at this stage in the fashion game, Victoria could get away with a hefty amount of delegation, but she enjoys maintaining a high level of control over her empire. And that's fine. She and David appear to be very close to their children, and David won't be away nearly as much from the family now that he's officially retired from professional soccer. Now it's Victoria's time to shine, but I understand her working-mom guilt completely.
By the way, is anyone else wondering what Victoria means by the "remarkable bodies" of women in China? I think she meant to say, "petite."
Photos courtesy of Vogue China