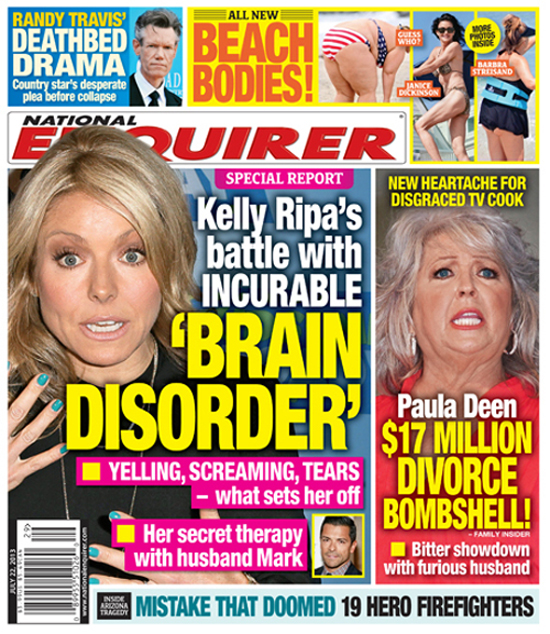 You're looking at a very dramatic cover from the Enquirer that promises salacious details about Kelly Ripa's so-called "incurable brain disorder," and that's just a cruel way to frame what sounds like essentially an anxiety issue. Apparently, Kelly has admitted to suffering from an issue that I suspect is more common than most people realize — a sensitivity to sounds, such as slurping or chewing loudly, that are related to eating.
When I started to think about this story more, I realized that I have a few friends who are also bothered by the same noises (and one who refuses to enter a movie theater on opening weekend because she can't stand the sound of popcorn crunching). My daughter is also very troubled by the sound of my dogs grooming themselves while licking. So I think this "disorder," which is really a condition called "misophonia," isn't something that should be shouted from the rooftops on the cover of a tabloid. I mean, it's great that the issue is receiving some awareness, but it's not the Enquirer's place to do that because they're just trying to move some issues off the newsstand. Here's the story, and I feel awful for Kelly for having to cope with this issue, but I feel even worse that she's seeing her face on the cover of a tabloid for something that she cannot help: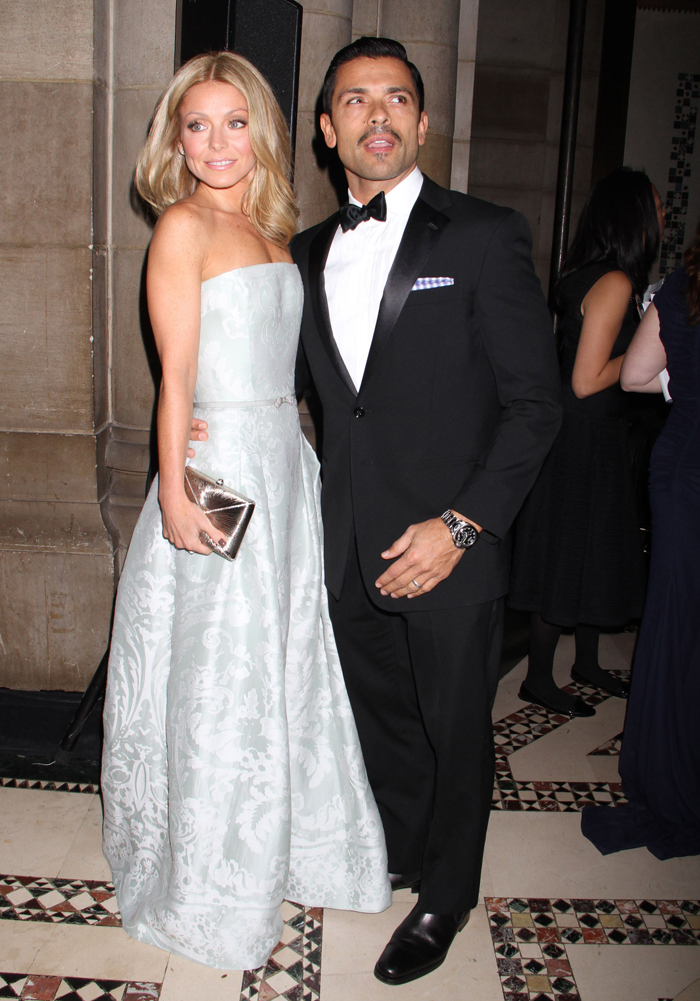 Kelly Ripa is struggling with a rare and incurable neurological disorder that's causing a terrible strain on her and her family!

The perky "Live!" host, 42, admits that even the sounds of her family chewing and swallowing make her "insane" and can send her into a rage. But an insider says her devoted husband Mark Consuelos is battling to keep Kelly's self-diagnosed condition, known as misophonia, in check.

"Kelly says that her anxiety level increases considerably when she's exposed to certain sounds," divulged a longtime friend. "Her condition is getting worse and she's prone to sudden reactions of intense anger and annoyance, usually triggered by a noise made by Mark or somebody close by.

"It may sound funny but it's not! Kelly can become enraged at anyone for something as simple as chewing with their mouth open. Mark has to remain calm and explain to the people that Kelly isn't really mad at them. It's something she just can't control, but it's led to yelling and screaming … and tears."

The beloved TV star says she's wrestled with the little-understood disorder since she was a child. "As early as I can remember, certain sounds of eating really bothered me," Kelly revealed in a 2012 interview on ABC's "20/20." Although her representative stated that she has never been diagnosed with the disorder, Ripa has talked at length about her aversion to certain sounds.

And things haven't gotten any better, as she said: "The sounds of people chewing gum can really enrage me." Kelly, who says the condition has not harmed her career, added that quiet dinners with Mark, 42, and their children — Michael, 16, Lola, 12, and Joaquin, 10 — can be a recipe for disaster. If one of them is chomping, slurping, gulping, or ever swallowing too loudly, "my gut reaction is to yell, but I control that," Kelly said. "If my husband eats a peach, I have to leave the room."

Misophonia is a rare disorder that literally means "hatred of sound." "Dealing with misophonia takes a lot of patience from every member of the family along with qualified help from therapists who understand the disorder," Melanie Herzfeld, and audiologist from Woodbury, N.Y., who has not personally treated Ripa, told The Enquirer.

While Kelly's condition is tough on her, other sufferers appreciate her candidness. In fact, the misophonia.com website notes, "Thanks to Kelly Ripa, this condition was noticed by thousands of people in America and across the globe."

In the meantime, former "All My Children" star Mark has helped Kelly cope by giving her moral support and organizing frequent visits to a getaway in Telluride, Colo., a source says. "He can anticipate the sound triggers that will set her off. He will do anything humanly possible to make sure Kelly avoids them. Mark is doing everything he can to help Kelly combat the disorder so the whole family can live in peace."
[From Enquirer, print edition, July 22, 2013]
What do I get from this story other than the fact that the Enquirer published a sensationalistic cover only to "reveal" that Kelly suffers from a sensitivity to sounds of eating? If it's all true, then now I finally know that Mark is pulling some weight in this marriage too. After all, Kelly has already admitted to serving Mark breakfast in bed, and he has admitted that he loves their 1950s-styled domesticity. So while this Enquirer story paints Mark as some sort of beleaguered spouse who is forced to "keep the peace" in spite of Kelly's neuroses, I think we know better than that. Mark is a good guy, and Kelly is a good woman. They are fine.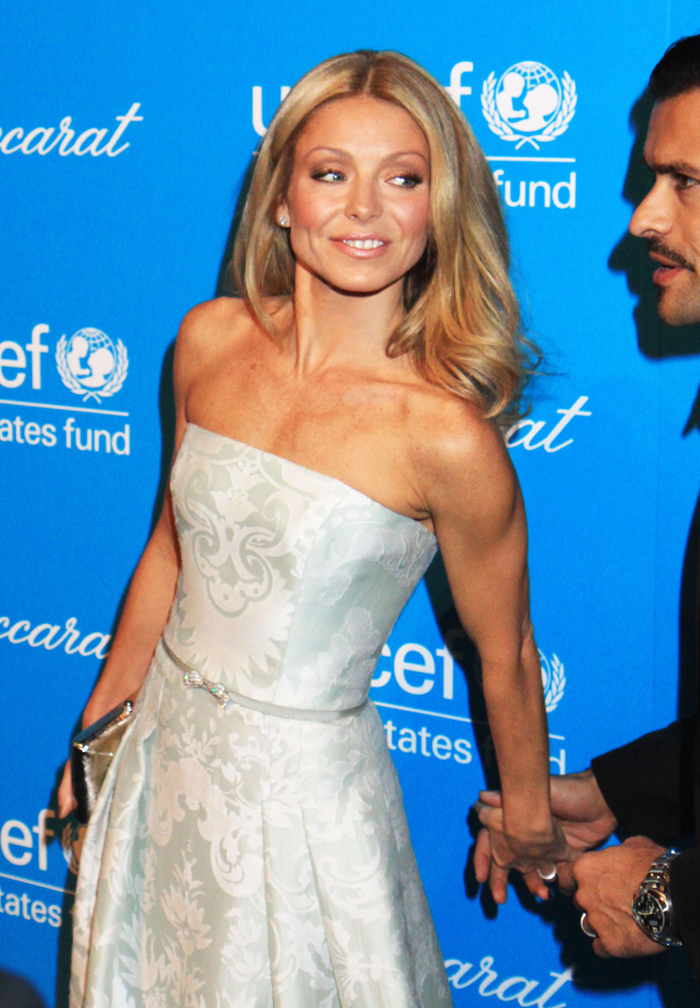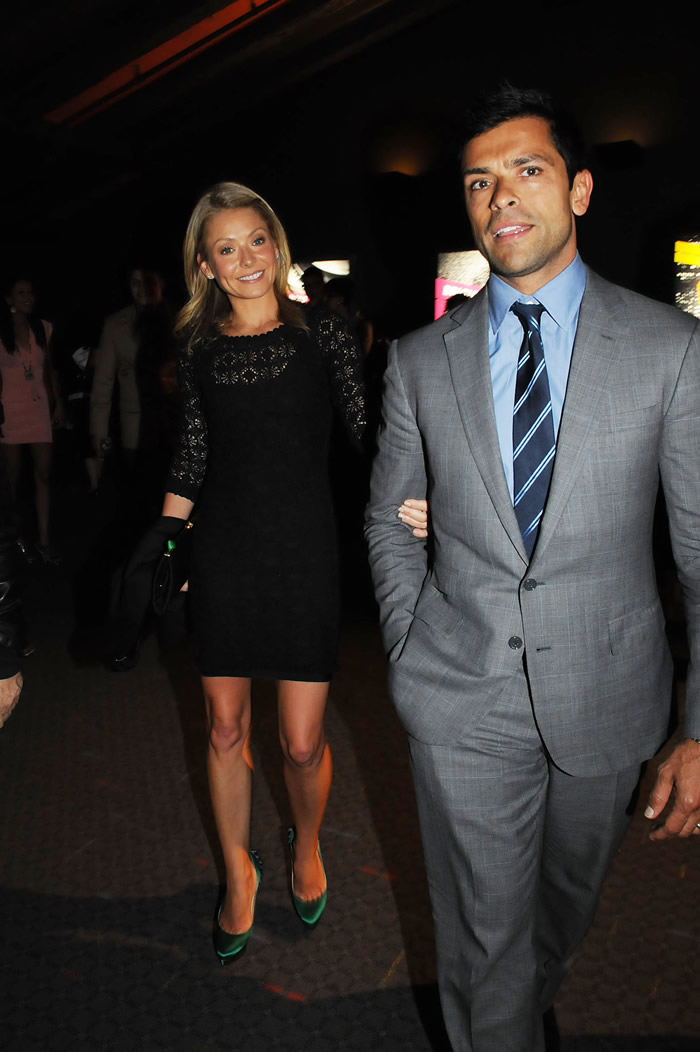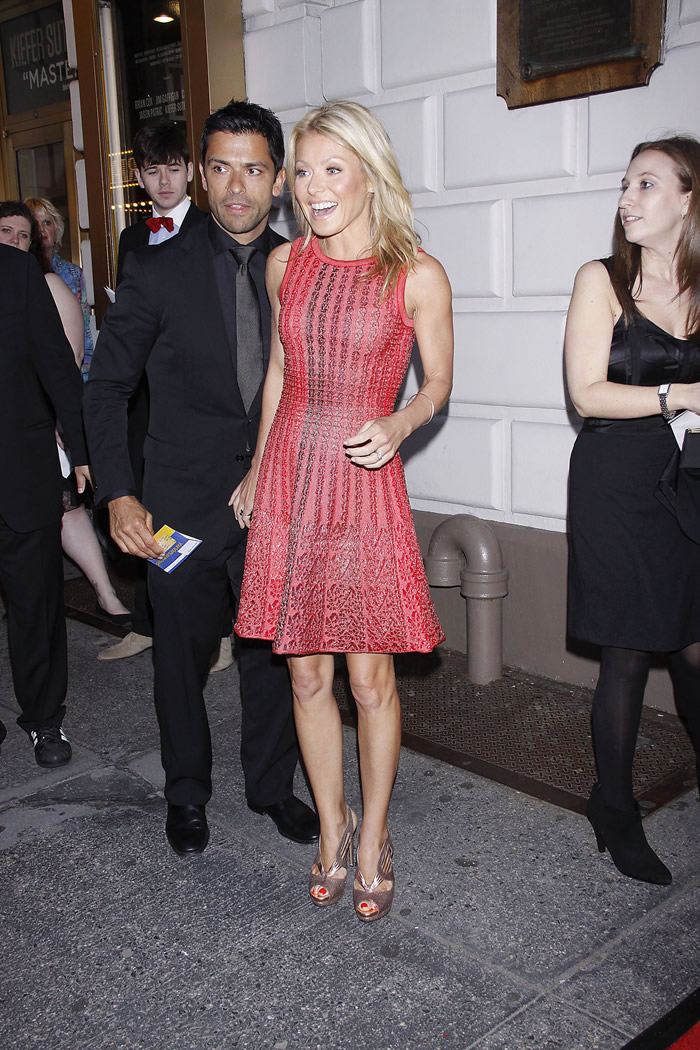 Photos courtesy of Enquirer, Fame/Flynet, and WENN