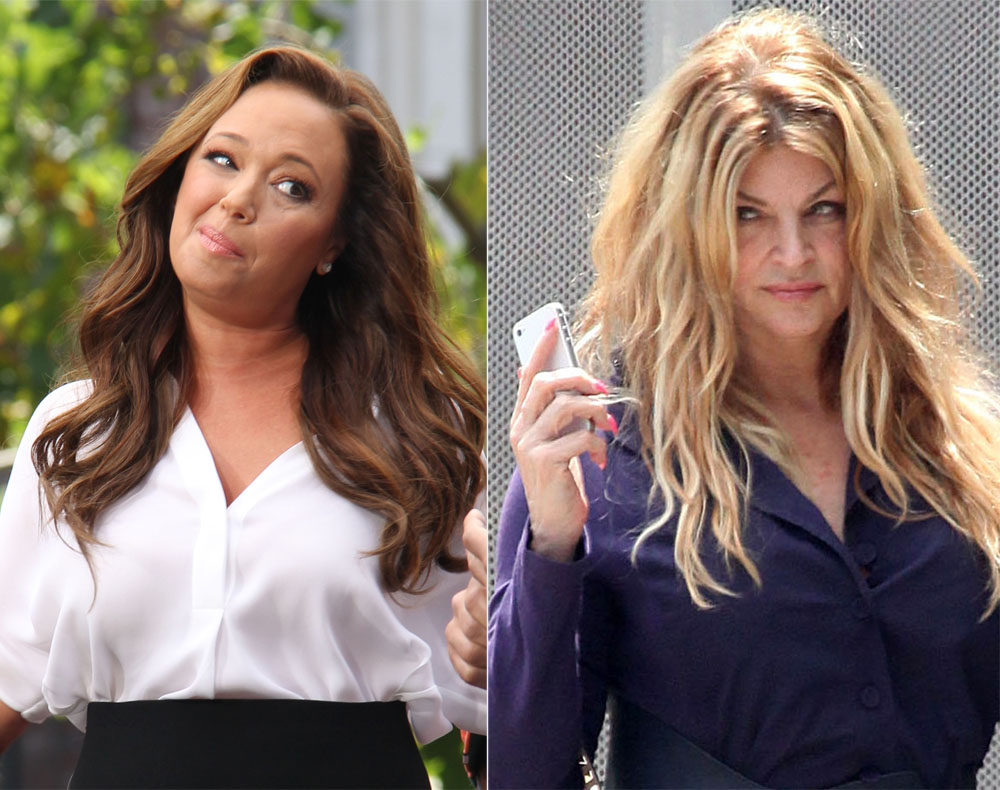 As you know, Leah Remini confirmed last week that she had left the Scientology cult after basically being a member her entire life. Leah's family was deep in the cult while she was growing up, so this must have been a major change for her. As for what prompted it, Leah was recently put through intense "thought modification" for a reported five years after she dared ask what had happened to the long-missing wife of cult leader, David Miscaviage. (Other members have also recently "disappeared" including high-ranking former spokesperson Tommy Davis, and his wife, Jessica Feshbach, who happened to be Katie Holmes' minder.) Leah is similarly said to have questioned the cult's practice of excommunication for people who don't toe the company line. The cult regularly imprisons members who try to leave, so if Leah were an average parishioner she could have been put in a forced labor camp as retaliation. So that's why I doubt Leah gives a sh*t about Kirstie Alley trying to intimidate her through Twitter. She's probably grateful she doesn't have to deal with that wench any longer:
But well before the Post printed its story, celebrities in Scientology were scrambling to figure out how to deal with Remini's departure.

In particular, we're told, Kirstie Alley was livid at Remini.

On Wednesday morning, at 9:14 am, Alley took to Twitter with this statement:
"When faced w malicious gossip I take a moment to experience the loss of the person I thought was my friend… Then I say f*ck em..:) #RISE"

Our sources tell us that Alley worked the phones that day, raising a stink with the personnel at the Hollywood Celebrity Centre — what were church officials going to do about Remini's defection?

A meeting was called for Alley and other celebrities to get a briefing from church executives about what was going on and what they planned to do about it.

The meeting was held at the home of Melinda Brownstone — a longtime Scientologist.

At 3:26 pm, Alley tweeted…
"the sweetest poison is often served with a smile…beware syrup"

…and a minute later followed that with…
"I'm at my friends gorgeous house @minmin1008 love hangin here"

(@minmin1008 is the Twitter address of Melinda Brownstone.)

We're learning that Alley's tweet was a well-aimed arrow at Remini.

Our sources tell us that Brownstone was one of Leah Remini's first and best friends after Remini moved to Los Angeles at only 13 years of age.

(We reached Brownstone by telephone, but she told us, "You know what? I have nothing to say.")

Brownstone is the godmother to Remini's daughter, Sofia. Remini's sister Shannon is married to Brownstone's brother, who Melinda cut off ties with earlier.

For years, Brownstone worked for Remini, but then they parted ways in 2008 after a dispute. They haven't spoken since, our sources say.

They also tell us that Kirstie Alley and Remini are not close.

When Remini was working to raise support recently for Hurricane Sandy relief in New York and reached out to Alley for help, we're told Remini never got a return phone call.

It seems very significant then, that Alley, after calling for a briefing of celebrities, not only held that meeting in the home of Remini's former best friend, but also tweeted her location publicly in what looks like a taunt.

Since the news of Remini's departure from the church went wide on Thursday, our sources tell us that Leah has been inundated with media requests and an outpouring of support from fans.

But she's also heard from friends in Scientology who tell her that they've been ordered to "disconnect" from her immediately. That campaign is being orchestrated by a church "ethics" employee at the Advanced Organization of Los Angeles (AOLA) on behalf of the church's Office of Special Affairs, Scientology's intelligence division. The employee, Julian Swartz, is ordering people to cut off all ties with Remini. (In 2011, at his website, former top church official Marty Rathbun revealed documents in a previous OSA operation run by Swartz to disrupt relationships of a Scientologist who was targeted after she asked questions about fundraising and disconnection.) Our sources inside the church tell us that Swartz is calling people down for interrogations about their connections to Remini and what she has said about Miscavige.

We're told that Remini is shocked that her former friends are complying with the instruction to cut her off rather than calling her to ask how she is, or even to discuss the concerns she has raised.
I'm coming away from this story with the impression that it took Remini years to decide to get out Scientology and that she's been trying to distance herself from the more insane members, like Alley, for years. I think I speak for just about everyone when I tell Kirstie Alley to go f*ck herself. She can have her dwindling circle of Scientology biddies who believe they're saving the planet by sinking their life savings into funding Miscavige's insane lifestyle. A few years ago just about everyone, including us lowly bloggers, were intimidated by Scientology. Thanks to the work of Anonymous, and to some very brave former members, the facade has been chipping away. There have also been some very high profile defections, like Paul Haggis, Katie Holmes, Lisa Marie Presley, and now Leah Remini. There's still work to be done, though, especially when the Scientology practice of "Fair Game" has resulted in so many suspicious deaths. I would love to see more famous Scientologists denounce the cult, particularly Juliette Lewis, Elisabeth Moss and Parenthood actress Erika Christensen (second generation).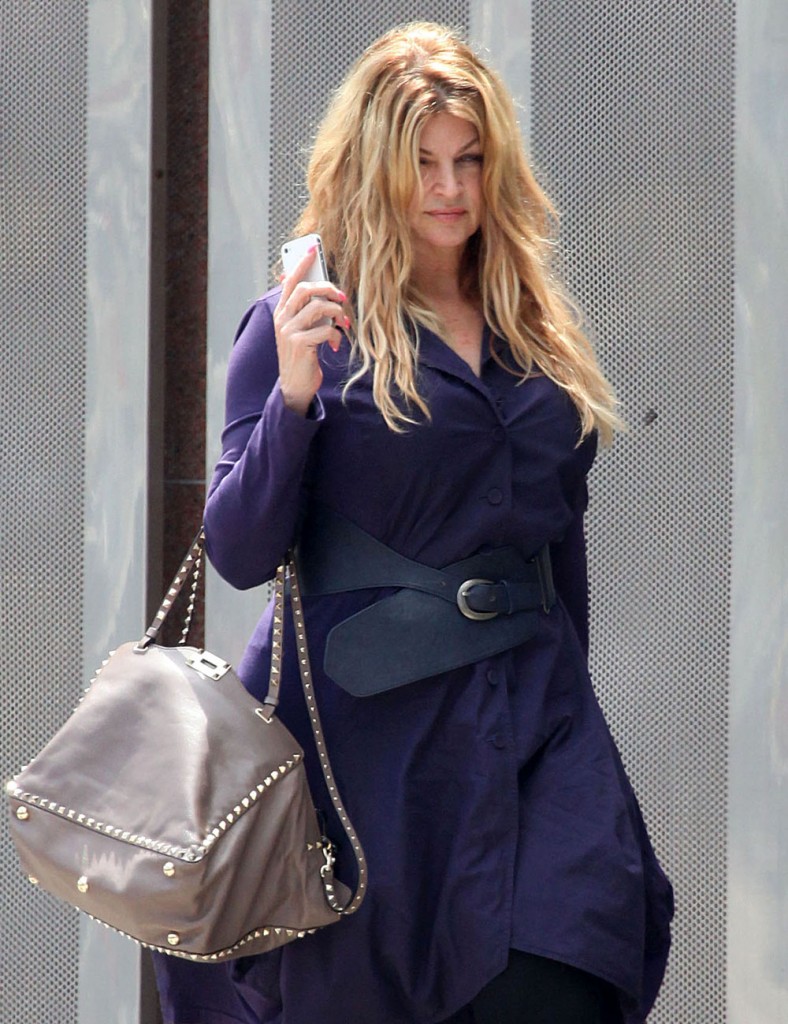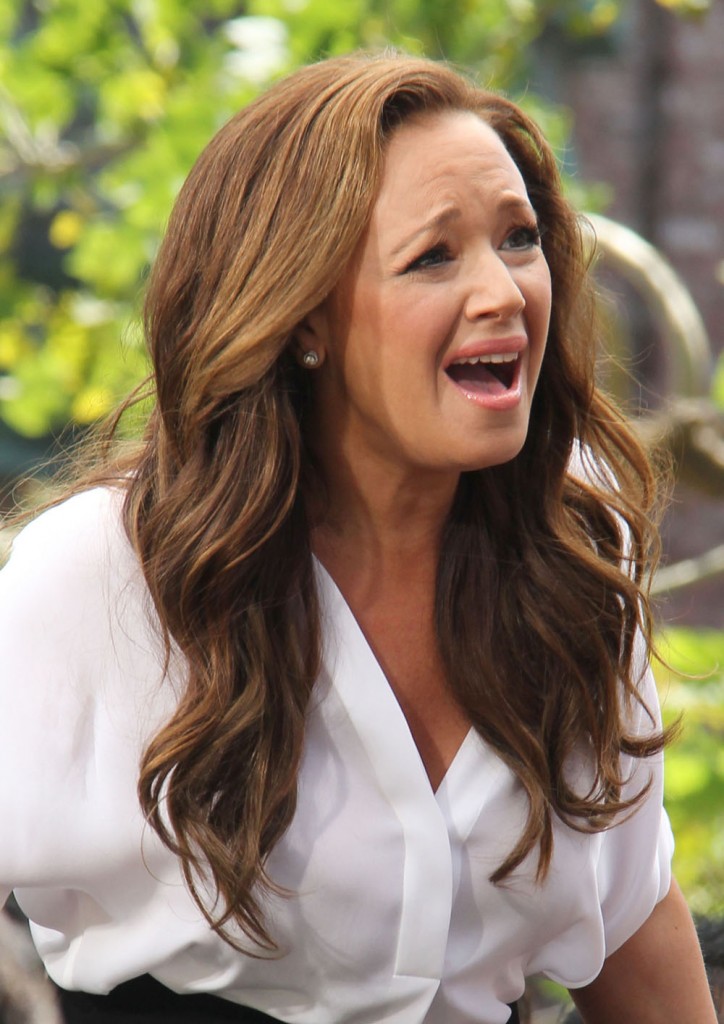 photo credit: FameFlynet