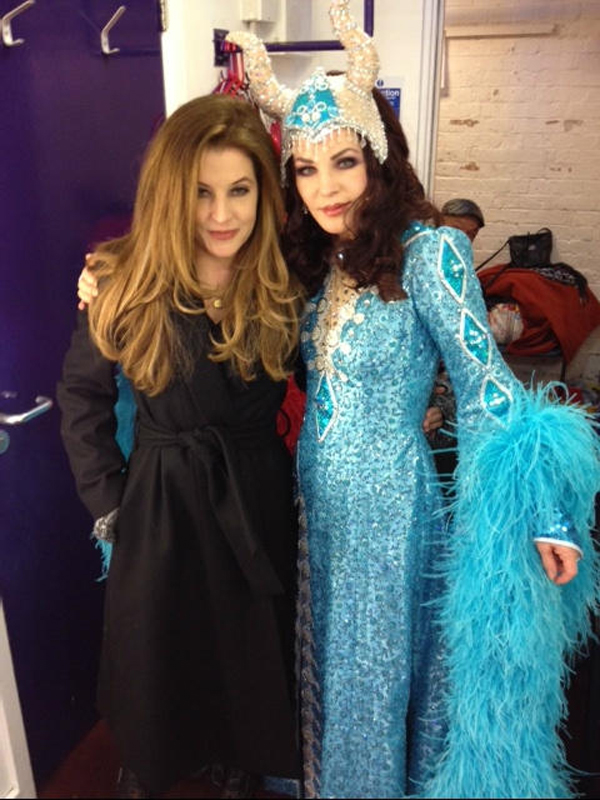 Here's a photo of Lisa Marie Presley (from her Twitter account) with her wacky, over-Botoxed mother, Priscilla, in London. Lisa Marie always looks so much happier and fresh when posing for candids as opposed to red carpets where she generally looks stiff and grumpy (she's still got the best bitch face in the business though). It took me a moment to realize that Mama Presley doesn't always dress this way just for fun. Nope, this is a backstage picture of Priscilla dressed for her role in the Wimbledon pantomime edition of Snow White where a critic praised her performance as such: "Though the 67-year-old's expression remains glamorously frozen, she takes regal delight in her Wicked Queen role." Sounds about right.
Last fall, we reported that Lisa Marie appeared to have placed a substantial distance between herself and Scientology. She relocated from California to London a few years ago, she stripped all references to Scientology from her website, and she has cryptically spoken about a betrayal from her inner circle: "I got bad advice. I was insulated with no grip on reality. They were taking my soul, my money, my everything." In addition, her new Storm & Grace album references herself as "transgressive" and "suppressive" while inquiring, "Am I a disruption to your corruption?"
Mind you, Lisa Marie hasn't come out and actually stated that she's left the CO$. As such, that is the primary question on every journo's mind. Dame magazine managed to nail her down for a phone interview and asked the same question, and Lisa Marie was slightly more forthcoming with her answers: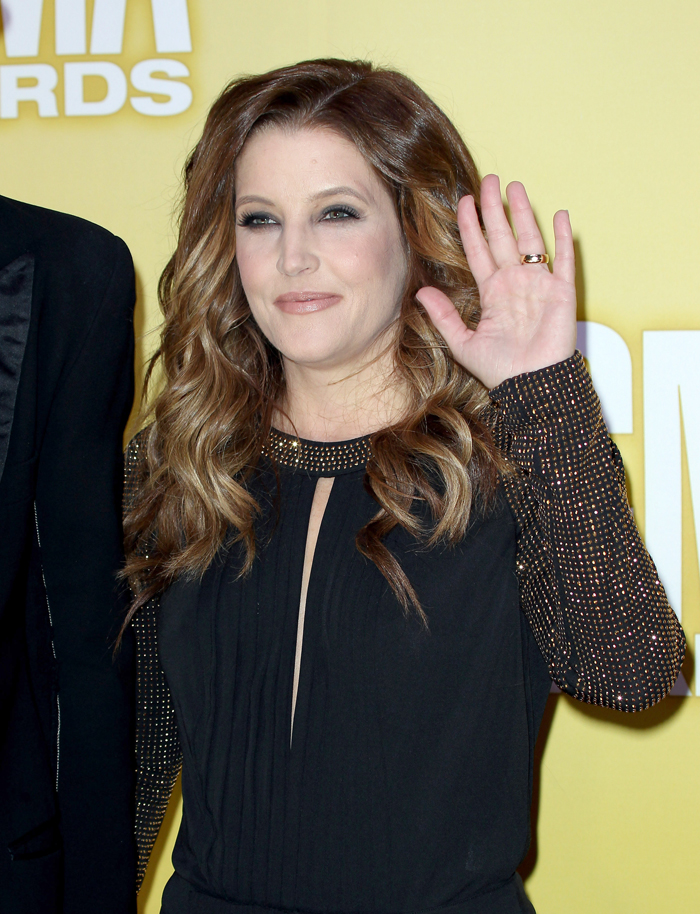 Why she left Hollywood (i.e., "living in a wasp's nest) for London: "Uncovering the fact that I was surrounded by people who were not well-intended, for one. Confidants [who were] very, very intimately and closely involved with me and my life. And had been for years. Basically, it was a big sinister situation, where there was like, kind of intel and covert ops going on, and a whole effort to control me that I didn't know about. Lots of people (were) involved in that in various ways. And I uncovered it and it was mind-blowing, and I just was done with people at that point…It was just too much for me. I have a pretty high tolerance, and I've seen a lot, but I was just not ready for all that. It's like uncovering [people] one by one, and then somebody that was holding it all together, and then they get exposed, and then I find out who's behind that person, and that person was no good, and…it was pretty much like dominos. So I just thought, 'Oh, my God, is everybody this dishonest and awful?' And I really had an obscured view of the world, so I needed to get far away to rediscover people and life and not have a bunch of people around me. You know how that happens in high-profile situations, where you get so many people around you that they obscure your reality on life and insulate you for their own benefit? That was what was happening. But really, it was a sinister situation. I'm not going to say specifically, but I've given you a pretty good scope."

Naturally, the CO$ has no comment: "[I]t is our policy not to speak about individual parishioners," spokesperson Linda Wieland said in an email. "You should address such questions to Ms. Presley's representatives." Presley's 2012 tour publicist, Bobbie Gale, answered only that Lisa Marie "isn't going to give a direct quote… many have tried and she refuses to answer."

She loves London though: "It was a four-or five-year process and, to be honest, I'm still looking back going, 'Wow!' But then all these amazing songs started happening, and I started realizing what life was like without all that going on. Life is actually great, and there are incredible people in England, just out in the country, down in the local pub, you know? People with a conscience and a common sense of right and wrong. The paparazzi were sitting outside my house one day, and a farmer backed his truck into them. He was like, 'Hey, leave her alone.' I hadn't even met him yet. I thought, 'Okay, now that's just a really good person who's protecting me, and I don't even know him.' It's simple, but it was very telling of human nature. I needed to rediscover that again."
pFrom Dame Magazine]
Yep, she's out. Not officially out, but she's in that same phase as Tom Cruise when he drifted away from the cult for a number of years while her was married to Nicole Kidman and after he went into a rage over the OT Level III Xenu story. Of course, David Miscavige pulled Tom back into the fray, but I don't think Lisa Marie is vulnerable in the same way. Like, I'd be scared of Lisa Marie if I were Miscavige. She doesn't take crap from anyone. At the same time, she probably won't ever come out and declare that she's left the CO$ while Priscilla, who is still well entrenched within the cult, is alive. Unless Priscilla decides to leave too, and then all bets are off.
Here's Lisa Marie blowing out the candles on her birthday cake on February 1st. She turned 45 years old this year!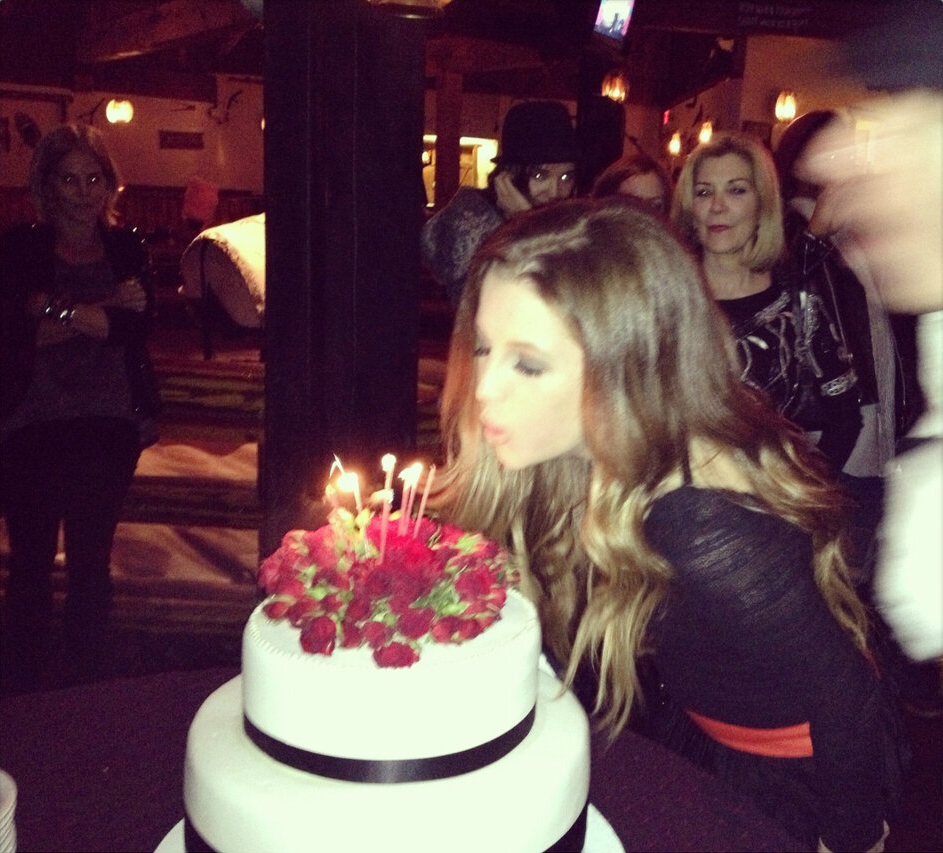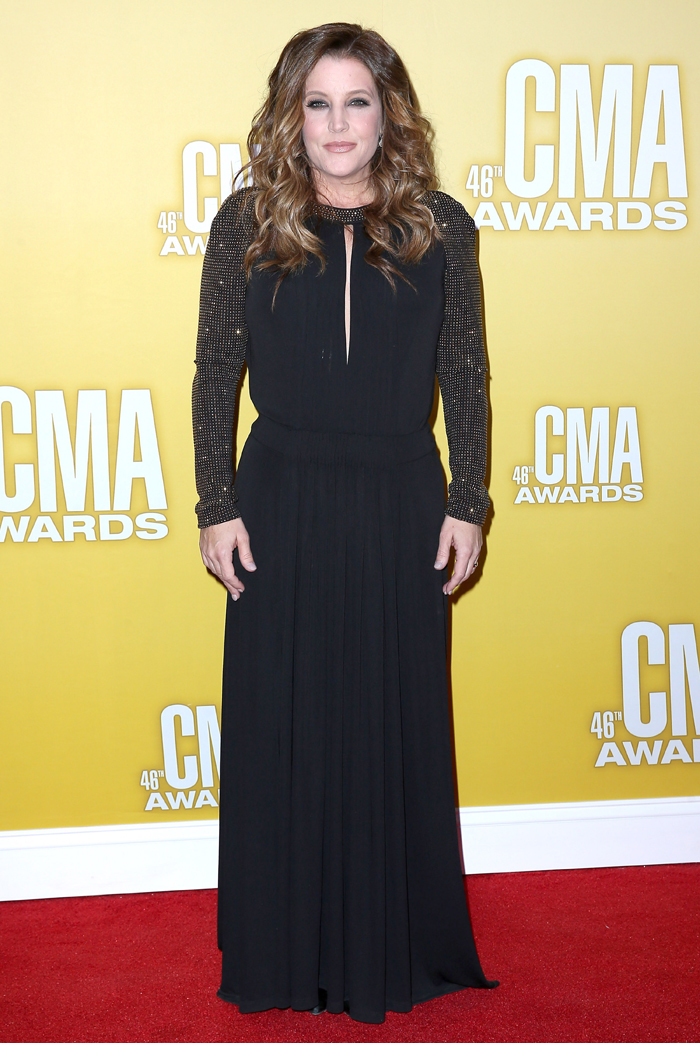 Photos courtesy of Lisa Marie's Twitter and WENN