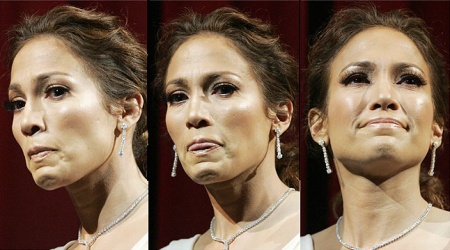 J-Lo's ongoing quest for cinematic success and praise has hit a serious bump. A public viewing of her latest film. The kind of bump that really can't be avoided. Even the socks and sandals crew isnt sold on her latest offering:
Jennifer Lopez's new movie was booed at the 57th Annual Berlin Film Festival at the weekend.
'Bordertown' premiered at the event but the reception it received was less than favourable.
According to reports, most of the audience voiced their disappointment by booing and jeering
via Female First
Jennifer hasn't had overwhelming success of late in her movies and hasn't really had good critical response since Out of Sight. The early promise of her movie career was so massively derailed by the infotainment industry that turned her life into the show and her major attraction. The launch of the celebrity name merger really dates from Bennifer: the primordial soup from which all other two headed monsters emerged. Maybe the movie she should have gone for was Bennifer Versus Brangelina: the two could stomp over downtown Tokyo.
A source claims J.Lo fled the cinema in tears after hearing the cacophony of boos and is now said to be worried the movie will be panned by critics.
In 'Bordertown', the 37-year-old actress plays an American journalist investigating a series of murders near American-owned factories in Juarez and El Paso, in Mexico.
J.Lo, known for her roles in romantic comedies, has starred in several box office flops, including 'Gigli' and 'Jersey Girl'.
She was hoping her performance in 'Bordertown' would prove her worth as a serious actress.
Collapsing the private and the professional seems to have backfired in the longterm, but ironically the general buzz seems to indicate that while Bordertown may tank … her smaller more personal, straight from her personal life, co-starring her latest husband flick – El Cantate- may be the film that gets her all that love and success she so sorely lacks.
pics via stuff.co.nz