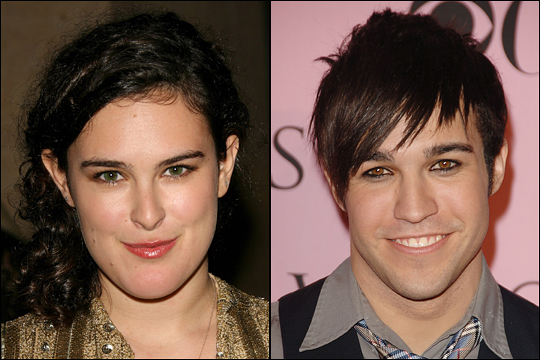 First things first … craziest separated at birth couple ever and with more chin between them than the Hong Kong Phonebook.
I heard a Rumer …. A Rumer Willis was dabbling her toes in her first public romance with Fall Out Boy Pete Wentz.
BRUCE WILLIS and DEMI MOORE'S eldest daughter is enjoying her first public romance – with Fall Out Boy star PETE WENTZ.

The pair couldn't keep their hands off each other at a party at Hollywood's Shag nightclub at the weekend.

Actress RUMER, 18, arrived with pals but soon hooked up with Pete, who at 27 is a year younger than her mum's husband ASHTON KUTCHER.
via The Sun
Demi must be thrilled that Ashton will have someone his own age to play with. Too Easy. Just like Pete Wentz – that above the waist ho. Again too easy.
I checked IMDB and the Actress credit for Rumer is pretty tenuous … fine for an 18 y.o. but for the sake of accuracy in fluff reporting — isn't she just a grown up famous baby.
A clubber said the pair began chatting then held hands and wandered into the VIP area of the club.

The witness said: "Rumer looked like she was having a great time with Pete.

"He's a good looking boy and they sat together in the VIP area while their pals danced.

"Pete kept winding his arm lovingly around Rumer's neck and she was holding his hand."

The witness added: "They left the club together later."
Bruce must be thrilled that the softly bisexual emo songbird is taking an interest in Rumer's neck. Wentz recently confessed to being a make out ho … but below the waist trying to keep the numbers down for his future wife. Every Dad's dream. Why Die Hard when you can Bi-Harder
pics via The Sun