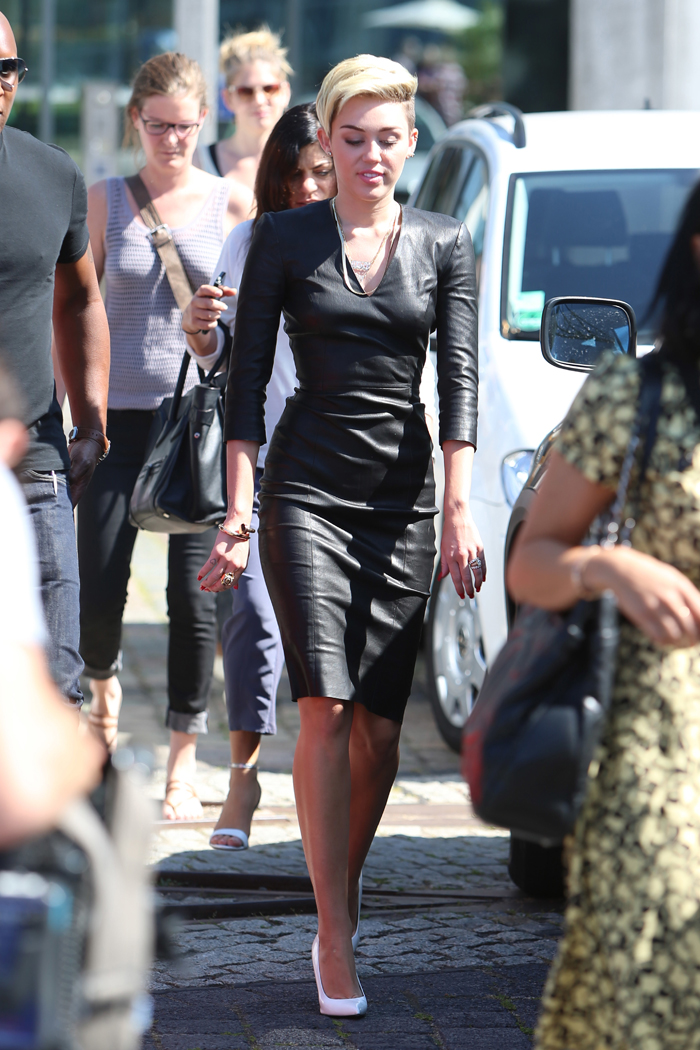 I try and pay attention to as many comment threads here as possible, and whenever a Miley post pops up, many of you compare her to Justin Bieber as far as her maturity level and attention-loving ways go. Since I still like Miley a lot more than I care for Bieber, I'd love to argue that point; but when one compares Bieber jumping up and down and yelling "I'm a swaggy adult!" with Miley's recent insistence that "dancing with Molly" is proof that she's now a grown up, the similarities are impossible to deny.
Anyway, these are photos of Miley doing the media thing in Germany while appearing on the "Fruehstuecksfernsehen" program. As usual, her bod is banging, but she doesn't look entirely thrilled to be sitting with a beach ball. Miley's been doing a ton of press lately on an international level, and she recently talked to the Mirror about her feelings on the how Bieber peed in a restaurant bucket while rambling about Bill Clinton. Supposedly, Miley had a chat with Biebs, and she told him to stop acting so "stupid." Really?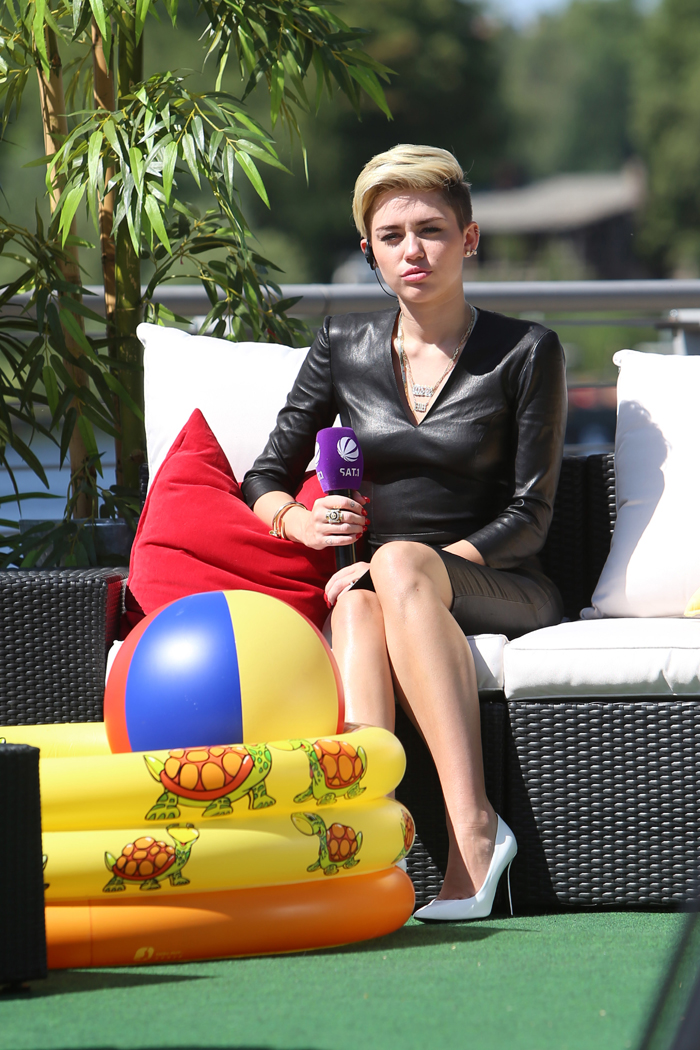 On the Biebs: "I told Justin to take a bit of time out and people aren't so obsessed with you and nit-pick. When you're not around, all they want is your music. They want to see what the next thing is. But when your music is out they just want to talk sh-t about you. When you're a worldwide star, everyone sees everything. Lots of people make a video and put it on Instagram, some people might think it's funny but because it's Justin Bieber, it's like really bad. I always tell him just to be cool and not talk about it because when you talk it fuels the fire. He's still stupid though. But everyone does dumb stuff when they are messed up."

How she keeps her bod: "All I do is work so I eat to keep me going. I'm always on the road so I eat healthily as I have to give my body what it needs. If you don't you will crash and burn. The s—– part about my travels is that I don't get to work out. I do yoga and ten salutes to the sun every day then I do 30 push ups, I try to do quick things — not to stay in shape but to get my mind right."

What does Billy Ray think of her video? "In my video I am getting spanked. In the original I was spanking too but you guys made me take it out. They said no gyrating. Dad doesn't care, he is famous for shaking his a– too."
[From The Sun]
I hate to say it, but Miley has a point here even though it's not exactly an uncommon or particularly unusual reaction to say that Bieber was acting stupid while peeing in a bucket on video. And I guess since no one else will say this stuff to Bieber, then perhaps Miley's words might sink in just a little bit. Still, it's worth mentioning that Miley can see the dumb things that Bieber does while ignoring her own "stupid" behavior like the hard drugs and silly grill and whatnot. True, she's not peeing in a bucket just yet, but it could happen.
Oh, and Miley also told Heat magazine that she has no idea who One Direction is because "I listen to urban," which is only interesting because she was photographed cuddling in bed with a Harry Styles cutout in January before her big image change.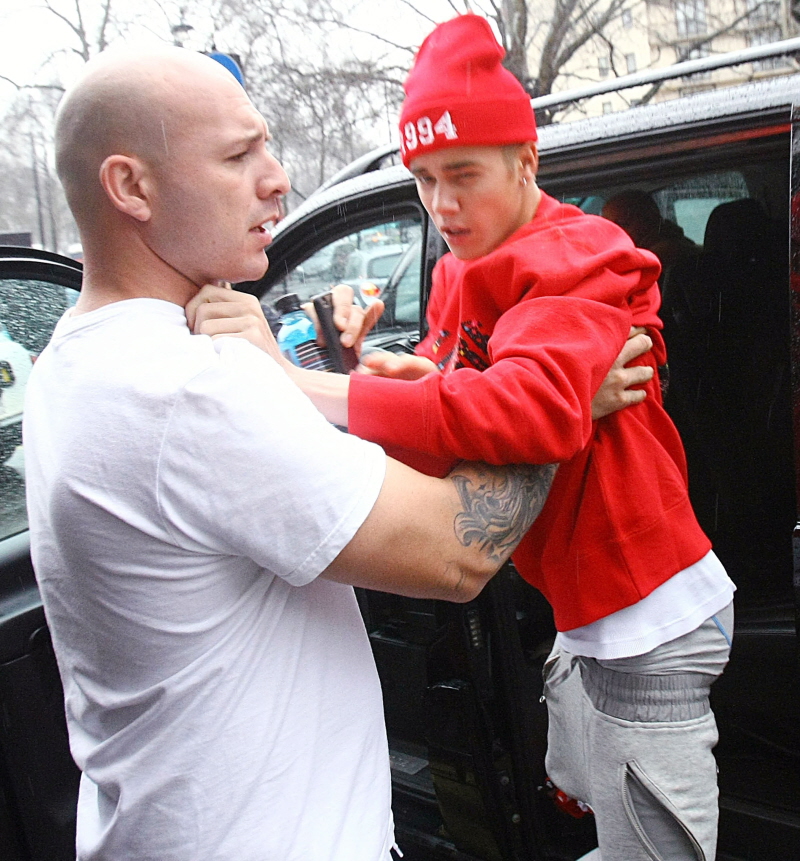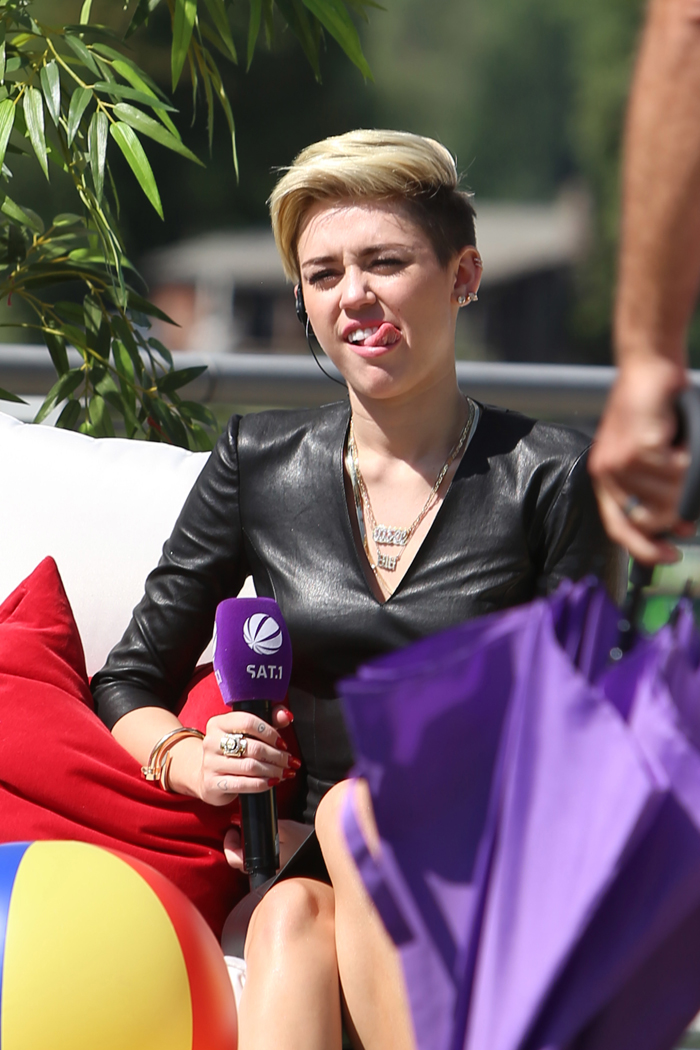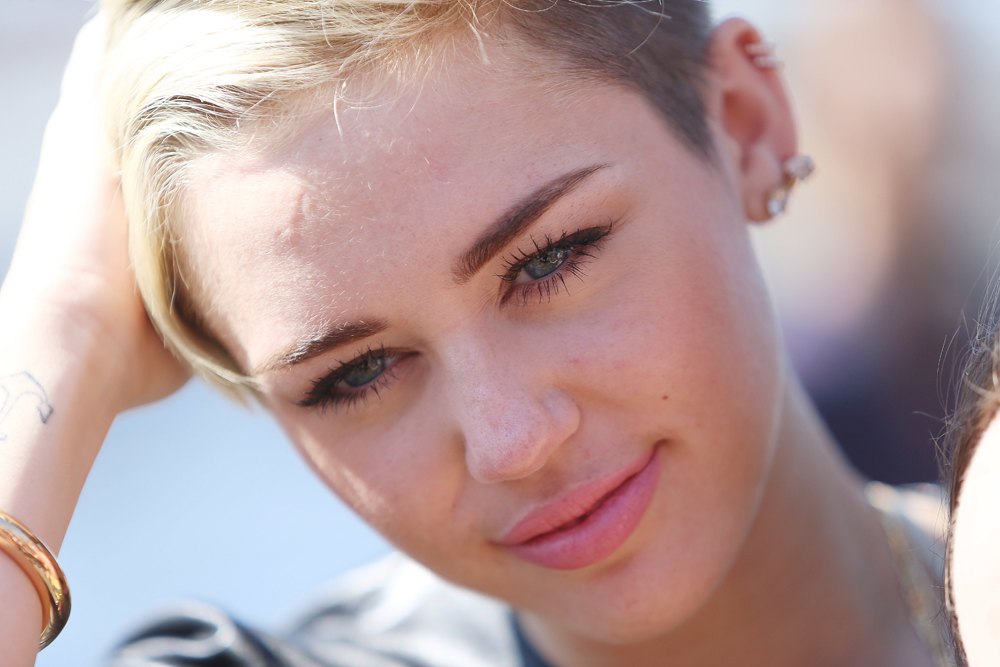 Photos courtesy of Fame/Flynet and WENN