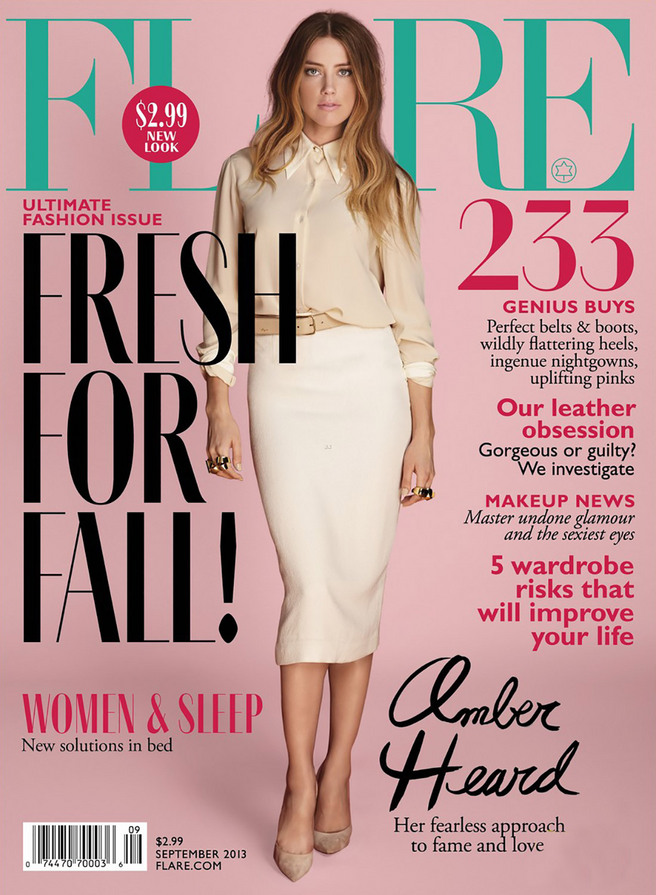 Amber Heard covers the September issue of Flare magazine, and for such a gorgeous girl, magazines really don't know what to do with her. This shoot is worse than Amber's recent cheap-looking Bullett spread because Flaunt has managed to make her look lifeless. Clothing by Marc Jacobs, Jason Wu, Gianni Versace (vintage), and Christian Louboutin has never looked so lackluster.
The interview is slightly more interesting though because Amber has a bit of a chip on her shoulder, to say the least. Sure, she's not the typical starlet who shares everything with the world for publicity's sake, but Amber honestly seems pretty pretentious in this interview. Off the top of my head, I'm trying to recall her performances in various movies, and she usually doesn't make much of an impression on me. Like, she was okay in The Stepfather remake and All the Boys Love Mandy Lane, and she was decent as an infected brain-eater at the beginning of Zombieland. But otherwise, she's forgettable. I've watched every single episode of "Californication" and don't remember seeing her at all, but anyway. This journo makes special mention that Amber drives a powder-blue '68 Ford Mustang, which leads me to believe that she's quite fond of both antique cars and antique men. Is that a low blow? I don't know.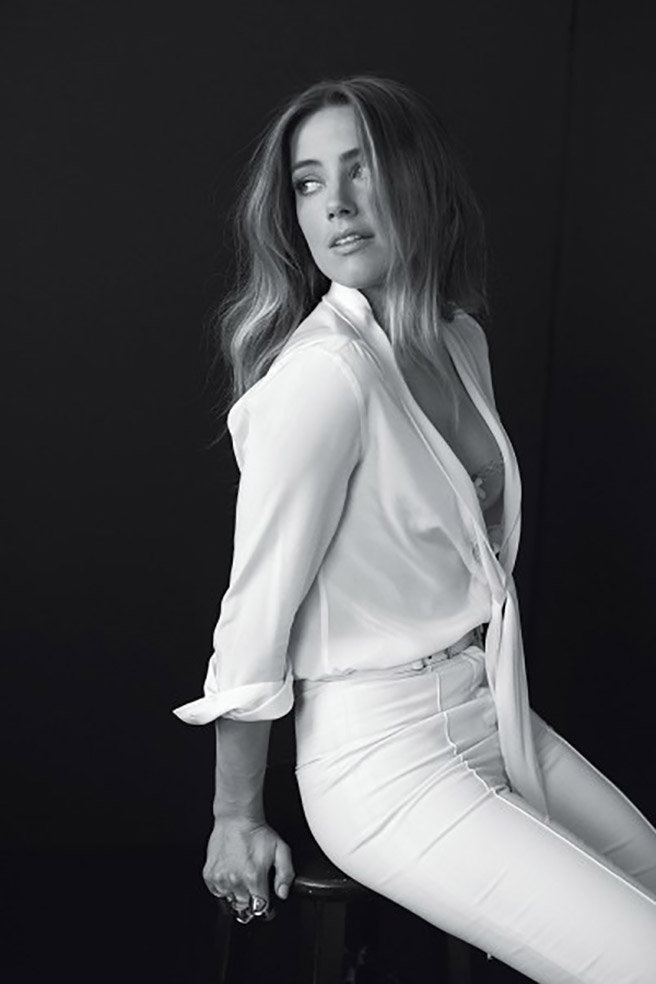 She doesn't have a driver: "At a certain point, you just have to say, OK, I'm not going to let other people dictate how I run my life."

Don't ask about Johnny Depp: "It's not part of my professional life. I want to be an artist. I don't want to be a celebrity."

How she keeps a low profile: "You think I'm going to tell someone in the media my strategies for staying out of the media?"

Don't ask about her looks either: "Someone will ask me a question about my looks, like something about my hair, and then in the magazine it sounds like I came in and said, 'You know, what I'd really like to talk about is my hair.'"

Why she hated modelling: "No one was interested in my opinion."

She prefers horror over romcoms: "At least the female characters in horror movies fight back and do something for themselves. They're not just sitting around waiting for a man to save the day."

On Paranoia: "Paranoia was an interesting script. I loved how you're dealing with a lot of old themes like greed and power, but it's such a modern story. My character basically had to be smart enough to manipulate Liam Hemsworth's character. Yes, there are sex scenes, but it wasn't like she was falling at his feet. [The script] doesn't say that these characters are 'sexy.' I'm not picking them because of that. I take roles that are interesting, and scripts that have female characters with depth. I'm working with what I've got."

On Machete Kills: "Robert [Rodriguez] understood why this role was totally perfect for me. She's a beauty queen from San Antonio, but she's got this whole other side."

She carries a gun: "Gun ownership needs to be regulated, not banned."

Any co-stars with amazing chemistry? "You don't really expect me to answer that, do you?"

On her bisexuality: "It is so strange to me that everyone cares. Maybe you like blondes now, but maybe you'll be into a brunette in the future. I just don't understand this idea that we have to choose one or the other. I guess I could not hold hands with who I want to, but what kind of life would that be? I don't want to change just because people are watching. I've always been the person who says what she wants."
[From Flare]
I find it interesting that Amber claims to be such an "artist" yet she chose to star with Eddie Cibrian in the short-lived "Playboy Club." Oh, and she got Johnny to score her a nicer set trailer than Gary Oldman's, while Gary is obviously the true artist on any film set. Although I do appreciate that Amber waited so long to make an official couple debut with Johnny (they dated for for nearly a year beforehand, depending on whose timeline you believe), but it's hard to claim that you're not a "celebrity" when you're using your boyfriend's connections to get more perks on the job. You know?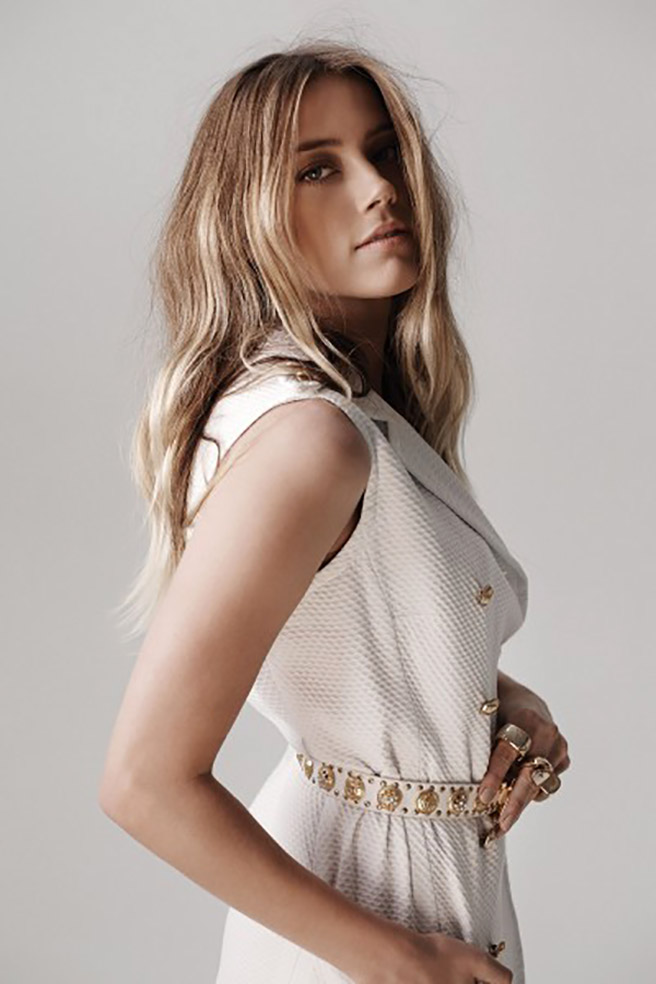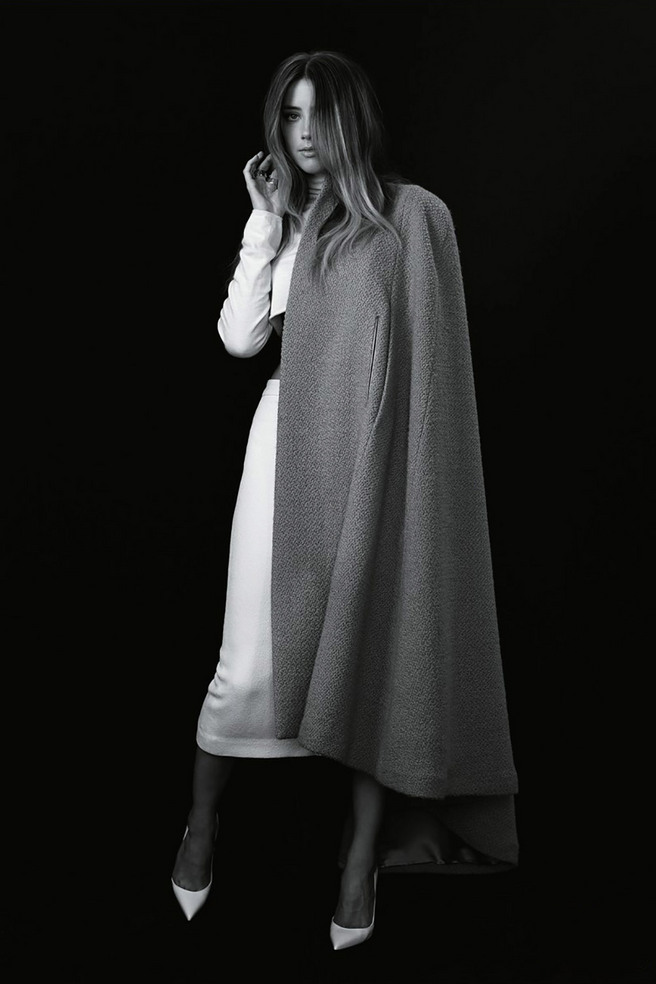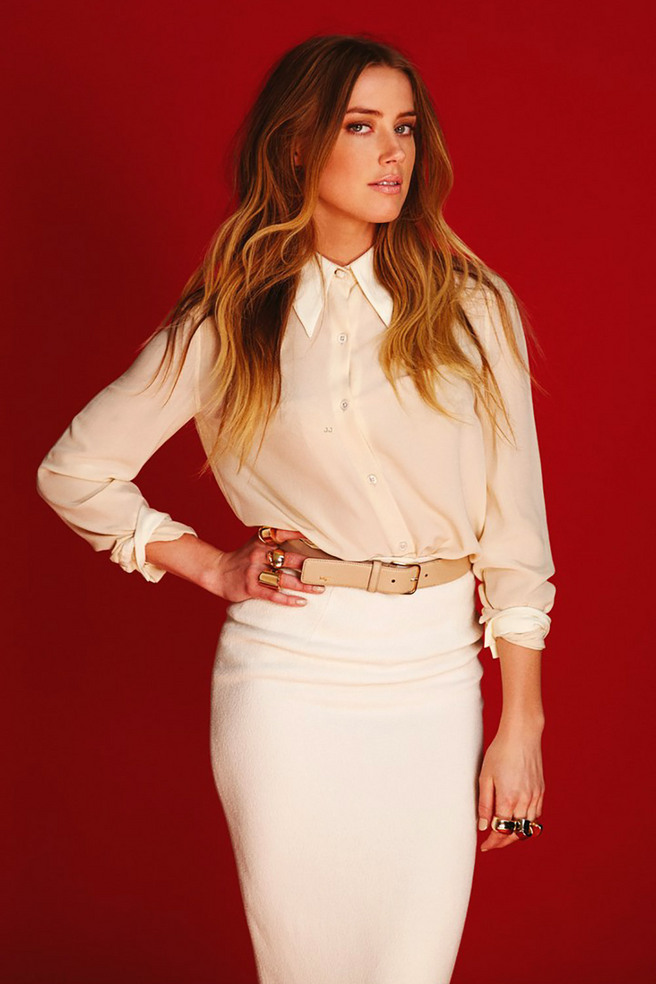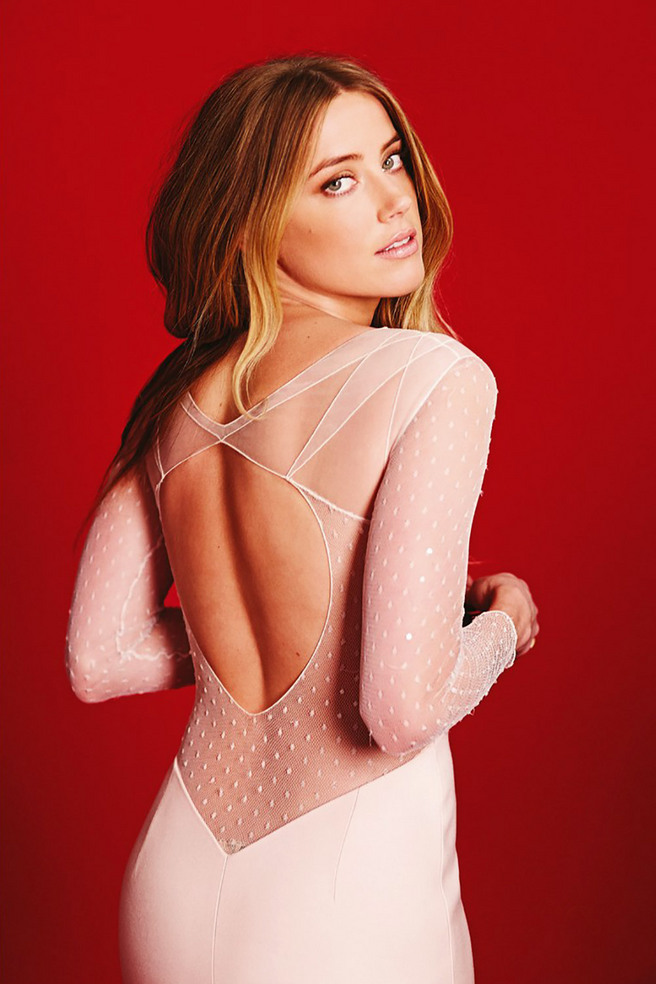 Photos courtesy of Flare