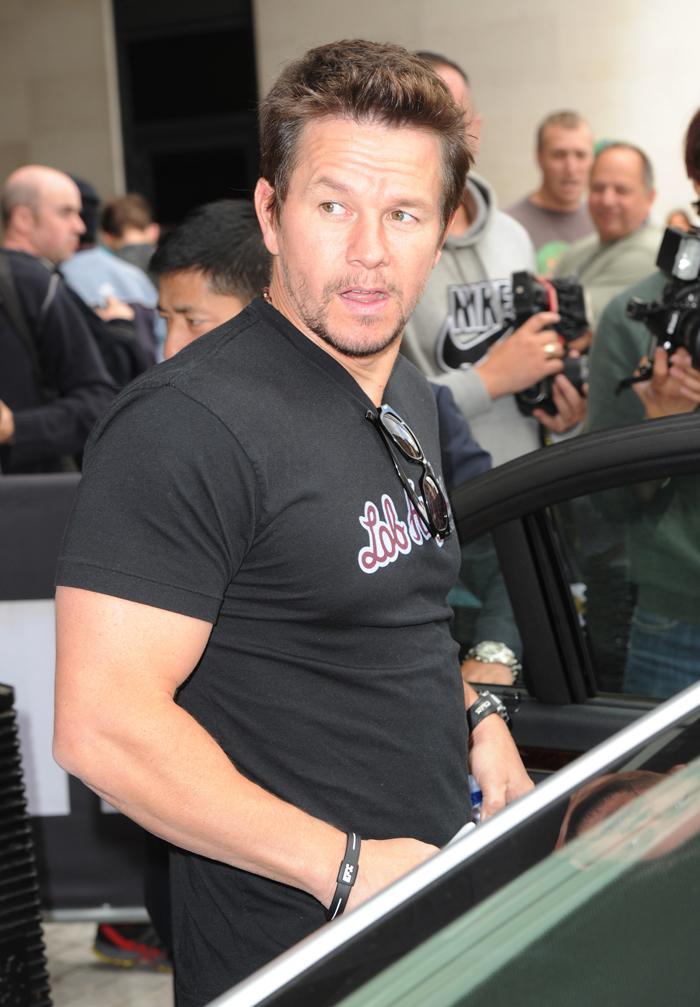 These are photos of Mark Wahlberg at BBC Radio in London yesterday to promote 2 Guns, a movie that looked like a convenient excuse to pair Mark and Denzel Washington in a buddy movie. Yet Dustin at Pajiba gave it a positive review, so I guess it's worth checking out of you like "Denzeli" movies.
Okay, I'm losing the plot here because this story is about Mark's interview with the Sun, in which he schools Justin Bieber for many things (unfortunately, not last weekend's shirt-ripping, nightclub freakout in manner of a mini-Hulk — which as it turns out was about a waitress and a bow tie, and Biebs instructed his bodyguards to beat a guy up while "slid[ing] down a car like he was in Die Hard"). Wahlberg's words come (not entirely) hot on the heels of Jon Bon Jovi's "You're an a-hole, go to work" comments in regard to Bieber's chronic tardiness for concerts. As far as I'm aware, Bieber ignored Bon Jovi's wise words.
The thing is, Bieber cares about what Wahlberg thinks, so this could get interesting because just last year, we heard about how Biebs fancied himself the next Mark Wahlberg and wanted to do a remake of Fear. So while you read this, imagine Bieber making this face from this Instagrammed photo while he was recently backstage in Wahlberg's native Boston: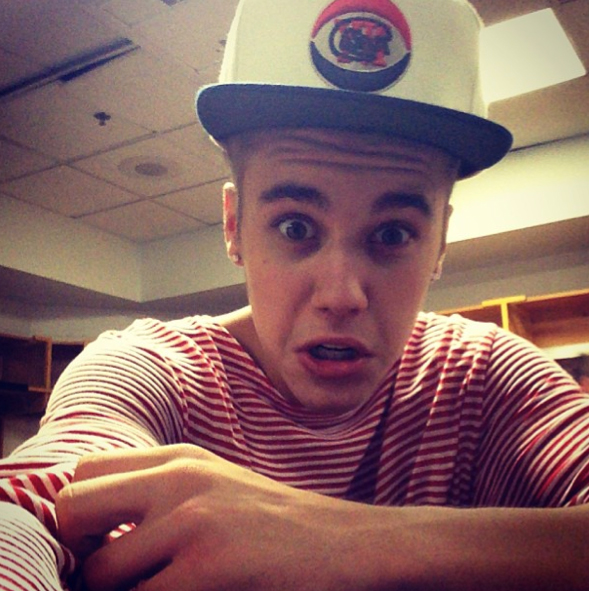 Advice to the Bieber: "Justin, are you listening? Don't be so naughty, yeah. Be a nice boy, pull your trousers up, make your mum proud and stop smoking weed, you little b——d."

What's Bieber's problem? "He's a teenager living in a different day and age. I was in prison before I got a record out and I don't think he's been to prison. He's a nice enough kid and you're going to be a teenager. But if you're being a teen in the spotlight you're going to be criticised for it. This career can be short-lived — you might as well be the best you can while you're doing it."

Mark's still willing to go there: "Justin and I were talking about doing a movie, which could still happen. We have a great script that could be a vehicle for him to make his debut in movies, then maybe we could do something for the soundtrack."

On Denzel: "Denzel's somebody I've known for some time. He's an easy-going guy, we had a lot of fun making the movie. It was great for me to pick his brain about personal and professional stuff. His wife often asks if our kids want to come over and she can babysit. But they'd tear up the house."

On David Beckham: "He wanted me to email him about something — I don't know if it was about a film. I had said something, half joking, because his house is at the bottom of our hill and a lot of people hang around the area. So I said something like, 'I don't like him being here' because of that. But I met him and some of his sons and he seems like a nice guy. So I wanted to make sure he hadn't taken that personally."

He loved being drunk on the Graham Norton Show: "It was one of my highlights. You go on the show and you try to be funny — and I had a blast. The red chair has to be my favourite thing of all time. I want one in my living room and one in my office. I'll invite people over for pitch meetings, then throw them off the chair."
[From The Sun]
God, that Graham Norton interview was a nightmare and a half. Mark was so bloody wasted and challenged Michael Fassbender to "a big d–k context" as if Fassy had never heard that one in the past few years.
At any rate, I guess Mark has the life experience (and possibly the influence) to instruct Bieber to pull up his pants although I doubt the Spitter will listen to anyone. I sort of wonder if Bieber will be dumb enough to issue a response to Mark's assessment. Stay tuned.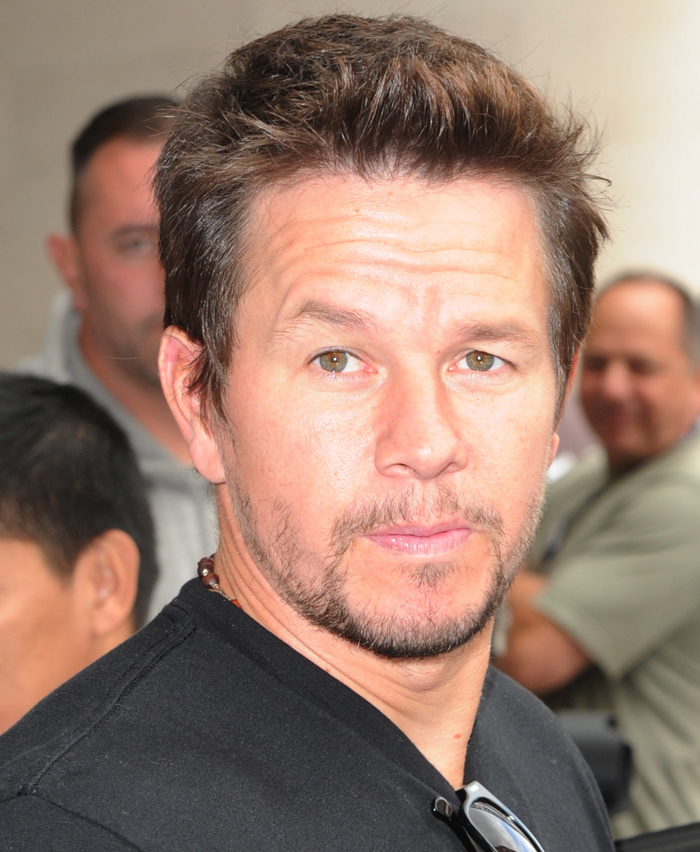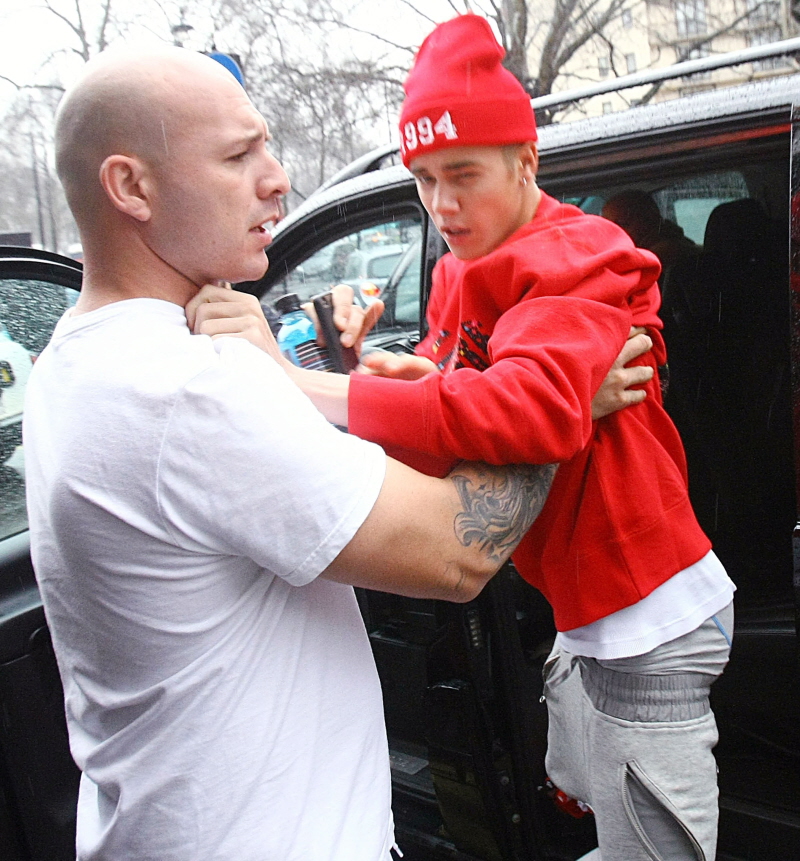 Photos courtesy of Fame/Flynet, Instagram, and WENN