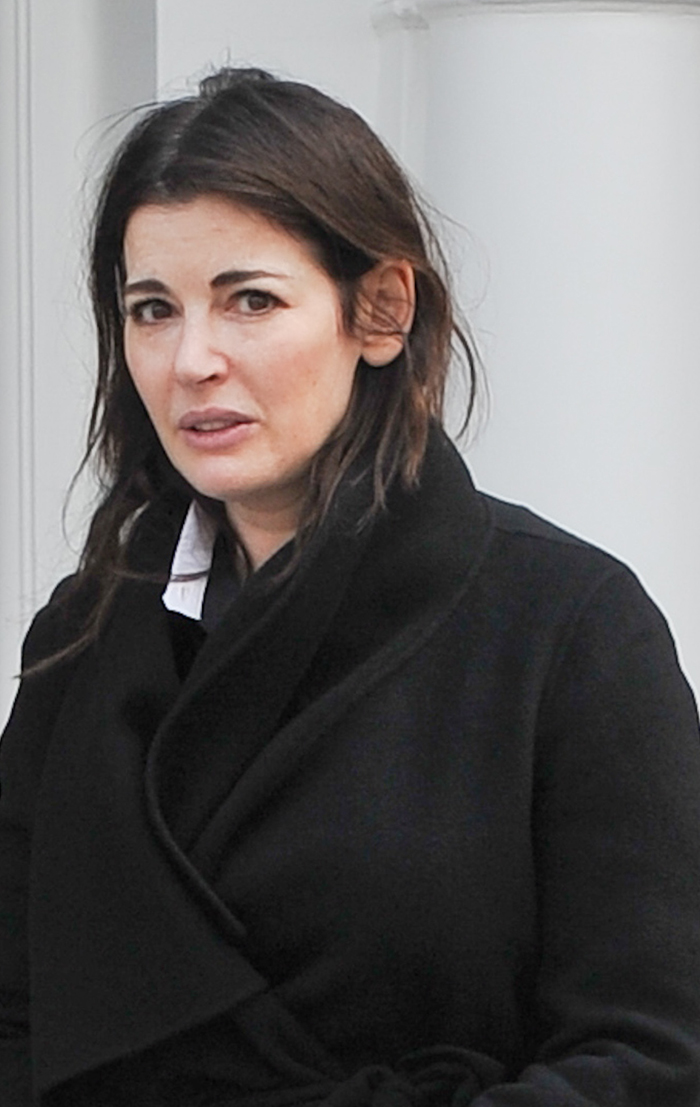 Just like you, I thought all of the drama between Charles Saatchi and Nigella Lawson was over when the couple was granted a quickie divorce on July 31. They had a 70-second hearing during which neither party made a financial claim against the other. Of course, Charles probably still has an axe to grind given his complaint that he was divorcing Nigella because she didn't defend him from public outrage. He called his abuse a "playful tiff" as if choking her was the most normal thing in the world.
That now-famous incident took place in early June on the patio of Nigella and Charles' favorite restaurant, Scott's (in the Mayfair district of London), so one would think that neither party would be willing to revisit the scene of the crime ever again. Yet here is crazy-ass Saatchi dining alone at his favorite table (yes, that one) at Scott's just last month — as if he's trying to keep the memory alive. Now the Mail reports that he's continuing to harass Nigella by phone and text message while even threatening to commit suicide if she does not call off the divorce and return to him. Seriously: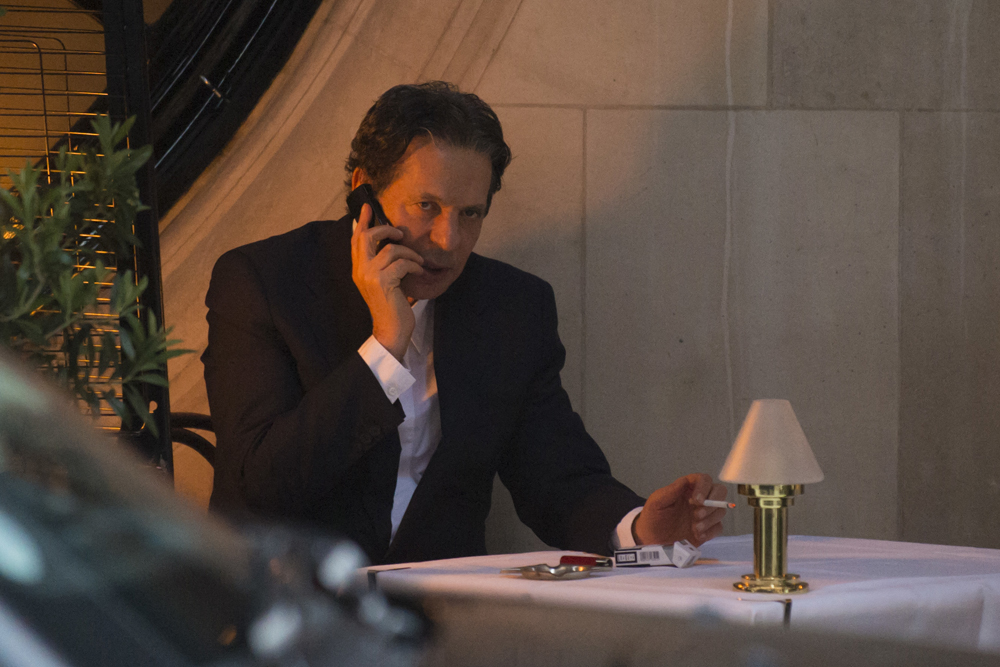 Charles Saatchi threatened to commit suicide in a bid to win back Nigella Lawson after the first stages of their divorce, The Mail on Sunday can reveal.

In a series of text messages and phone calls, the multi-millionaire art collector warned he would take his own life and begged his wife to contact him. The 'harassing' messages show the depths of despair – some friends say madness – into which Mr Saatchi has sunk.

The Mail on Sunday can also reveal that he has accused Nigella of potentially criminal behaviour and allowed his young daughter to make statements alleging illegality by her stepmother. Nigella has not seen her estranged husband since photographs of him grasping her by the throat were published in a Sunday newspaper eight weeks ago. She has also refused to answer any of the messages he has been leaving on a daily basis.

However, the television presenter finally relented after Mr Saatchi, 70, said he would kill himself. Such was his despair, his 18-year-old daughter Phoebe also texted her former stepmother to say she was worried about her father's state of mind.

Friends revealed details of his desperate behaviour after being "appalled" that he allowed his daughter to attack Nigella by claiming her stepmother had abandoned her. The couple spoke twice on the phone in the days after their decree nisi was granted on July 31. It is understood that the threats of suicide were made in at least one "ranting" phone call.

According to a friend of the television presenter, she felt she was left with little choice but to contact him. The friend said: "Charles has been texting and phoning Nigella endlessly. One minute he's pleading, the next bullying. Her silence has been driving him crazy. When she didn't reply, he used Phoebe to get Nigella to talk to him, to tell her she was worried about his state of mind.

"He's not above using Phoebe as a bargaining chip. In the end, after the threats, Nigella called him. The first conversation was quite sweet. It was a case of, 'please come back.' Nigella was sympathetic. She was going out somewhere and said I hope you don't [do anything silly]. The second conversation was more difficult but she held firm."

Last night a friend of Mr Saatchi confirmed that he had contemplated suicide in recent weeks as he struggled to come to terms with losing his wife and his reputation. It is said that one of the hardest things for him has been Nigella's refusal to defend him against allegations of being a wife-beater – allegations Mr Saatchi insists they both know aren't true.

The friend said: "Yes, he agrees he felt low and suicidal but he couldn't leave Phoebe. He has been very up and down. He was just wanting some form of contact. He is feeling very betrayed by Nigella's lack of support and the fact she hasn't stood by him or stood up for him in public. How difficult would it have been to issue a statement? Charles was brought to the brink of suicidal feelings and they did have a couple of conversations but Charles says they didn't come to any understanding."

The suicide threats come amid deepening concerns for the former advertising tycoon who has been acting increasingly strangely of late. Yesterday he allowed his teenage daughter to issue a statement to a newspaper denouncing Nigella. Phoebe, his daughter by his second wife Kay Hartenstein, accused her stepmother of abandoning her and said: "She has behaved in a very cold-hearted way."

The Mail on Sunday can reveal that Phoebe had also been prepared, last month, to accuse her stepmother of behaviour that was potentially illegal. With the full knowledge of her father, she gave a statement to this newspaper containing a number of criminal allegations that could not be substantiated. The claims highlighted the depths of bitterness now engulfing the family.

The Mail on Sunday took the decision not to report the claims. Friends of Nigella's are furious that Mr Saatchi should allow his daughter to enter the public fray.
[From Daily Mail]
This is such a load of crap on Saatchi's behalf. Look, I'm not trying to discount suicidal intentions at all, but doesn't it seem like Saatchi is merely trying to blackmail Nigella into taking him back? Like, "If you don't agree to drop the divorce, I'll off myself, and it will be all your fault." That's a d-ck move. Nigella seems to have surrounded herself with a great support network who have helped her through the divorce process, and she just needs to stay strong and not give end up back at square one with Saatchi's hands around her throat.
Here's Saatchi once again outside Scott's restaurant after all the shiz with Nigella went down. He's so friggin creepy.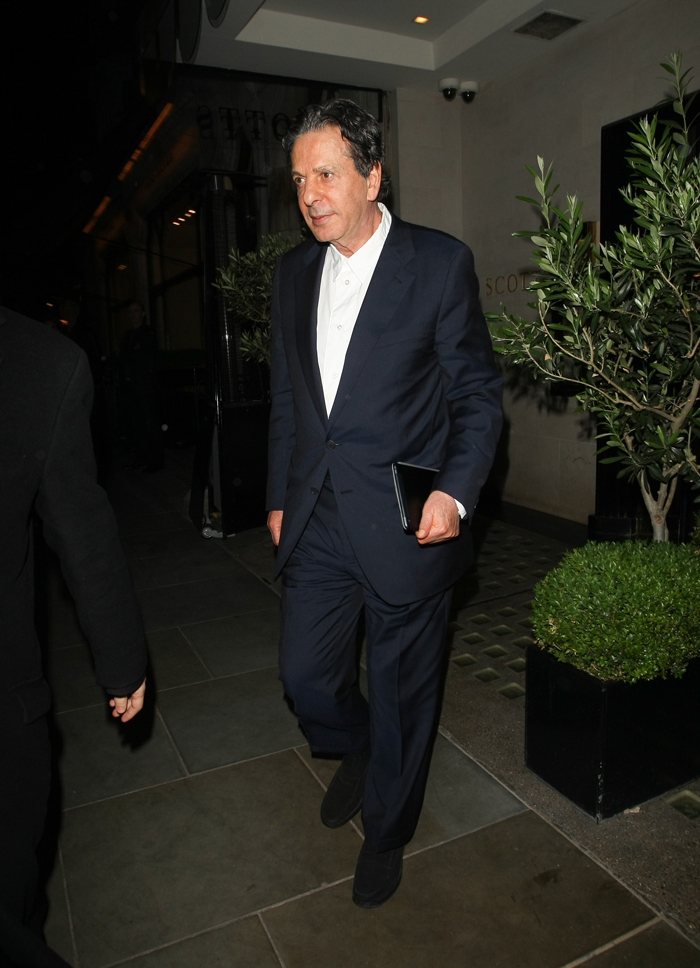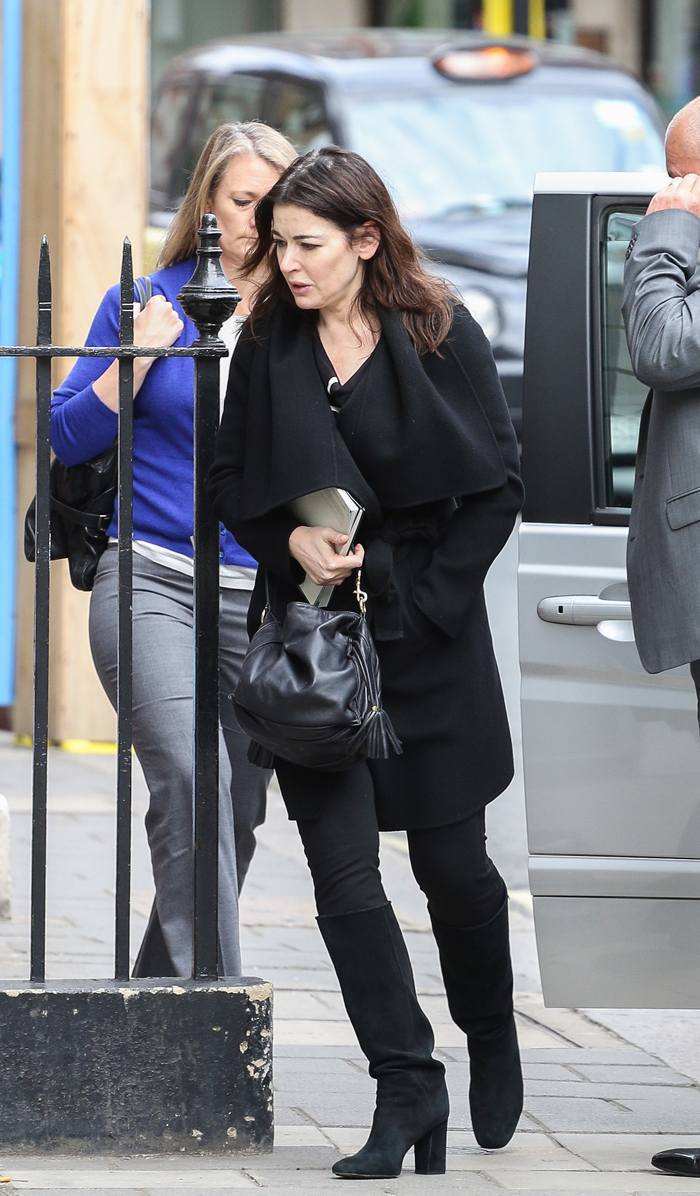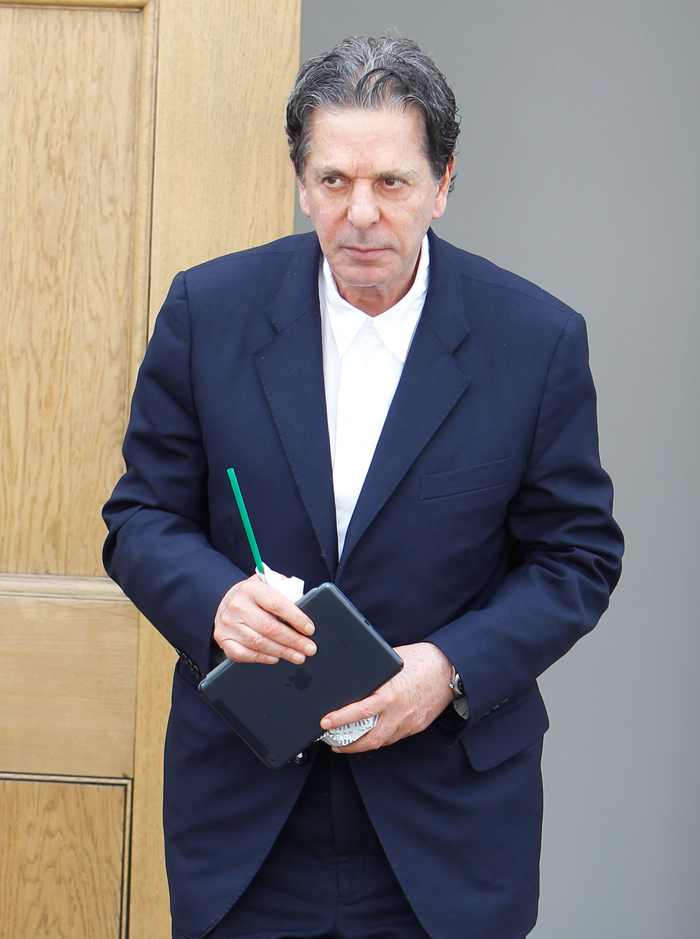 Photos courtesy of WENN