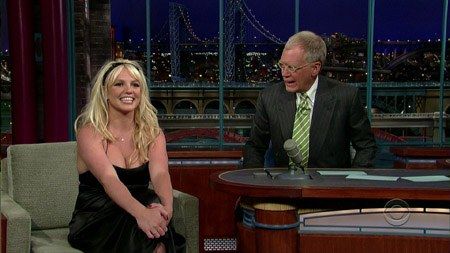 Britney Spears make a surprise visit to the David Letterman show last night. She joked a little with Dave, confirmed her pregnancy and read the Top Ten.
Referring to earlier banter with Paul Shaffer about Britney's possible pregnancy, Letterman said to Britney "Are we on to something here?"
"Don't worry Dave, it's not yours."
Britney looked happy and seemed excited to be there, but she kept kicking her legs, which made her come off as nervous. She was also chewing gum! You're not supposed to chew gum during a television appearance!
After Britney read the Top Ten "Suprises of the Bird Flu Movie," skipping the word "Tamiflu" because it was too hard, Dave said "So, we've established that you are in fact pregnant?"
"Yes."
Here's the best video currently on YouTube. Once a better one is up, we'll post it.
CBS also has a video online through the Late Show website but it's in Real Player format, which won't install for us here, and you may need to disable pop-up blockers and use IE. It's way too much work and those idiots need to update their website. Real Player went out in 1999, why are they still in business anyway?
Pictures [via]