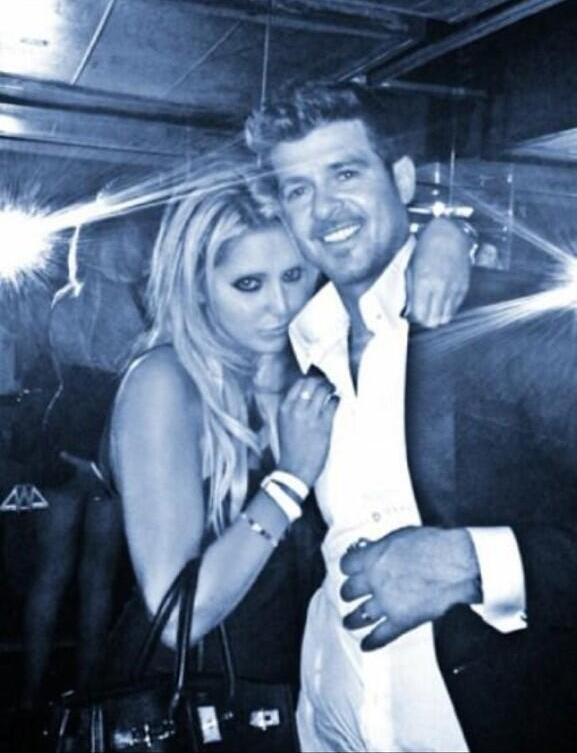 The first time I wrote about Robin Thicke, some of you graciously informed me that he and his wife Paula Patton seem to have some kind of open marriage. I have no idea if that's true, and I have no idea if Robin just fools around a bit and Paula turns a blind eye, or if she really doesn't know or what. My gut says that something shady is happening, but God knows. Haven't Paula and Robin been together since they were kids? Didn't they pretty much grow up together? Anyway, contributing the "shady feeling" is this new photo, taken by some fan at a VMA after-party. You have to focus on what is being reflected in the mirror.
Robin Thicke may have gotten too twerked up by his racy VMAs routine with Miley Cyrus — he apparently couldn't keep his hands to himself while partying with an attractive blonde at a New York club just hours later. A picture posted on Twitter appears to show Thicke at a VMAs after-party, with a cheeky grin, cuddled up to the unidentified woman.

Unfortunately for Thicke, the photo was taken in front of a mirrored wall, and the reflection in the left side of the shot seems to show the singer's hand went directly south, right up the back of the sultry blonde's very short skirt.

The shot was posted on Twitter on Monday, the morning after the VMAs, when Cyrus — in a slick nude PVC bikini — caused a storm with her raunchy twerking with Thicke as they performed at Brooklyn's Barclays Center.

To add insult to alleged gropery, @JenLeadley tweeted the picture directly to Thicke's actress wife, Paula Patton, the morning after, with the warning message, "Look at the reflection girl."

The picture is believed to have been taken at Meatpacking club 1Oak, where "Blurred Lines" singer Thicke had been partying with Patton until the early hours of Monday morning.

Other shots from the evening show Thicke singing and dancing next to his wife, in which he's wearing the same dress shirt and tuxedo jacket, and with the same gold ring on his little finger, which the photo purportedly shows disappearing up the blonde's skirt.

But perhaps Patton — who recently revealed she once hid in the bushes outside Thicke's house to catch him when she wrongly suspected him of cheating before they married in 2005 — didn't pay too much attention to the image. She and Thicke were spotted Wednesday frolicking happily on the beach in Florida with their 3-year-old son, Julian. While it is unclear who the source of the picture is, and if the image is genuine, we're told that neither Patton nor Thicke is concerned about it at all. Reps for both didn't return requests for comment last night.
Maybe their agreement is "a little groping never hurt a marriage"…? While under other circumstances, I might get pearl-clutchy about Robin groping a lady (who is not his wife) without that lady's permission (how very "Mayor of San Diego" of him), but look at the blonde – she's into it. She would have gone home with him if he wanted it. But Paula was there and Robin went home with her. Is this a tempest in a teacup or is Robin really gross?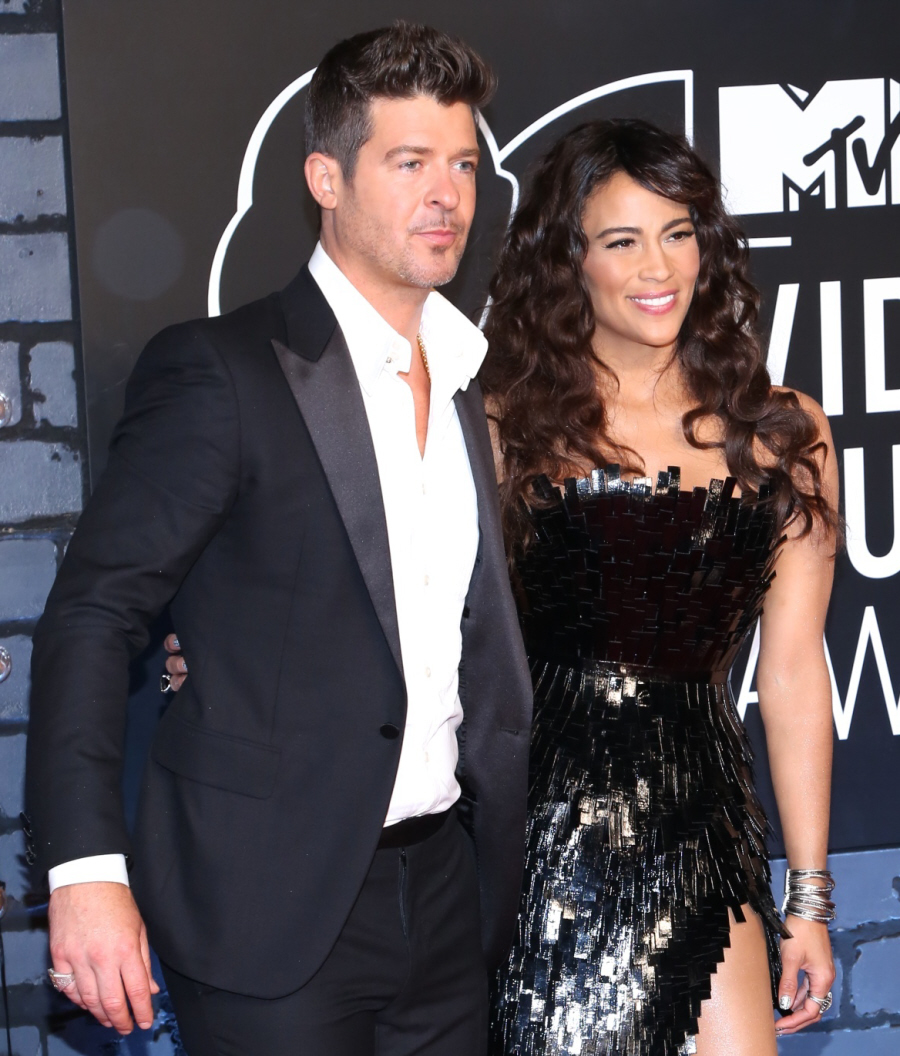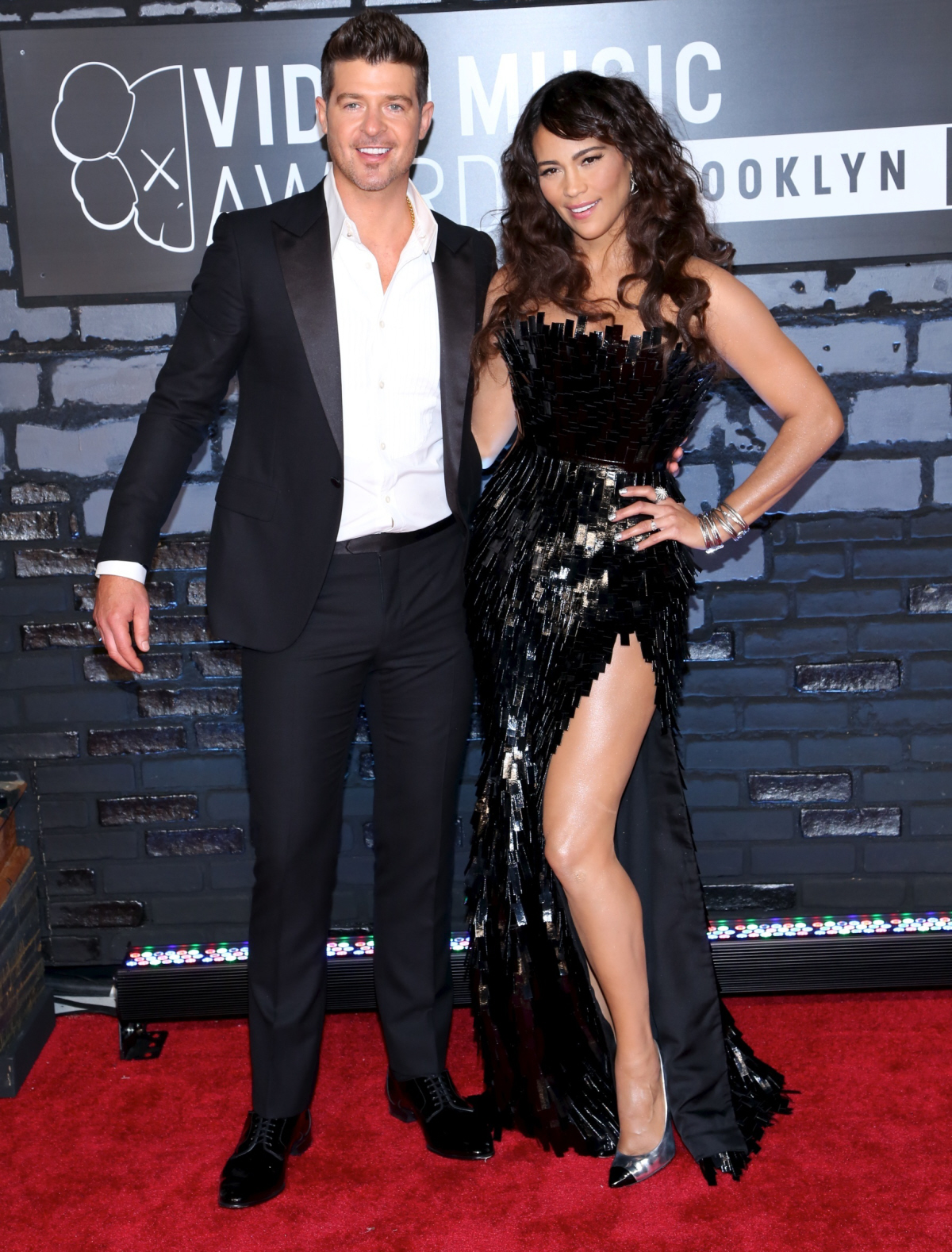 Photos courtesy of Twitter, WENN.