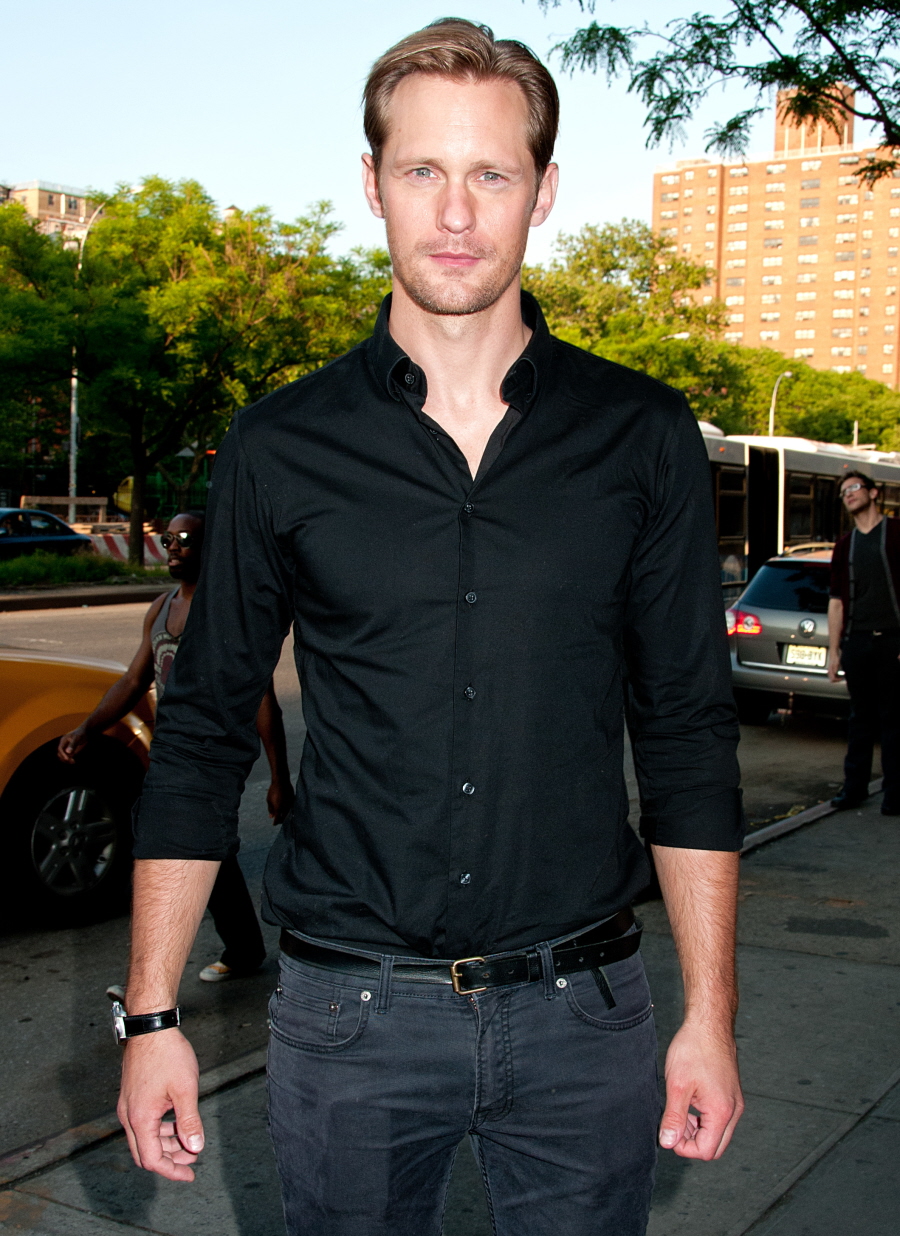 Alexander Skarsgard is back in Sweden, getting drunk and leading Viking chants for his favorite football (soccer) team. I feel like Alex spends his time in Sweden getting drunk a lot, eating all of his favorite foods and spreading his Viking seed in the hearty Swedish wombs scattered throughout the Swedish countryside. Alex gave a phone interview to Metro UK and he pretty much admitted as much at the beginning of the interview – he was out of breath when he called the reporter and she asked him if he'd just been to the gym. Alex replied, "Ha, ha, quite the opposite! I'm back in Sweden, walking home after an intense German meal with German Beer and about three kilos of German pork. I am kind of struggling." Mm. German pork. What?! Here's more from the interview:
Whether he'll come to True Blood now that his contract is done: 'We don't know what will happen in the future.'

Growing up: 'My dad is an actor [Mamma Mia! star Stellan Skarsgård] and we had this bohemian home filled with a community of actors, poets and writers. There was always lots of people and wine and… other things around. I loved it.'

His father was always naked & drinking wine: 'I am proud of him for doing that,' Skasgård insists fondly. 'I love him for how crazy and wild he was – still is.'

Meeting Steve Coogan for the first time: 'I shouted 'Dan! Dan! Dan! [an Alan Partridge catchphrase] when I saw him. I was definitely not cool.'

He wants to do more comedic roles: 'I had a small part in Zoolander [as a male model] that was my first job after my stage work and I would love to do another comedy.'

Is he handicapped by his good looks? 'It could be, I guess, because you could get pigeonholed and vanity can be a creative suicide. When you read a script, you imagine the character, and if your vision of him is not handsome, you can't not do it because you are worried you are not going to be considered sexy if you play it that way. That is just very important to me.'

On Ellen Page: 'just good friends'

Being linked to every female friend: 'If you have lunch with any girl friend – and I mean just a platonic friend – there'll be a story like you're in a serious relationship or whatever. There's nothing you can do about that – so I try not to let it affect me.'

He doesn't want to be on Twitter: 'I wasn't comfortable with the media attention, with people knowing so much about me,' he explains. It's why he's not on Twitter – 'I try so hard to keep something in my life private.'

His adventures: 'Work is so intense and hectic that, to recharge, I like adventures completely disconnected from everything – where you don't have phones or email,' he says. 'Last year, I sailed across Europe and recently I went on a week-long hike up some Swedish glaciers with a friend.'

Is he single right now? 'Yes,' he says, to a collective sigh of relief from Twitter.
So now he and Ellen Page are just good friends? Eh? Okay. But does he bang his good friends? That's the real question. Because I think he considers himself single and he's probably got several ladies who are his "good friends" and he bangs them often enough. Alicia Vikander, Ellen Page, probably a few others. But at the end of the day, I think Alex probably wants a family life like he had growing up. When it comes time for Alex to "settle down" he'll find a nice Swedish girl and he'll marry her and they'll raise their kids in the artsy-bohemian community of Stockholm.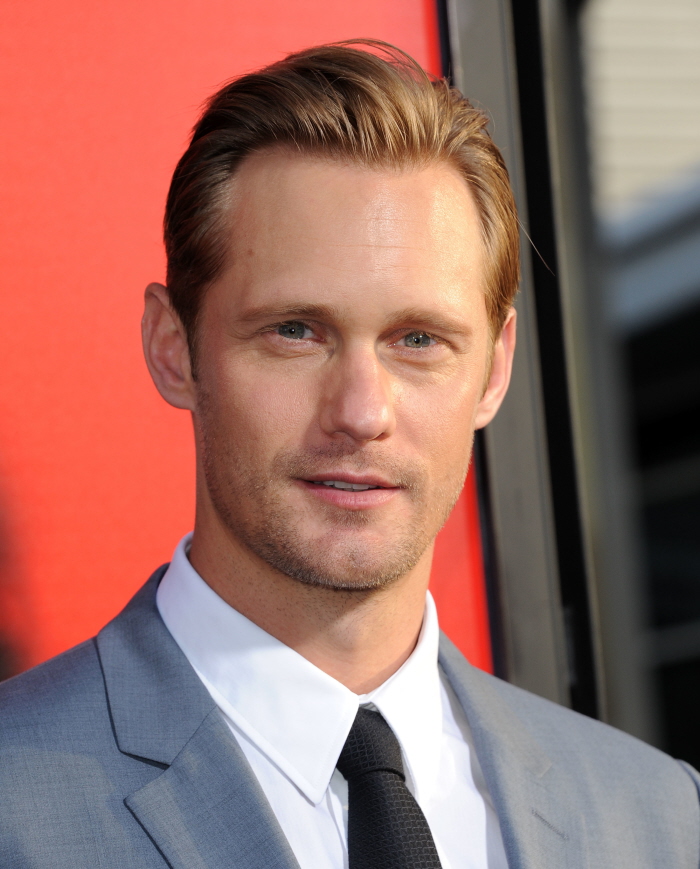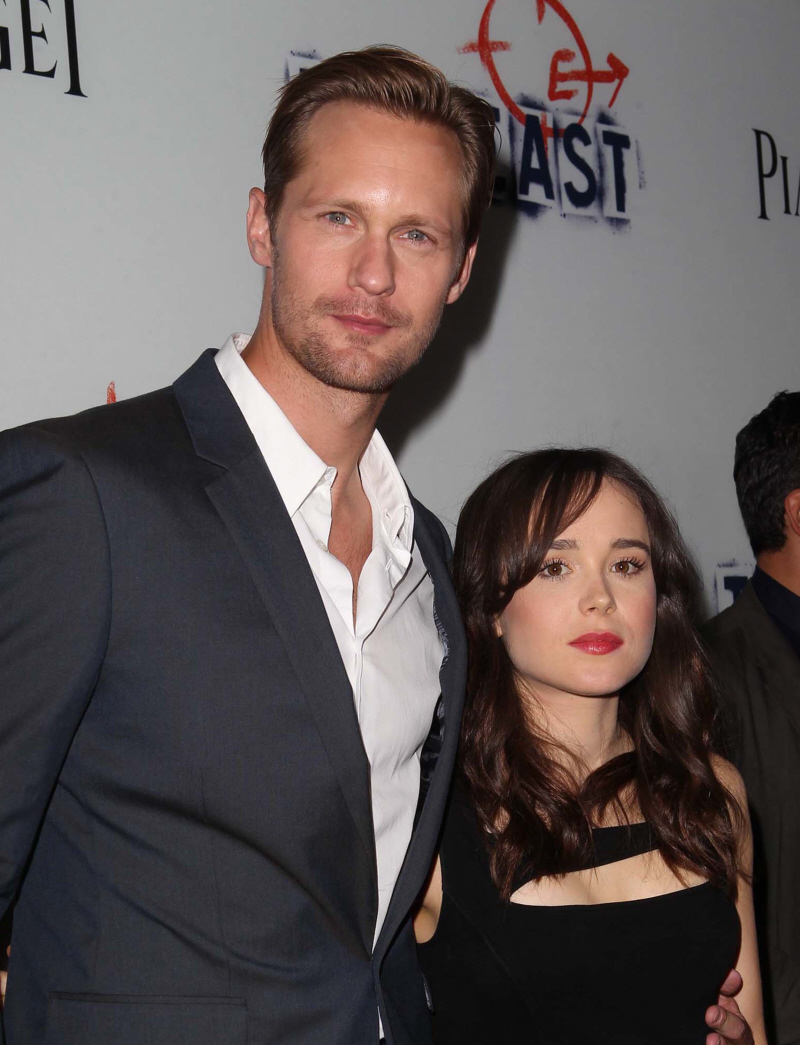 Photos courtesy of WENN.