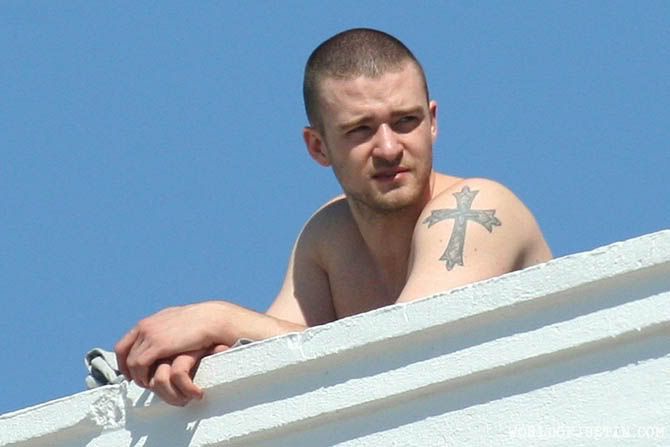 Justin Timberlake lost out on best pop vocal album at the Grammy's this year to John Mayer. He did take home two awards for Best Rap/Sung Collaboration for My Love featuring T.I. and Best Dance Recording for Sexy Back. He was also nominated in the album of the year category, which went to the Dixie Chicks, who pretty much swept the awards.
At one point, though, Timberlake was duped into thinking he'd won the best pop album award. His name came up as the winner on a tv screen during the Grammy rehearsal and he got so excited he could hardly contain himself:
During the start-to-finish run through rehearsal for the Grammy Awards, Justin Timberlake punched a fist in the air and whooped when he spotted his name flash across a TV monitor with the subtitle: "WINNER, Best Pop Vocal Album!" Charging out of his dressing room where he'd been awaiting his cue, Justin excitedly grabbed people backstage, asking "Is it true? Did I win?… Do they know the winners ahead of time?" A passing producer finally broke the sad news – a typist banging out title cards for the run-through arbitrarily picks names from the nominee list and throws them on the screen. Visibly dissapointed, Justin mumbled, "Oh.. thanks," and walked slowly back to his dressing room.
[From The National Enquirer print edition, Mike Walker's column, March 5, 2007]
That's got to burn. He did get a couple of awards at least.
There's a recent story that Timberlake's people are in a dispute with an Illinios bar owner who is promoting an autograph signing appearance with him on March 13, when he will be on Chicago on tour. The bar owner claims to have paid $25,000 to a promoter for Timberlake to show up, but his lawyer says he knows nothing about it.
Timberlake is a busy man, and was dating bootlicious Jessica Biel a short while ago but now seems to be keeping busy with Scarlet Johansson. Here's the "What Goes Around" video he used as a pretense to get close to Johansson, no stranger to sexy herself.
It includes some F bombs and is NSFW. I don't think it's that great, but there's drama and Scarlet Johansson in lingerie so it kept me watching until the end.

Here are a bunch of candids of Timberlake in Tampa on February 23rd. If you think he's sexy are are into golf, today is your lucky day. I don't think the woman he's with is a romantic interest. She's identified only as "Rachael."
Thanks to TimberlakeNow.net for these pictures.