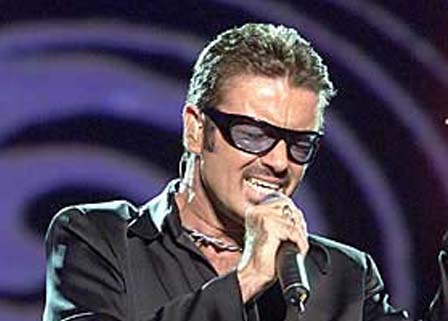 He loves it.
He wishes he never got involved with it.
He damn well ain't gonna give it up
… is George Michael talking about:
A) Toilet Sex
B) Andrew Ridgely
C) Toilet Sex with Andrew Ridgely
D) Da Chronic

The Answer to these and more of your questions on the his creative process are in an exclusive interview with Corrine Barraclough in The News Of the World
He exclusively reveals that his drug habit has become an addiction – and is threatening his livelihood.

"I wish I'd never started smoking pot," admits George, 43. "It soothes my soul but it also destroys my voice. I am addicted to marijuana – I need it to stay creative.

"The purpose of it is to create a daze. That's why a lot of musicians smoke it – me included. I know I shouldn't do it. It definitely makes the walls of my boxes tumble down.
Ahhh George … when the walls of that box come tumbling down you have of late seemed to be asleep behind the wheel of your car. Its really the kind of box that's best tumbled at home.
Still he has some advice for the young kids coming up
"I was already an established artist when I started smoking. I'm not sure whether I would have become a successful artist had I started smoking as a teenager because pot makes you self-contented and lazy. You are easily satisfied when you are high – which is not good at the beginning of a career. But I'm sure smoking pot is the only thing – as stupid as it is – that makes it possible for me to continue my work."
Conflicted and odd advice … but advice nonetheless .., The real lesson to be learned here is hang on to enough of your wealth and success and someone will marry you — and even rest a restrainng pudgy little paw on your chest.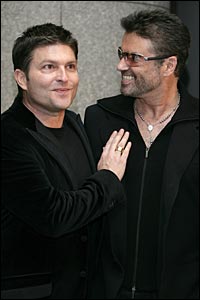 George now lives with his long-term partner, Kenny Goss, and says his life is "getting better and better". The pair are said to be planning a civil partnership gay wedding.
They may look like Tyne Daly in a black velvet tux … but hey every stoned Cagney needs a Lacey to love …and go on those late night Ben And Jerrys runs.
pics via News of the World