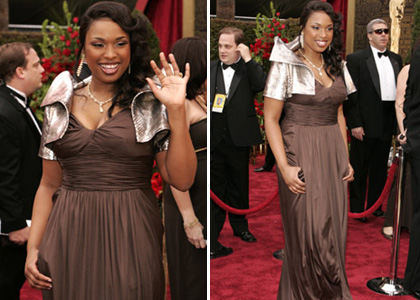 He just cannot stand to see that young woman do too well … it rubs something in his tortured half-soul the wrong way. Liz Smith gives us the big hearted Texan breakdown:

Jennifer Hudson, did win big – but lost big, too, because of the much ridiculed metallic bolero Andre Leon Talley made her put on. (Post fashion editor Serena French said it made her look "lost in space.") "Jennifer was kind of sponsored by Talley and Vogue," said one fashionista. "Andre insisted she wear that hideous Oscar de la Renta dress with the awful, awful gold python bolero.
It's a classic case of Fashion Passive Aggression. The odd internal politics of the little fashion world promote their own odd menagerie of characters dictatorial powers. They decide to put Jennifer Hudson on the cover of Vogue — purchase her soul directly from her church deacon and then wrap her in vinegar, brown paper and tinfoil and send her to the Oscars.
Leon Talley is a personally monstrous dresser who has nonetheless long been established as a tastemaker and an editorial force – and one suspects was more invested in forcing Hudson to kowtow to his Chewbacca will then actually craft her look or make her happy as a fashion client.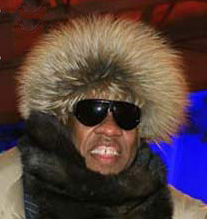 "Jennifer really didn't want to, and so [noted stylist] Jessica Paster got her a beautiful gold Roberto Cavalli custom-made. But when Andre found out, he went ballistic. Moments before she left for the show, there was a power struggle and Jennifer ended up putting his outfit on."
It's a case of the psychological needs of the stylist wining out over the styled … that's never good. Wookies should use their powers for good not for evil.
pics via PerezHilton