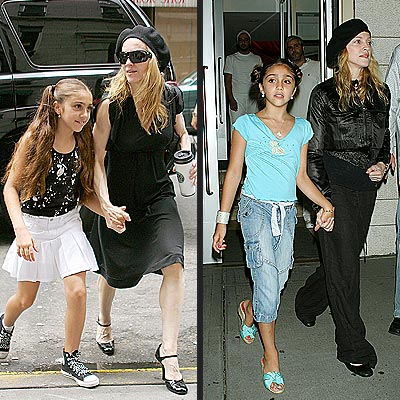 I am rather in favor of Madonna's self-consciously strict and old fashioned regimen for raising kids. It's the flip side of rebel … and seems appropriate for living in the UK with its grand tradition of young radicals who turn into old fogies
Madonna once confessed that she's the disciplinarian in the family, forbidding her children from watching TV at all, which she called "trash."
She is continuing with bringing the hard discipline to bear on the kids — and announcing the policies to the press before they have even pubesced. She broke it down for Jeanette Walls over at MSNBC
The woman who brought the world the book "Sex" has become a prudish mom. Madonna has banned her 10-year-old from dating until she's 18.

"No boys for [Lourdes] until she turns 18," the "Papa Don't Preach" crooner says, according to WENN. "She's a good girl, though. She doesn't have it easy. Late-night TV, junk food and mess are not tolerated in my house."
Irony is headed straight for Madonna with a big thick irony stick … when it gets to her English mansion it is gonna whack her long and hard till she clearly feels the irony all over her well muscled, HRT limbered frame.
If genetics play true Lourdes may not be in much of an adolescent mood to listen to a strict disciplinarian Mom. She may cut on over to chill with Dad and the Santeria crowd in Miami, date inappropriately, dance all night and drive her mother mad. Hell she might just slip out of the house and do it in decadent London town. Some girls do.
Then again maybe Madge knows the best gift you can give a kid is something worth rebelling against … the Madonna self-knowledge index is always a hard one to read. Just when you think she's in on the joke … then you ain't so sure.
Teenage kids banned from dating till they are 18 should ensure that the joke will be permanently on her.
pics via the bosh