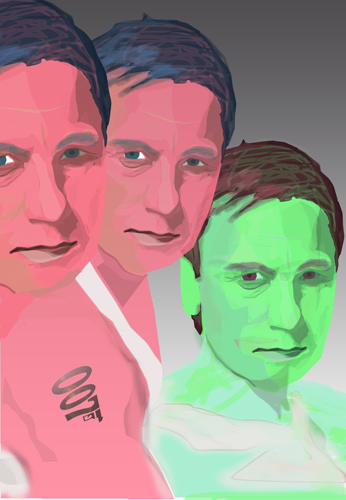 Its like 007 to the third power … Daniel Craig is double O twenty one and old enough to drink those shaken not stirreds.
But are there enough martinis to calm down beating hearts worldwide at the thought of an Oscars party populated with not one, but three Daniel Craigs. Ohhh Danny Boy …the pipes the pipes are calling.
It's Bondage Galore. And Female First has the news on the Danny Craig triplet threeway.
Daniel Craig hired two body doubles to escape an over-zealous fan at the Oscars.

The handsome Bond star was nervous about an obsessed New Orleans woman turning up and harassing him so he enlisted the help of two look-a-likes to avoid any unwanted attention.

A source told Britain's Daily Star newspaper: "Daniel was extremely well looked after and security was at an all-time high.

"Daniel has had one woman from New Orleans trail his whereabouts every time he is in America.
I'm sure Daniel is always very well looked after, he has the look of a man who was just looked after about five minutes before you met him and who looks forward to being looked after soon again.
Of course how he can be sure theres only one of his New Orleans stalkers – when there are now three of him. There could be endless body-double stalkers handcuffing themselves to endless Danile Craig clones. A sort of Handcuffs Across America — giving a steely manacled new emphasis to The Special Anglo American Friendship.
"She always pushes to get hold of him and threatened to handcuff herself to him should she get near him either at the awards or at the Vanity Fair after-show party. So two decoys who looked just like him were hired for extra protection."
I'm not sure of the actual logic here … surely you've just increased her chances of being handcuffed to Daniel Craig or a very reasonable hand drawn facsimilie. She's really got those George Bush odds …. born on third base believeing he hit a home run.
Daniel, 38, was seen enjoying champagne, beer and martinis with his girlfriend Satsuki Mitchell, 29, at the star-studded Vanity Fair party at Beverly Hills' Mortons Restaurant.

Daniel is not the only British heartthrob to be plagued by obsessive fans.

Hugh Grant, 46, was promoting his latest movie 'Music and Lyrics' in Amsterdam last week when a fan handcuffed herself to Hugh. The actor had to be cut loose by fire-fighters.
It would be harder to find a bunch of Hugh Grant look alikes … floopy floppy hair and earnest dissembling are harder to imitate than steely glances and a well formed backside. The former takes hair extensions and charming mumbling the latter can be done by focusing on the awalls and a nice pair of male booty spanx.
For proof of how difficult the Grantesque hair flop is to pull off … look no further than John Travolta's Oscars toupee. You couldnt handcuff L. Ron Hubbard to those mahogany antennae with a full battallion of Bonds at the ready. Well looked after Bonds.

pic via balding blog
And Original Art by UrbanDK