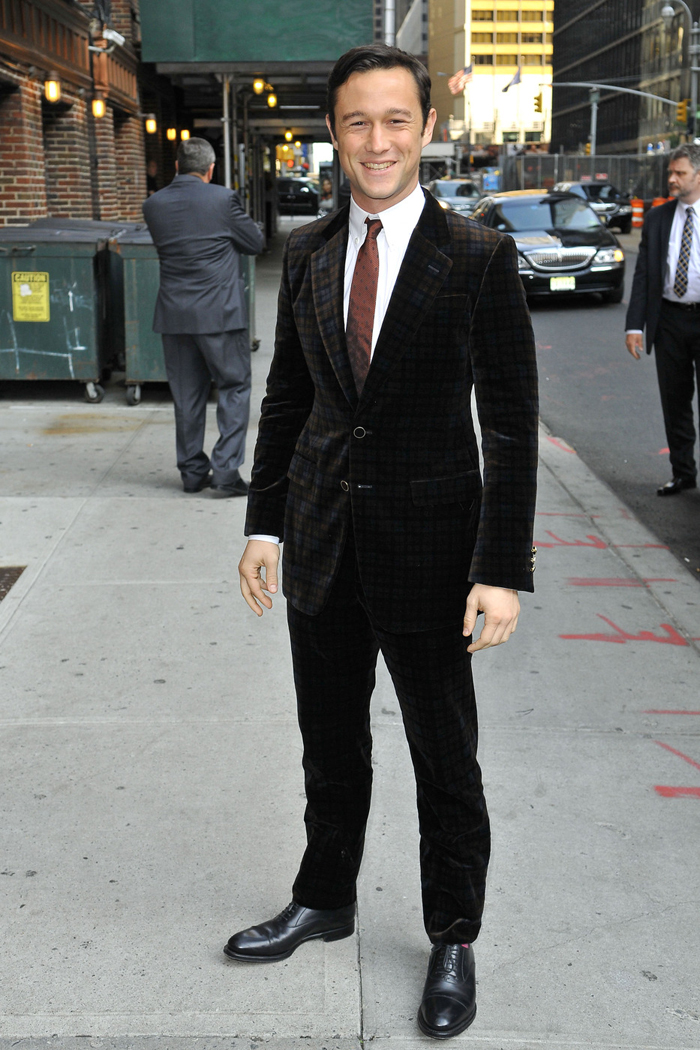 These are some photos of Joseph Gordon Levitt outside the Letterman show last week. I missed these pics earlier and apologize to all fellow JGL fangirls. Doesn't he look delicious? Most guys would look ridiculous in a plaid and velvet suit. Pretentious even. I accept Joe's level of pretentiousness. He's charming without going full Franco.
Beyond talk shows, Joe whipped out a tool that's quickly becoming the hip way to promote a project. He joined the Reddit AMA bandwagon on the heels of Olivia Wilde and Madonna. JGL opened up and invited any and all questions. Here are some Don Jon-heavy highlights: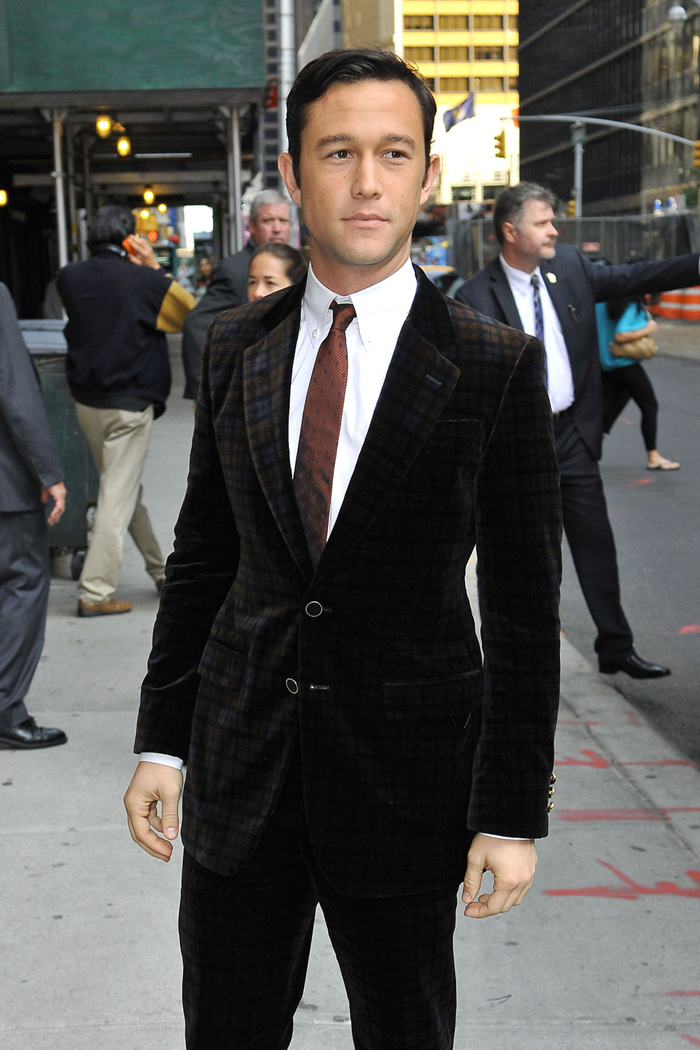 Why aren't you Batman" "We're all Batman."

First movie? Favorite cartoon growing up? Most embarrassing on his playlist? Favorite Pokemon character? "Dumbo. Thundercats. The Sign, ACE OF BASE. Magic: The Gathering FTW."

Will you marry me? "Yes. I'll marry you. It will be in the spring. In Italy. I'll wear Paul Smith. You, Chanel. We will ride off together on two white horses, and have a thousand orgasms as the sun sets over the golden horizon."

What does he want in a woman? "I do my very best to not have any rigid expectations. I think the best, juiciest, mind blowing love comes as a surprise. If you're already looking for the items on your wish list, you're doomed. This is exactly what DON JON is about. Both my character and Scarlett's character are blinded by unrealistic expectations they've learned from pr0nography and Hollywood movies."

Is the Guys and Dolls remake happening? "Chan and I definitely want to do a musical together. Guys and Dolls is one idea we're playing around with. Not sure if it'll happen, we'll see. But whatever it ends up being, it's gonna be frickin rad."

What was the inspiration for Don Jon? "I've always paid a lot of attention to the way media affects how we see the world. Probably because I've worked as an actor since I was a kid. I often find it funny (and occasionally horrifying) the way we are all influenced by the images we see on screens. Especially when it comes to love and sex and relationships. So I thought the story of a boyfriend and a girlfriend, where he watches too much pr0nography and she watches too many romantic Hollywood movies would be a funny way at talking about these sorts of things."

Why did he cast ScarJo? "First of all because she's hilarious. See her on SNL? And she balances comedy and sincerity with a delicacy few actors can. Besides that, I thought she'd be a powerful presence in the movie because she's an acute example of what the movie's about. Scarlett is an extremely smart person, and a very talented artist. And yet most of what gets talked about is her looks. This part of our culture is what DON JON is poking fun at."

Does he ever question his career in showbiz? "This industry is definitely not for me. But I love making movies. Story telling never used to be wrapped up in a bunch of glitz and glamour. And soon enough, it won't be again."

Was Bane huge in real life? "Tom is pure murder. Seen Bronson?"

Would he cover a Barney song? "Hate to be a hater, but I never liked Barney. One time I sang a sesame street song called I DON'T WANT TO LIVE ON THE MOON. Hold on, lemme find it."
[From Reddit]
Damn, I wish I'd thought to propose to Joe if it was that easy to gain an acceptance. No shame, people.
Here's the video clip of JGL on Letterman. He talks about Batman stuff and has a really good attitude about Ben Affleck playing the role. He also admits to partaking in some "excellent Columbian weed" with Seth Rogen's "posse." That seems like the standard story for anyone who's ever hung with Rogen.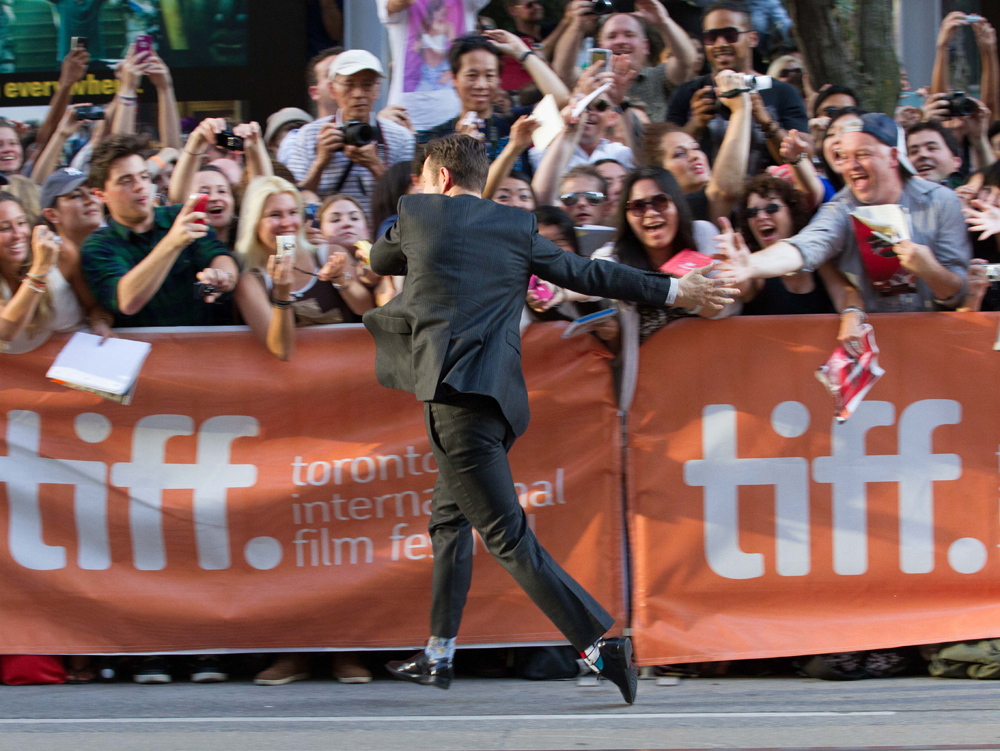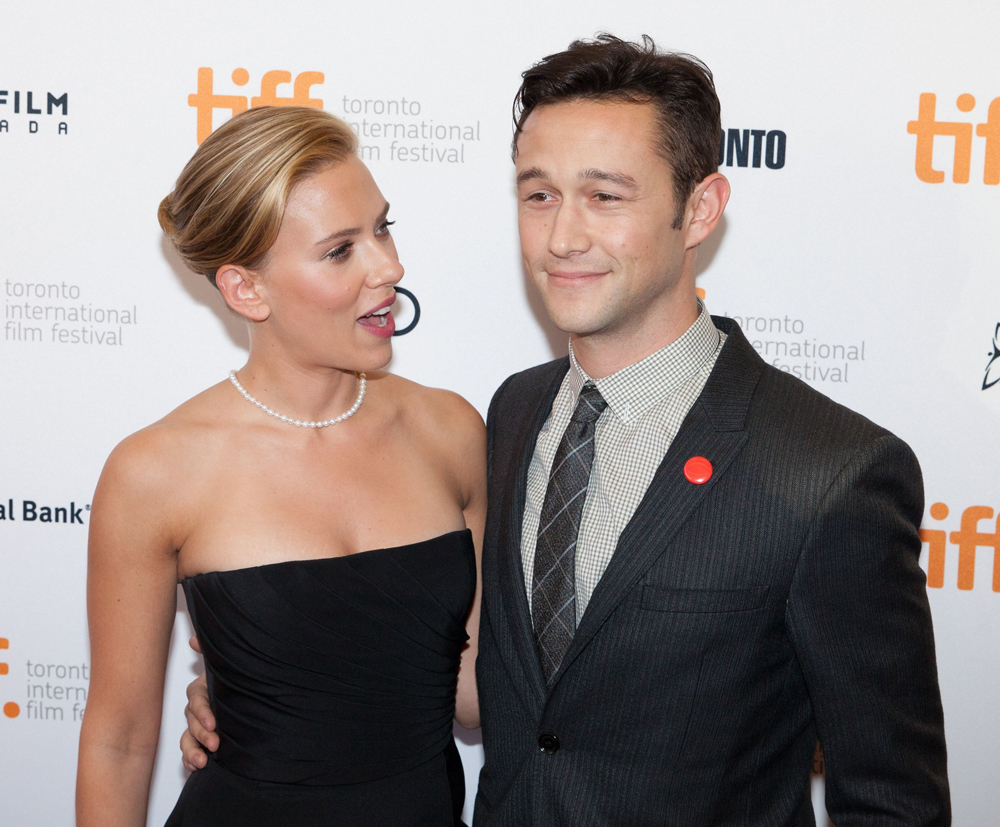 Photos courtesy of Pacific Coast News and WENN