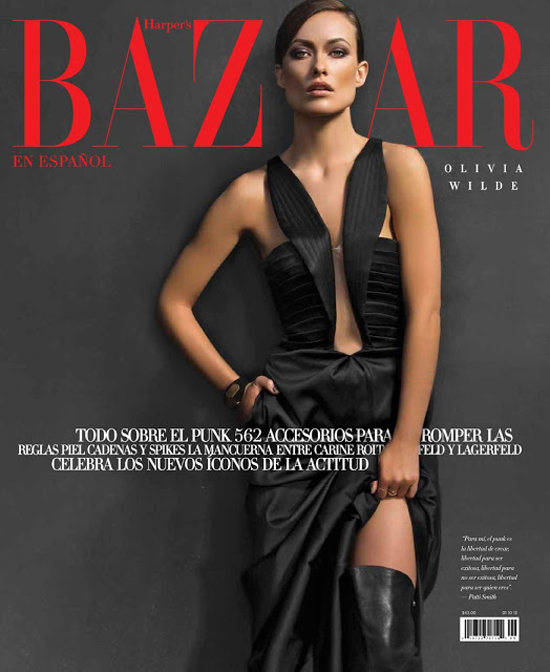 I'm mixing and matching some Olivia Wilde stories here. She's really going crazy promoting her direct-to-internet movie, Drinking Buddies, like VOD is going out of style. Which it very well may be. Olivia is also promoting Rush, but that movie is more about the Hemsworth and the Bruhl. Yet Olivia will do a lot in the interest of promotion like sit down for a Reddit AMA, so let's discuss her latest efforts. First up, Olivia covers the October issue of Harper's Bazaar Spain. The shoot is a strange combination of "meh" and "bizarre." That is, the photos of her doing nothing out of the ordinary are rather boring. Then things get weird when Livvy poses alongside a cactus and starts doing faux-ninja kicks while "taking a walk [on the Wilde side]." This is kind of a lazy editorial, but Olivia seems to have thrown herself into the fray with gusto. I can admire that attitude.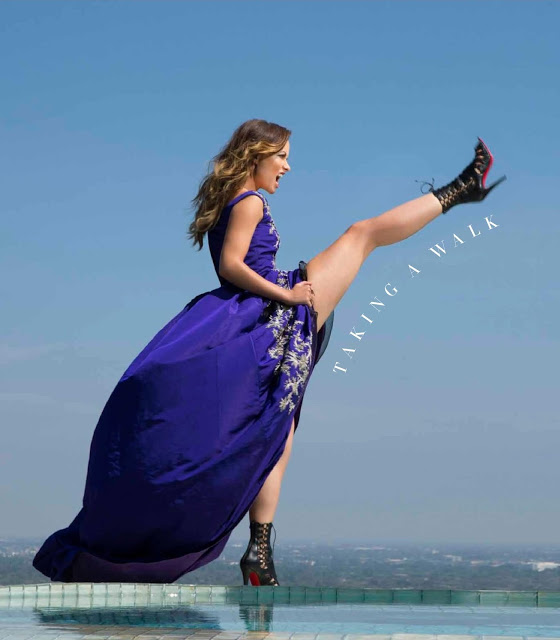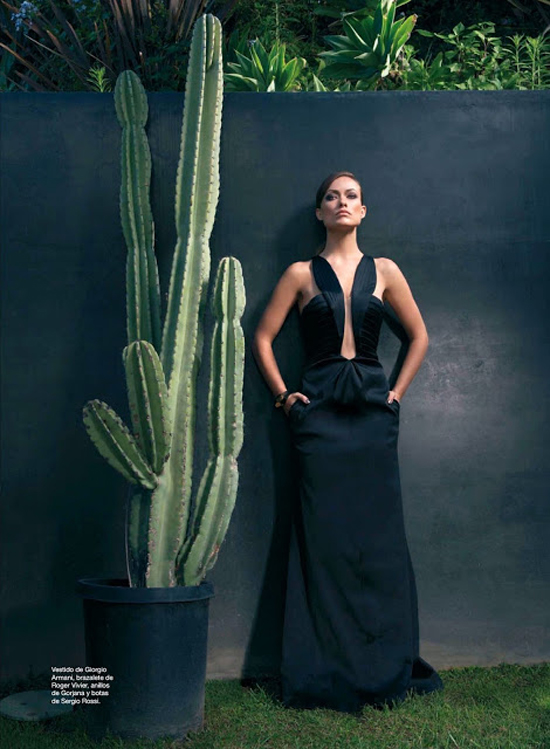 Olivia has also done an interview with Food & Wine magazine because I think Drinking Buddies producers are hoping to score with the mag's demo. So Olivia gushes on for quite awhile about all of the fattening foods that she eats on a regular basis. Bitch please, we've seen your bikini bod, right? Let's see if we believe her:
Deep-fried PB&J: "Now I'm ruined. I'm gonna turn into Marlon Brando. I had it at the Malibu Inn, which is a great music venue and bar right on the Pacific Coast Highway. My fiancé ordered the deep-fried PB&J–they use waffle batter, so it's not too bready. The way the peanut butter and jelly melt together is far better than I could have imagined. It's pretty much the ultimate stoner food."

Beer: "Even though I'm Irish and I love Guinness, dark, dark, dark beers aren't usually my thing. I like a good, aromatic IPA. Now I have become a total beer snob. I'm the annoying person who takes forever in the beer aisle at Whole Foods, because I'm standing there going, 'Hmm. I'm not sure. I'm not sure if that's a good selection. Do you have anything in the back? Is this local? I've never heard of this one. How hoppy is this?' And other people are just like, 'Please, move on.'"

Wine: "Oh yeah, I'm a wino. I won't say there's one grape I like best, though, because I do like blends. Do you know The Prisoner? That's a blend of Zinfandel, Cabernet Sauvignon and Syrah. That's just a fabulous wine. But my favorite wine of all time is a Napa Valley Cabernet called Scarecrow. It's mailing-list only, so it's hard to find, but if you ever see a bottle of Scarecrow, get it."

Pasta: "I have recently fallen in love with an Italian restaurant downtown called Carbone. I've always found sea urchin to be too fishy, but at Carbone, they serve a sea urchin dish that is incredible. It's just garlicky and buttery and amazing. They also make the best linguine vongole I've ever had. For me, my number one comfort food–the food that really feels like a hug on the inside–is pasta. Probably a fresh linguine with arrabbiata sauce would be my top pick. Maybe I'd have some bread on the side, with some cheese or olive oil, too. I guess I crave the basic, carby things that we're not supposed to eat."
[From Food & Wine]
Do you think that Olivia is merely joking about eating all this decadent food on a regular basis? Just like she joked about all that sex stuff with Jason Sudeikis? Who knows. Maybe she just has a fast metabolism. Why did I say that? It's like I'm trying to dislike Olivia when (secretly), I'm warming up to her at an alarming rate.
I still find this photoshoot to be rather perplexing. Some of the shots are quite lovely, and then others look like Olivia is trying to be a sexy Terminator.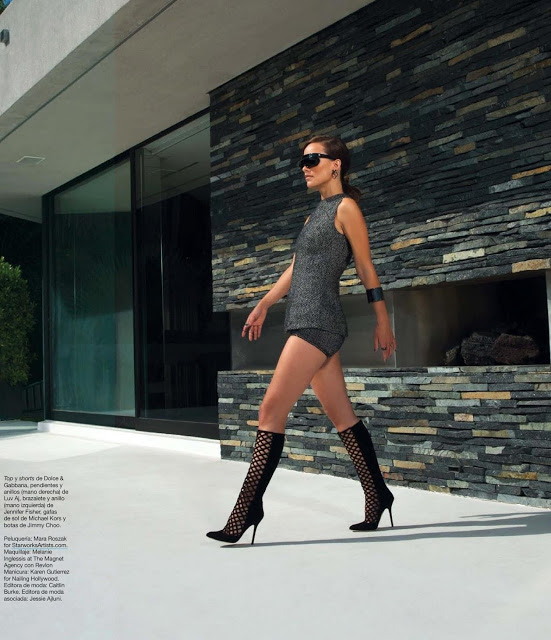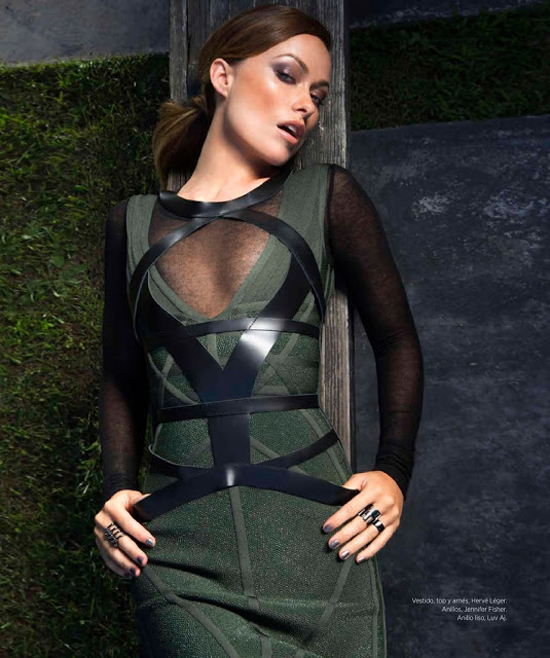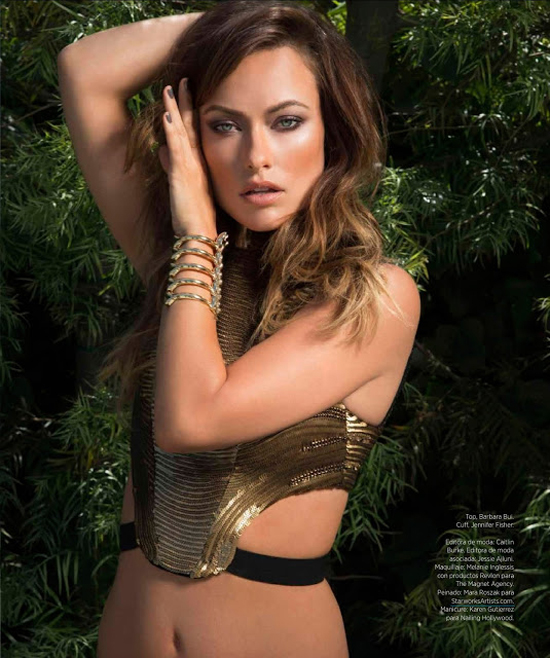 Photos courtesy of Harper's Bazaar Spain