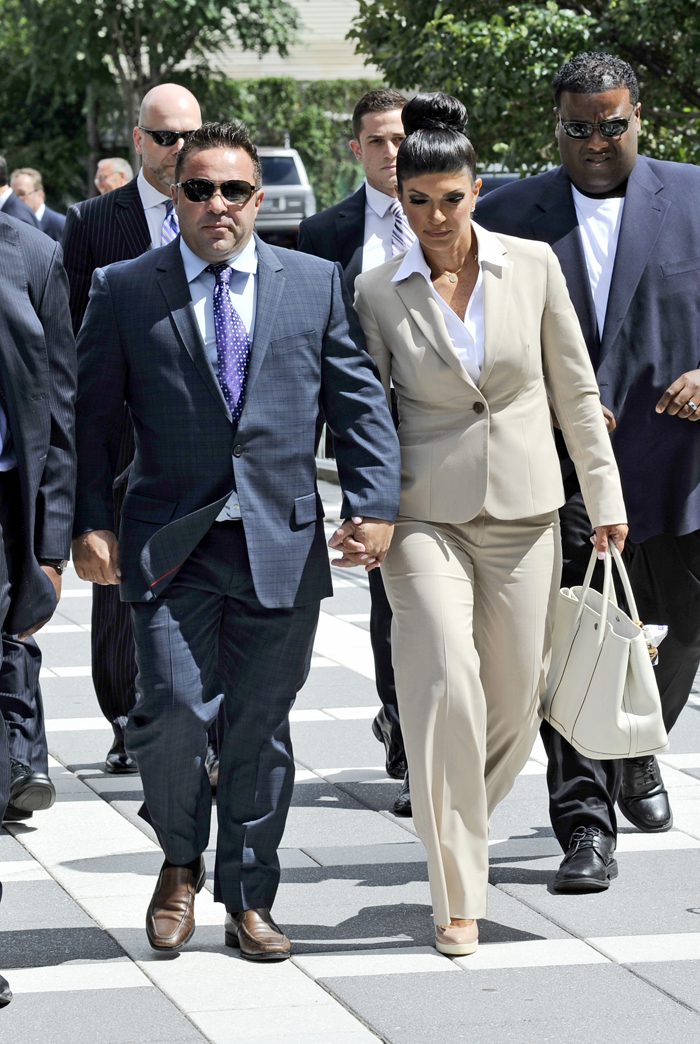 Teresa and Joe Giudice will appear on Andy Cohen's Watch What Happens Live to speak for the first time about their 39-count indictment and federal fraud charges. You can see the advance video clips on Radar where Teresa breaks down crying. Joe looks like he thinks it's all a joke, but the denial is strong for this couple. Maybe reality is finally hitting Teresa, and Joe is slow to catch up. I think she's just putting on a show. Like she knows her ass is likely to do some hard time, and it's time to dance.
To recap, Teresa and Joe face 50 years in prison if they are convicted for multiple counts of fraud and conspiracy to commit fraud. They falsified loan applications and committed bankruptcy fraud in 2010 by hiding assets from creditors. At the time of their bankruptcy, they were $11 million in debt after splurging out regularly on vacations, dinners, pointless riff raff like a suit of armor and a gaudy mcmansion.
Of course both Joe and Teresa have pled not guilty to all charges. Teresa even had the audacity to beg fans to fund their legal defense. This is a couple who simply decided not to file taxes for years all while falsifying income for loan documents so they could continue their lavish lifestyle. I can see how reality television acts as an incentive to appear wealthy, but these people seem to act like they're entitled to everything. Teresa honestly doesn't seem to grasp that what she and Joe were doing is wrong. She's asking (via RadarOnline) why it's all happening to her. To her!
Joe and Teresa Giudice are putting up a united front despite their 39-count indictment and fraud charges, and during an emotional appearance on Watch What Happens Live Teresa revealed she will stay strong for her daughters, but questioned why this is happening to their family – and RadarOnline.com has your sneak peek.

The Real Housewives of New Jersey couple have pled not guilty to the charges, but face 50 years each in prison if convicted.

"I can't fall apart, Andy," Teresa tells host Andy Cohen.

"I have my daughters. I mean, they mean the world to me."

It's the first time Joe and Teresa have spoken publicly about their legal battle.

"Maybe out of all this…I don't know, I mean there's like…you go through things in life, I mean I don't know why. I'm asking like, why is this happening to me?" Teresa tells Cohen as she gets choked up.

"So maybe something my daughters can learn from this is, my mom was really strong through all this, she was there for us, and I hope they always have that there with them."

When I heard that these charges carry a maximum of 50 years in prison…" Cohen said.

"I thought it was 100," Joe chimed in, appearing to take the situation lightly.
[From Radar Online]
Oh lady. "Maybe something my daughters can learn" is "my mom was really strong"? How about "Don't commit fraud" or "Don't spend more money than you actually have"? This isn't a simple case of reality stars assuming the gravy train would never run out on their existing salaries. They didn't even try to live within those salaries in the first place. If Teresa cares about her daughters like she says, then she'll strike a deal with the feds and testify against Joe. She could choose to remain loyal, but I think the lesser of evils here is to make sure her girls have at least one parent.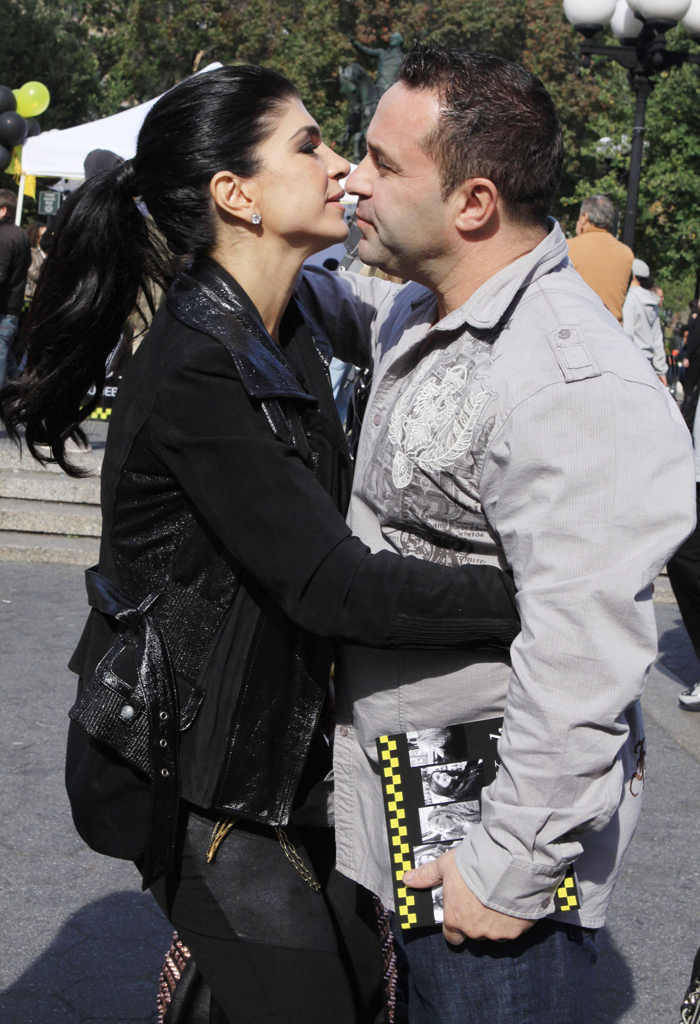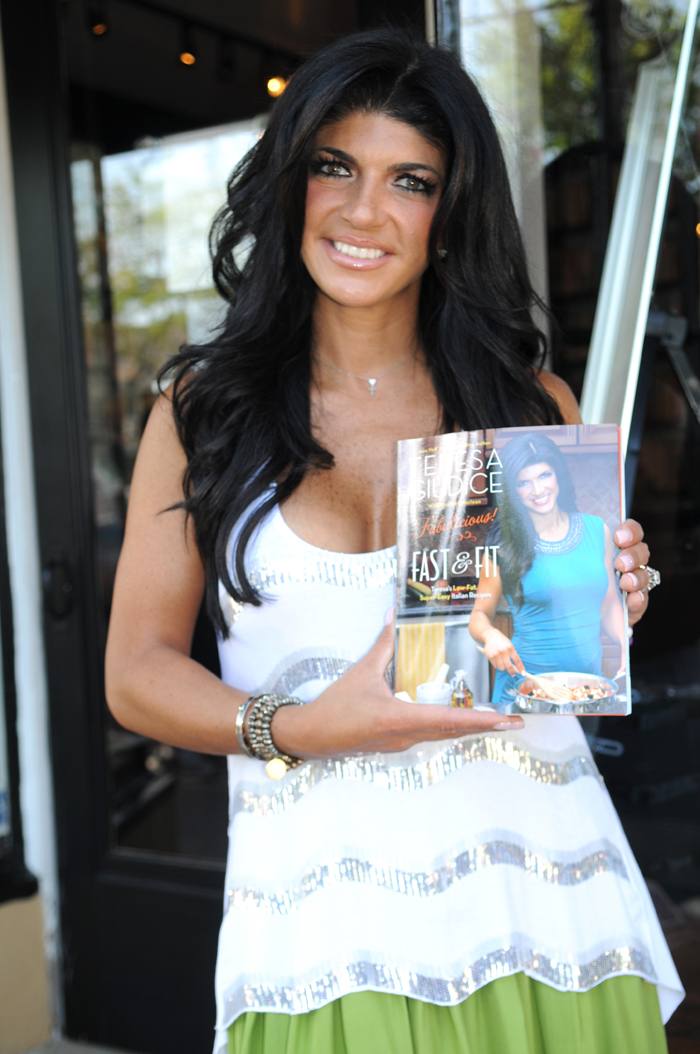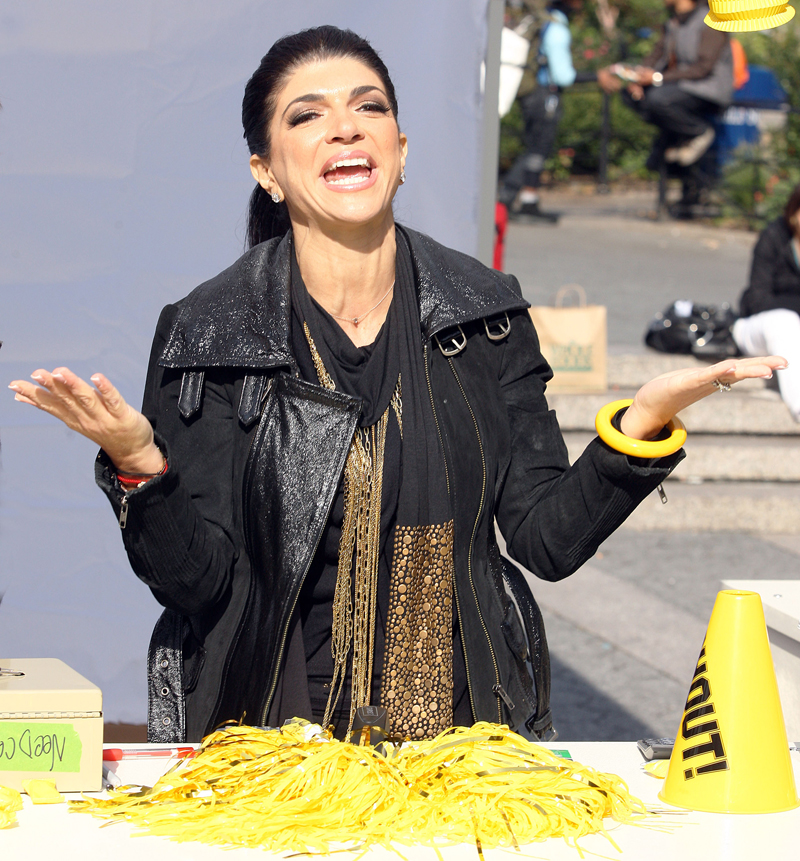 Photos courtesy of Fame/Flynet and WENN