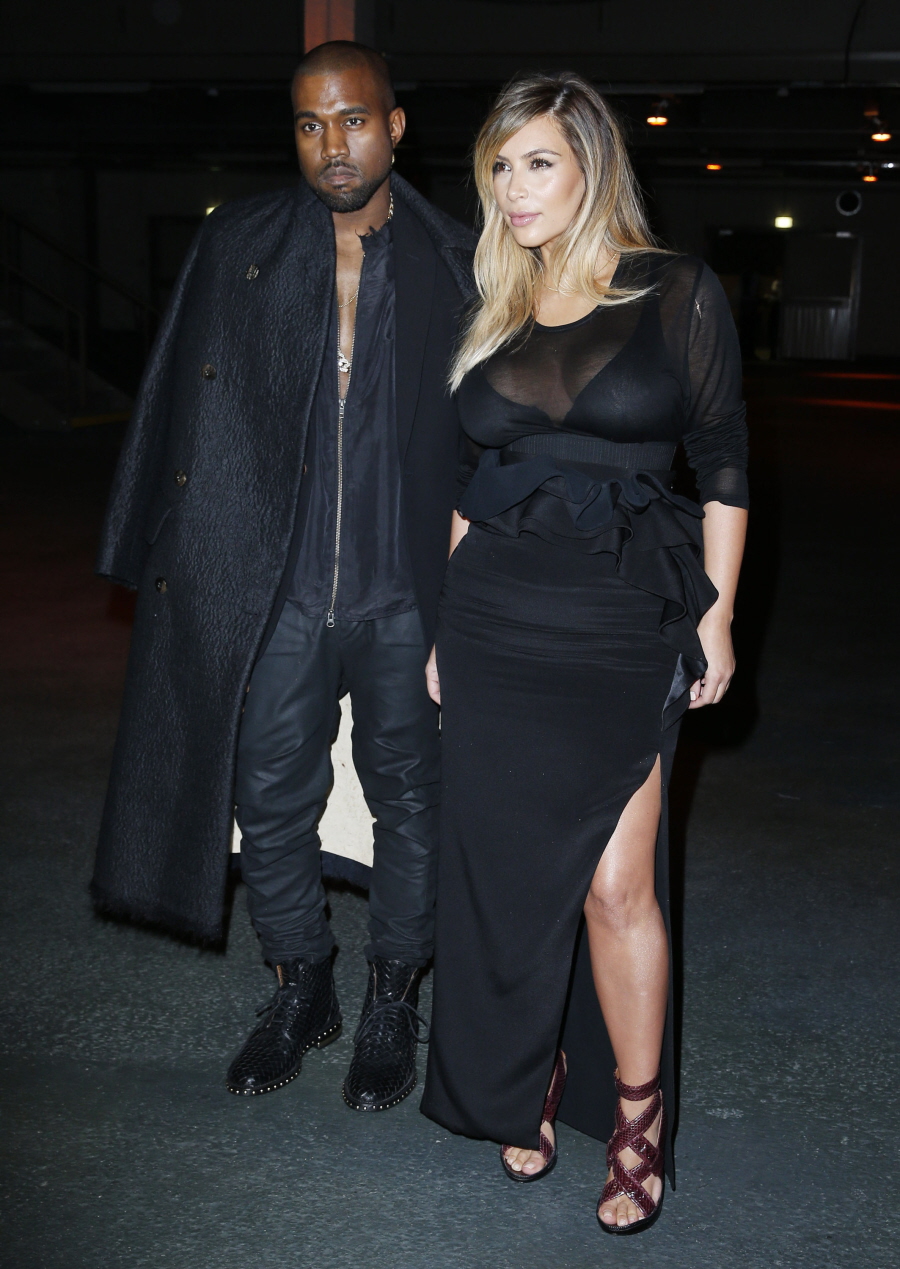 There was a specific reason for why Kanye West and Kim Kardashian left North West in LA so they could fly to France for Paris Fashion Week: Kanye had to be in attendance at his BFF Riccardo Tisci's fashion show! These are photos from last night's Givenchy show at Paris Fashion Week – Kim and Kanye were the biggest celebrities there, although when I was just glancing through the photos, I thought Ciara was Kim (they have the same hair now).
Kim wore Givenchy, of course, and it was NOT flattering. I just a read a story in Us Weekly about Kim's post-baby diet and how she's so proud of herself because she's lost all but 10 pounds of her "baby weight". A week ago, I might have believed her. But in this dress? Not so much. I mean, it's her business and it's only been three months, it's absolutely normal that she hasn't lost the weight. But let's not pretend that she's almost back down to her "size 2". I think what's hurting in this dress is the crap at the waist – it's adding bulk, right? And that leg slit is doing her no favors either.
Yesterday, some of you had questions about whether Kim is breastfeeding North West, or whether Kim is treating her baby just like she treated poor Mercy the Kitty. Radar had an interesting story about that:
Kim Kardashian and Kanye West arrived in Paris Saturday morning without their daughter, North, and the decision to leave her home in L.A. wasn't an easy one for the new mom.

"Kim really wanted to take Nori to Paris but Kanye insisted that it wasn't a good idea because of his issues with photographers," a source close to the couple tells RadarOnline.com exclusively. "He thought it was too dangerous. He also wanted Kim all to himself for a few days. He said they needed to spend time together as a couple away from her family," the source added.

That caused a major dilemma for Kardashian, who has been breast feeding her four-month-old daughter.

"Kim had wanted to continue breast feeding for another two months," the source reveals. "She considered taking a breast pump with her to Paris and having either an assistant flying the milk back to L.A. or shipping it back by FedEx. Kanye thought that was ludicrous, and as usual he got his way," the source says.

After a visit to the offices of Givenchy Saturday afternoon, the couple took a high speed train to London for some meetings. They were back in Paris Sunday morning in time for West to be seen in the front row of the Celine show.

"Kanye has set up multiple meetings with Chanel, Celine and Givenchy to design a new post pregnancy wardrobe for Kim. He thinks this is a prime opportunity for her to re-vamp her image," the source tells us.

"Kim is also hoping to discuss wedding dress designs while in Paris," the source says.
Hahaha, like Kim would wear Chanel for her (THIRD) wedding. Like Karl Lagerfeld wasn't actively trolling her with that CR Fashion Book photoshoot. Like Karl would EVER. No, let's face it: if and when Yeezus marries Kim, she'll be wearing Givenchy by Riccardo Tisci. And she'll look like a couch, because Tisci is A) not a great designer and B) passive-aggressive. As for the breast-feeding stuff… this article aims to be Kardashian-sympathetic, but it really doesn't sound like Kim put up any kind of fight about leaving the baby at home. Probably because Kim was bored out of her mind and in need of some good old-fashioned famewhorin'.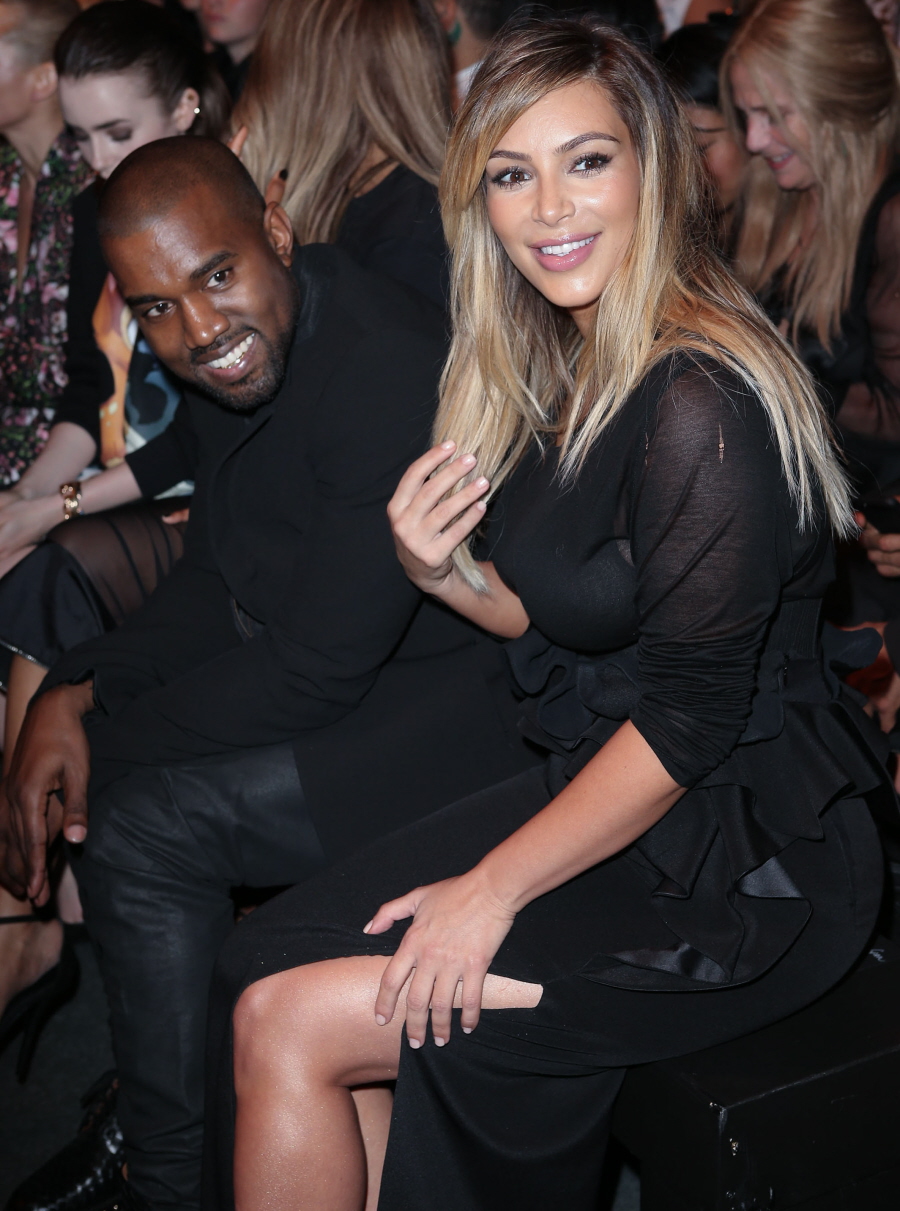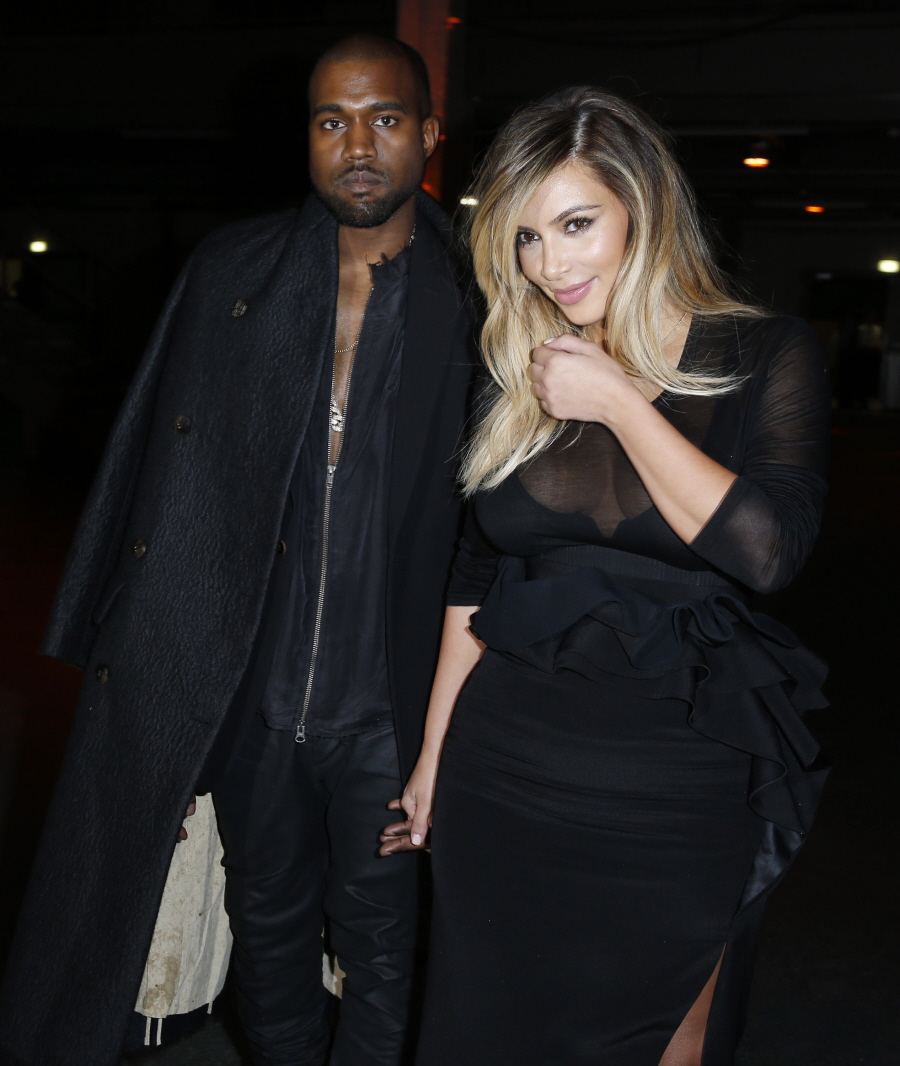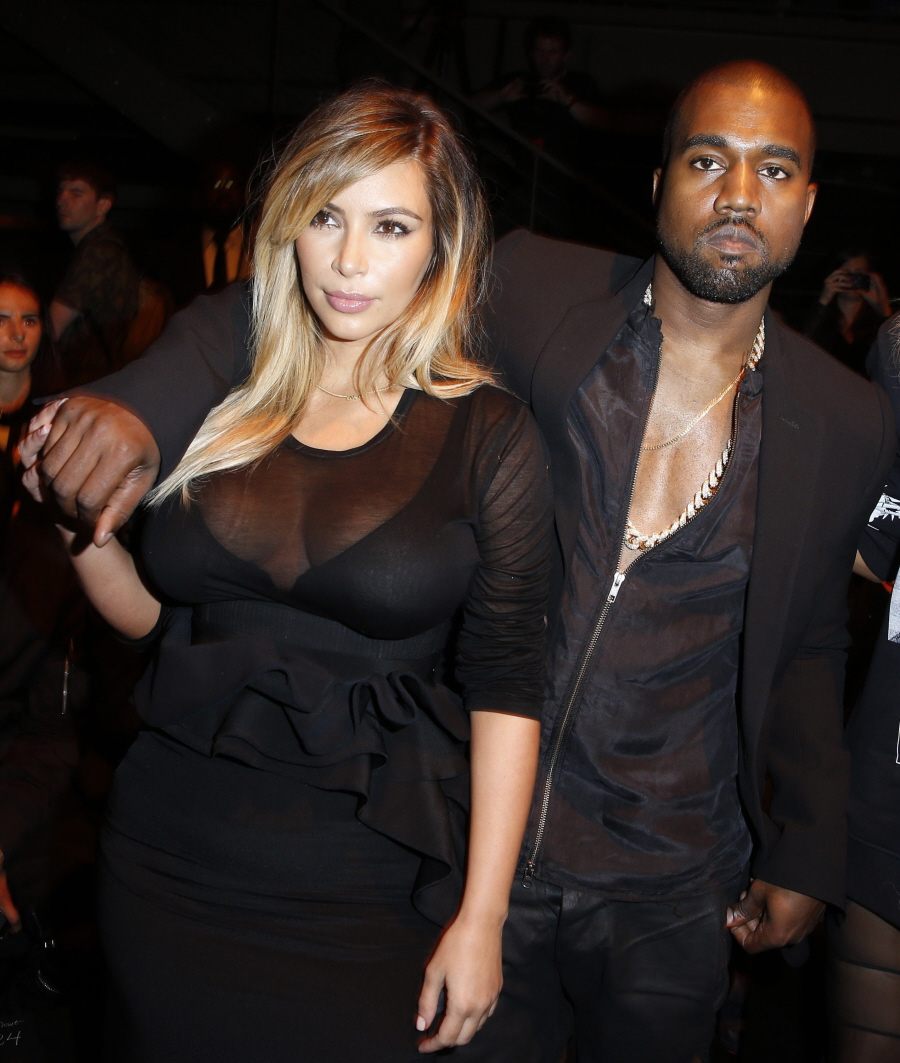 Photos courtesy of Fame/Flynet.