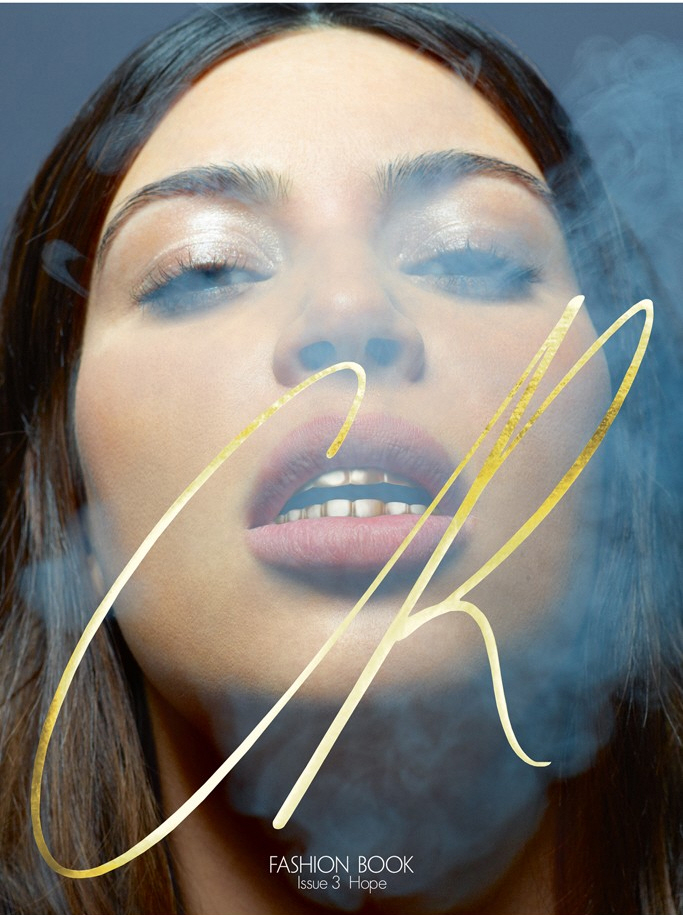 Do you remember all of those "HE GAY" rumors about Kanye West? The rumors involved Kanye having a secret boyfriend named Riccardo Tisci, who is the head designer for Givenchy. Kanye and Riccardo are tight. Kanye introduced Kim Kardashian to Riccardo and Riccardo designed Kim's hideous Met Gala gown. And now Riccardo has "styled" a magazine editorial for Kim. The CR Fashion Book pictorial was done when she was pregnant with little Knorth Kardashian, and not only did Tisci style it, but KARL LAGERFELD photographed this mess. Choupette Lagerfeld does not approve.
Carine Roitfeld is the editor-in-chief of CR Fashion Book and here's what she has to say about this mess:
Roitfeld spun the prenatal images as a "precious moment of Kim's pregnancy that people haven't seen" — and the ideal tribute to the issue's theme of hope. "Pregnancy is something that I always love. It's about hope and the future and a new baby," she explained.

Roitfeld was careful to distinguish CR Fashion Book from the celebrity weeklies that rabidly track the Kardashian clan's quotidian activities. "This is not something for a gossip magazine that goes into the trash. This is a magazine that is a collector's item," she claimed.

The CR Fashion Book shoot was lensed by Karl Lagerfeld and art-directed by Riccardo Tisci, who are both tight with Roitfeld. The editor gave credit to Tisci — who is a friend of Kanye West, Kardashian's fiancé and father of North West — for coming up with the idea.

The shoot at Lagerfeld's private photography studio in Paris was the night before the high-wattage amfAR gala in Cannes, France. "Karl likes to shoot in the evening," said Roitfeld of the session, which stretched to about 2 a.m., with Roitfeld flying to Cannes the following morning. "It was hard work. I'm a grandma. But I learned from Karl to never be tired."

The results display Kardashian in her full, gravid glory, under the heading "Miss USA." The layout includes images of her exposed belly, another where she dons a Yankees cap and one where her pout is smeared with jam.

"What I try to do with this magazine is work with people who are family — like Riccardo and Karl and Tom [Ford] and Hedi [Slimane]. I like the idea of mixing people," said Roitfeld of the Tisci-Lagerfeld pairing. "Riccardo is not frightened by Karl. A lot of people are frightened by Karl — he's a legend and an icon. But Riccardo is very cool with him. They have fun together."
[From CR Fashion Book via TFS]
As I looked through the photos initially, I was slightly offended – like, this is what Riccardo and Karl Lagerfeld think of American style, American celebrity, America in general – grillz, diamond face masks, trucker hats, black veils and flag sweaters? Is Kim Kardashian really "Miss USA"? Ugh. This is unfortunate side of America's culture exports – people around the world think Kim Kardashian is a representative of all American women. *headdesk*
Last thing: where is her belly button?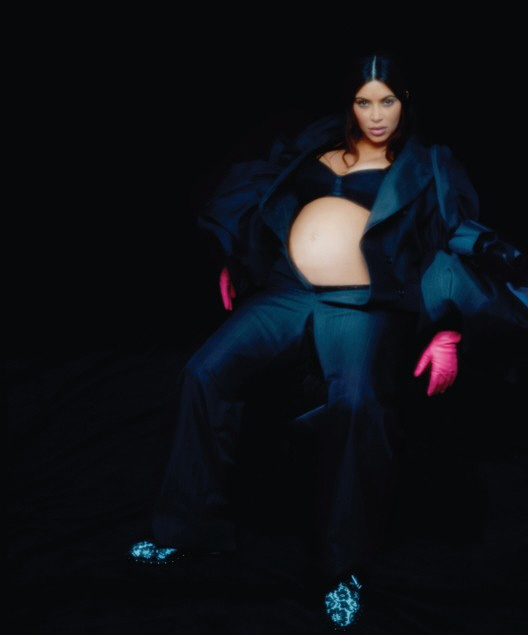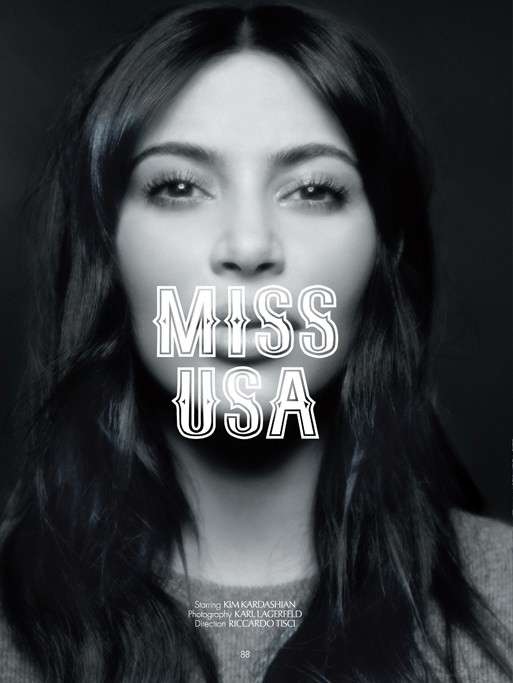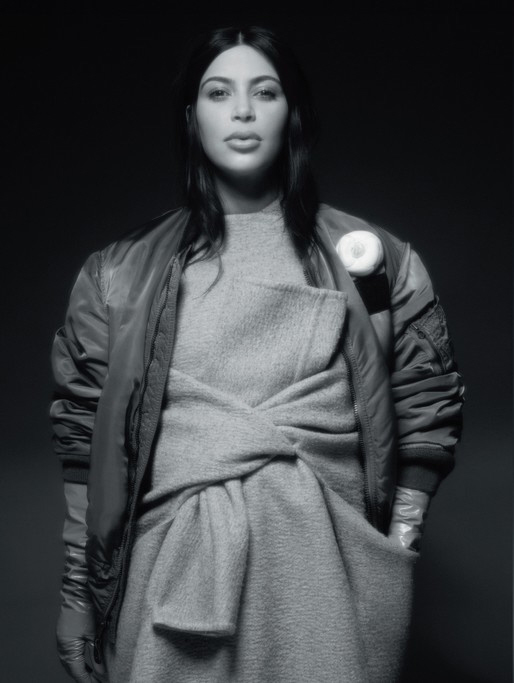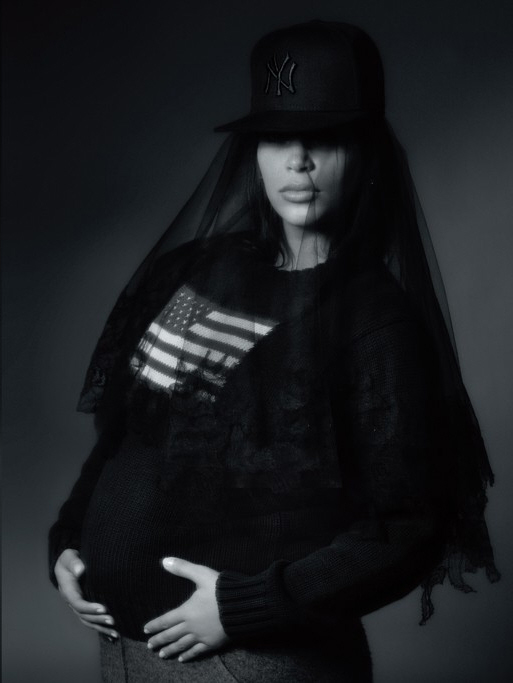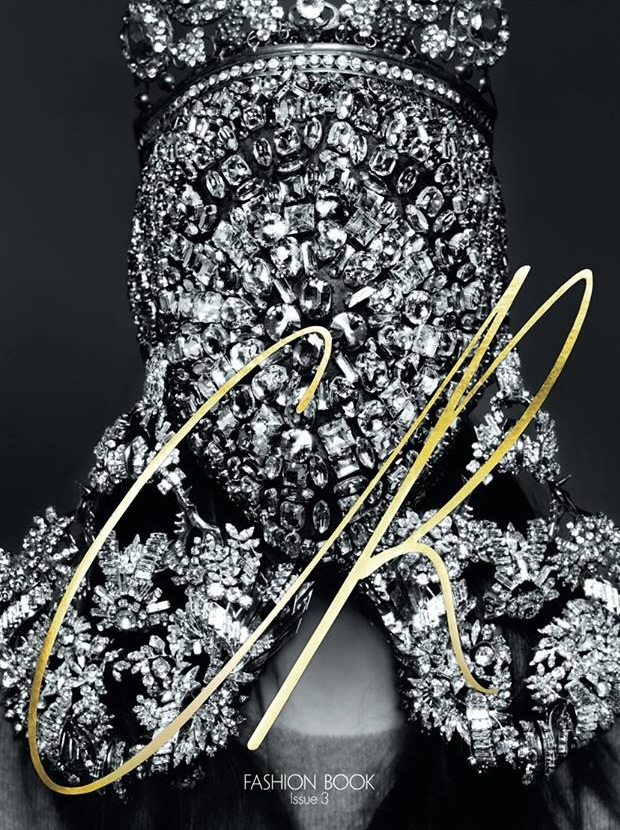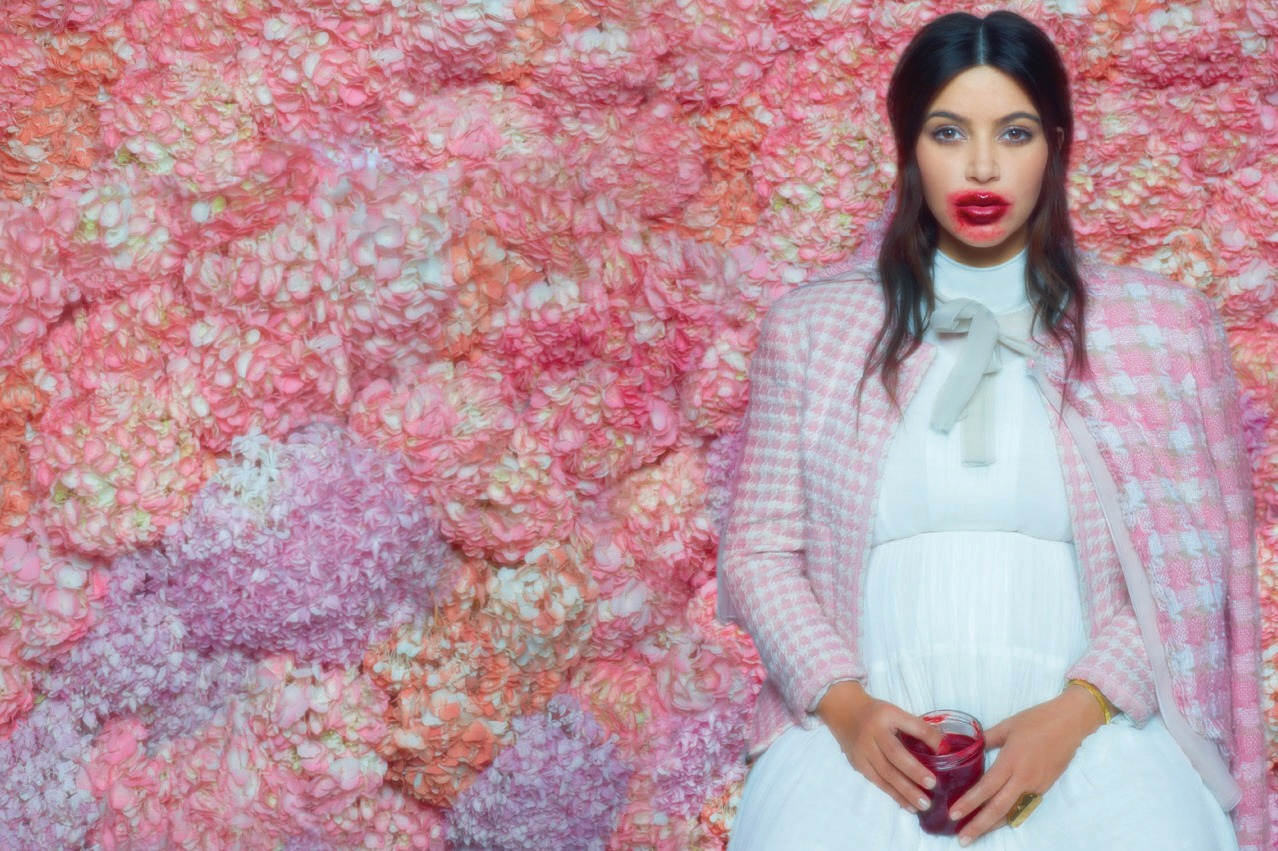 CR Fashion Book scans courtesy of TFS.