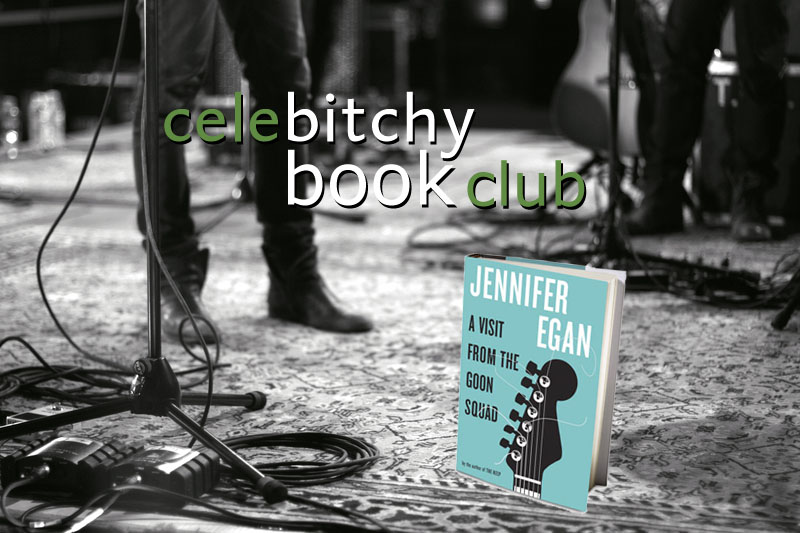 Here it, our inaugural Celebitchy Book Club post. We decided to do a Celebitchy Book Club (CBBC?) after a tabloid report regarding Gisele Bundchen's alleged membership in a local book club in Boston, where she drinks wine and tries to keep up with the schedule. So, let's do that. Let's get hammered and talk about books!
Our first selection is A Visit from the Goon Squad by Jennifer Egan. You probably noticed our new little button which links directly to Amazon. I chose Egan's Pulitzer Prize-winning novel because I was already about 60 pages into it when we decided to do the book club. And quite honestly, if I didn't feel "required" to read it, I might have put it down and never picked it up again at one point. It's not that the book is boring (at all) – I think this is one of those books where you really have to pay attention ("interactive!") or you'll miss some of the cool connections or you'll miss the timeline. It's a book that you should enjoy within one week so you don't forget anything, but I spread it out over the course of a month and I do feel like I might have missed some connections.
I came into the book not knowing anything other than "it's about music" and "it won the Pulitzer." I'm sort of glad I didn't know anything about it, I think I enjoyed it more because of the little surprises along the way. It's a sprawling ensemble and each chapter jumps characters and timelines with no chronological rhyme or reason. Rhea, the main character/narrator of one story taking place in the 1970s, ends up as a secondary character in a story taking place in the early 2000s. Sasha, the narrator of the first chapter (taking place just after 9/11) is referenced/secondary to a half-dozen other stories over the course of 30-some years.
I guess almost all of the stories relate in various ways to Sasha, Bennie and Lou. Sasha is the soulful, beautiful kleptomaniac, with a tragic backstory and a street-smart attitude. Bennie is the record executive who always manages to find a way to thrive, even when he hates the music. Lou is the record executive who rips through his life, nearly destroying everyone and everything he touches. My favorite stories tended to involve Sasha in various ways and the Lou stories were my least favorite because that man was just depressing, going through women like Kleenex. His actions and lifestyle seem to directly cause his son's suicide.
My other favorite stories – I loved the story where Dolly the PR professional was the narrator. Dolly and her daughter Lulu (who is all grown up in the final story) were two of my favorite people. And where Lulu ends up and WHO she is engaged to is such a wonderful pleasure for those of us who enjoyed the backstory of the African tribesman in a much earlier story.
I did sort of feel like Egan's weakest point was the last story, which takes place in the future… I think there was a reference to 20 years after 9/11? So, 2021? The view of the future is realistic, with NYC still a haven for artists and the wealthy elite, but also baby-centric and under a near-constant military presence? But it also felt… I don't know… wrong? The idea that the whole music industry would completely forget about traditional rock & roll just seemed like a really cheesy version of "musical dystopia". But I loved it for Lulu and for the reference to Sasha's "sticky fingers."
The theme, I suppose, is that "time's a goon" so the spastic chronology seems to echo that we are all expecting A Visit from the Goon Squad. I would recommend this to people, but it's not quite an easy beach read – it's more of a "Christmas break" read when you can really dedicate some time to finishing it quickly.
Note by Celebitchy: I'm embarrassed to say that I didn't finish this book yet. (I have a good excuse which we're planning to reveal next weekend.) This is definitely a book to read on vacation, and is not something you can read when you're busy or distracted at all. I had a hard time committing to it because the characters would change so often and the narrative seemed random at times. It was difficult to gauge what I should care about because I couldn't tell what was relevant. For instance the long side story about the tribesman that Kaiser mentioned seemed a bit tedious to me and I didn't get to the payoff in the conclusion yet. You have to work to figure out how the characters relate to each other. There are countless secondary characters and you don't know if they're going to pop up again or if you'll be able to remember them. I felt like I should be taking notes.
The book is rich with descriptions and experiences that are beautiful and can be touching, but at times felt overwrought. There's a lot going on and I didn't know whether to savor it or keep reading.
Egan is very skilled at writing from different points of view. You could really sense the different characters coming through. I wanted more continuity, although I may have just needed to give it more of a chance.
Our next book club selection is…. Beautiful Ruins by Jess Walter. We will discuss it on November 10th!
Header photo credit: Sineu on Photocase