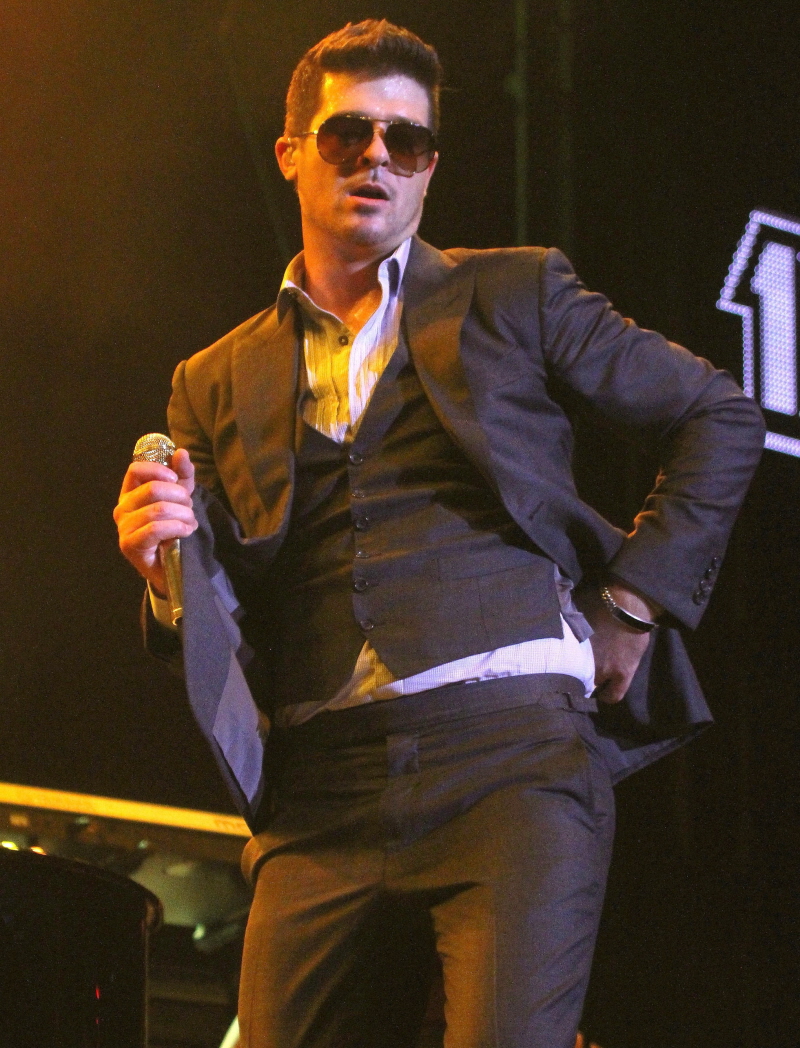 Oprah Winfrey's interview with Robin Thicke airs this Sunday on OWN. This is not surprising – I think Oprah is really close to Paula Patton, so it makes sense that Paula's husband would agree to an in-depth, sit-down interview with Oprah even though Oprah might be slightly off-demo for him. And when you sit down with Oprah, she is going to ask you awkward questions. She might not be a world-class interviewer or anything, but you do have to give Oprah some credit for asking the question. So what's the question everyone wants to ask Robin Thicke? "What's up with your marriage, dude?" Nope. Apparently, the question is "What's the deal with Miley Cyrus and how did you feel about the VMAs?"
When it comes to twerking, Robin Thicke maintains his innocence.

"That's all on her," Thicke, 36, says, referring to Miley Cyrus, 20, and their buzzed-about MTV Video Music Awards performance of his song "Blurred Lines."

"People ask me, 'Do you twerk?' I'm like, 'Listen, I'm the twerkee. I'm twerked upon," he explains on Sunday's episode of Oprah's Next Chapter (9 p.m. on OWN: Oprah Winfrey Network). "I don't twerk myself, okay? I'm just twerked upon.' "

Calling all of the post-performance hype "funny" and "silly," Thicke explains, "I was on stage. I didn't see it. So to me, I'm walking out towards Miley [and] I'm not thinking sex. I'm thinking fun, you know? I mean her and I don't have that kind of – You have to remember, I'm singing my butt off. I'm sitting there. I'm looking up at the sky, and I'm not really paying attention to all that."

Cyrus has spoken at length about the risqué routine that involved a foam finger, lots of gyrating and very little clothing.

"Me and Robin the whole time said, 'You know we're about to make history right now,' " Cyrus, said after the performance. "What's amazing is, I think, now, we're three days later and people are still talking about it. They're overthinking it. You're thinking about it more than I thought about it when I did it. Like, I didn't even think about it, 'cause that's just me."
LaineyGossip says Robin sold out Miley and that this is the typical male-versus-female double-standard, comparing it to Justin Timberlake and Janet Jackson at the Super Bowl. While I still think Justin got away with something that he should have co-owned with Janet (50/50 split), I kind of think this Miley and Robin thing is different? Immediately following the VMA debacle, Robin (and his wife Paula) were overwhelming gracious to Miley. And seriously, go back and watch what happened – Miley was out there alone, twerking and tonguing and whatever else for several minutes before Robin came out. And Robin's body language the whole time he was on stage was "Um, this is kind of uncomfortable." So… I do think that Robin probably should own more of the performance BUT it mostly was ON MILEY.
Here's another way to think about it – what if the roles were reversed? What if Robin was the one twerking and acting like an idiot and then Miley came out to do sing her song and Robin wouldn't stop pressing his junk against her and using a foam finger to molest himself? Then it would be "that guy's a pervert, get him away from innocent Hannah Montana!"
Not that it matters, though. Miley's still making stupid money.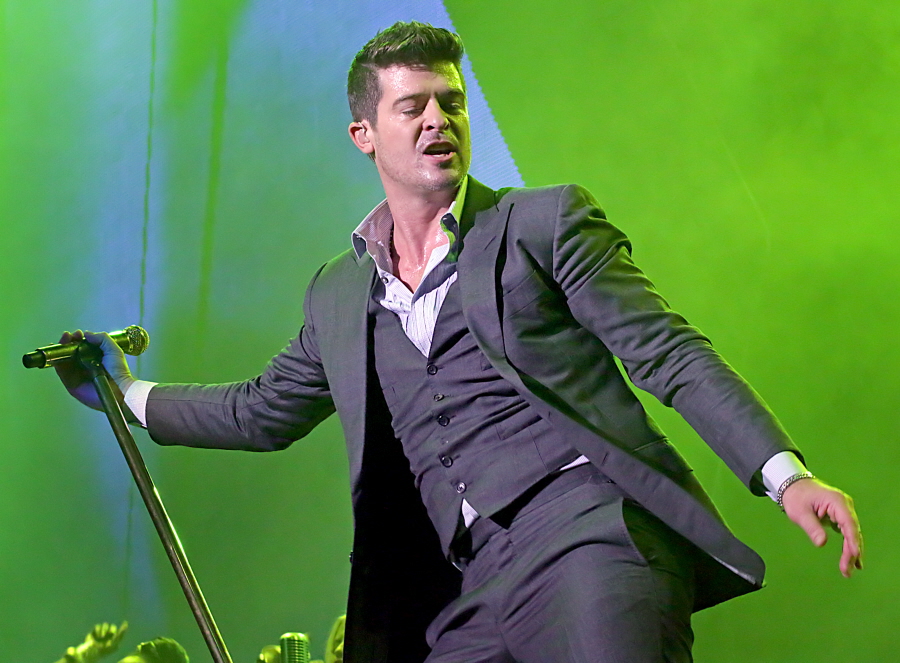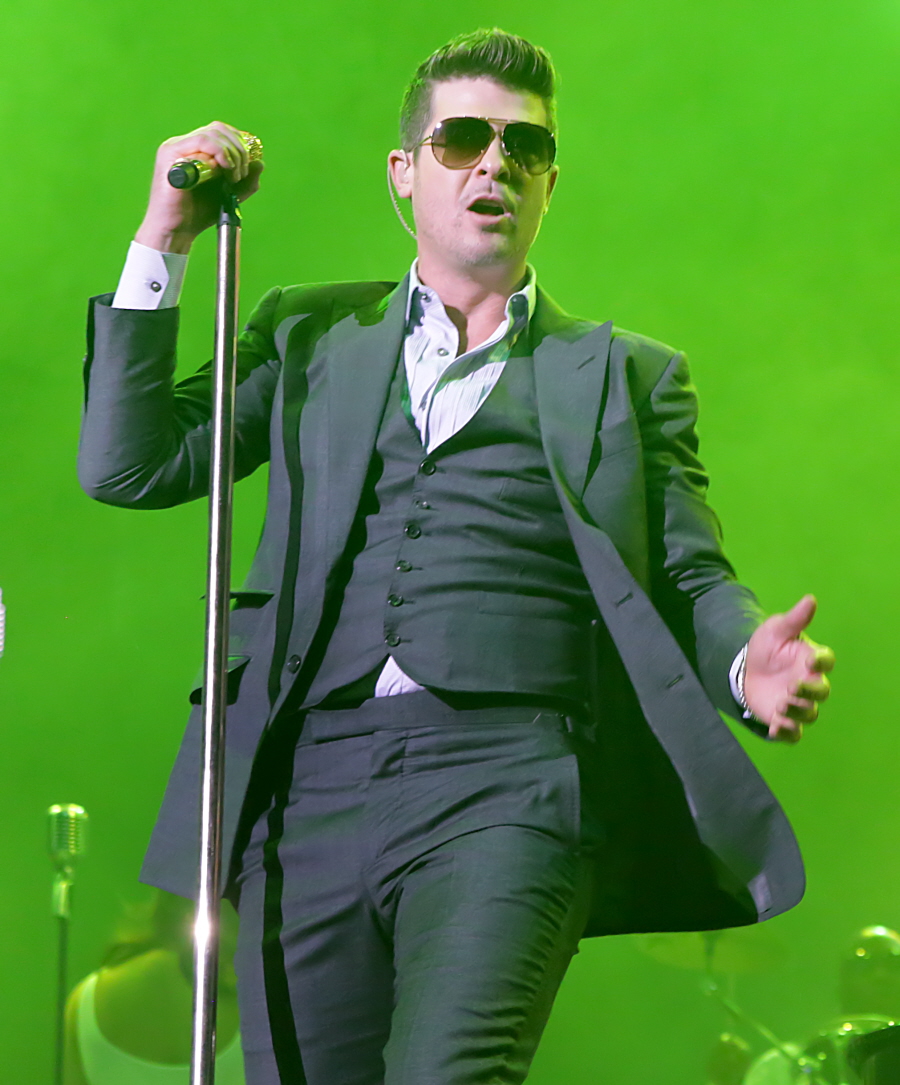 Photos courtesy of WENN, Fame/Flynet.