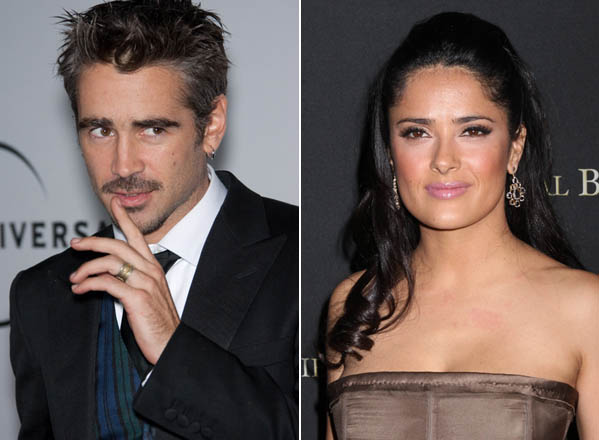 Salma Hayek and Colin Farrell were seen kissing backstage at the Golden Globes, and Star Magazine reports that it looked like more than just a friendly kiss. The two were linked in 2004 when they were shooting scenes as lovers for the film Ask The Dust.
Salma Hayek… and Colin Farrell won most attention-grabbing couple honors at the Golden Globe Awards on Jan. 11! "While they were both backstage, he held her face and kissed her several times," a source tells Star. "It was very intimate, not like they were pals."…

[They] hooked up while shooting Ask The Dust in 2004! "Colin was in love with her but was too screwed up on booze and drugs to make a good boyfriend to her," reveals another source. "Now that he's sober, their chances are so much better."
[From Star Magazine, print edition, February 2, 2009]
Colin denied the rumors that he was with Salma while they were working on Ask The Dust, but he did admit to doing a sexy little naked dance for her on set to help her feel more comfortable before a love scene. He admitted he didn't have to be naked, and said that since she had to strip down, he was doing it out of solidarity. Colin also gave Salma a rare first edition of the novel the film was based on as a gift after their scenes wrapped.
Colin had just nabbed an unexpected best actor Globe the night he and Salma were supposedly spotted kissing backstage. This news is in Star Magazine, and if it did happen he could have just been overwhelmed and sharing his joy with a (sexy) former co-star. You could tell how emotional he was in his cute flowery speech – he even told the director he loved him.
Salma is rumored to be back with her ex fiance and the father of her baby, billionaire François-Henri Pinault. That could have to do with the fact that they've maintained a friendly relationship for the sake of their daughter, Valentina Paloma, 16 months, but it sounds like more than that. Salma and François-Henri were spotted out at Tao restaurant in New York recently, with the latest issue of US reporting that they shared "three bottles of wine and sake" after which Salma was spotted dancing on her table. On an appearance on The Late Show two weeks ago, Salma was pretty vague about potential wedding plans when Letterman pressed her about it. He asked "Is there going to be a wedding?" and Salma responded "I don't know, maybe, but then again, maybe not."
Colin was last known to be dating British novelist Emma Forrest, but he keeps his personal life quiet and it's hard to tell if they're still together. I would love to see Colin settle down and have more kids, but it's doubtful that he'll be blending his family with Salma's any time soon.
Photo credit: PRPhotos