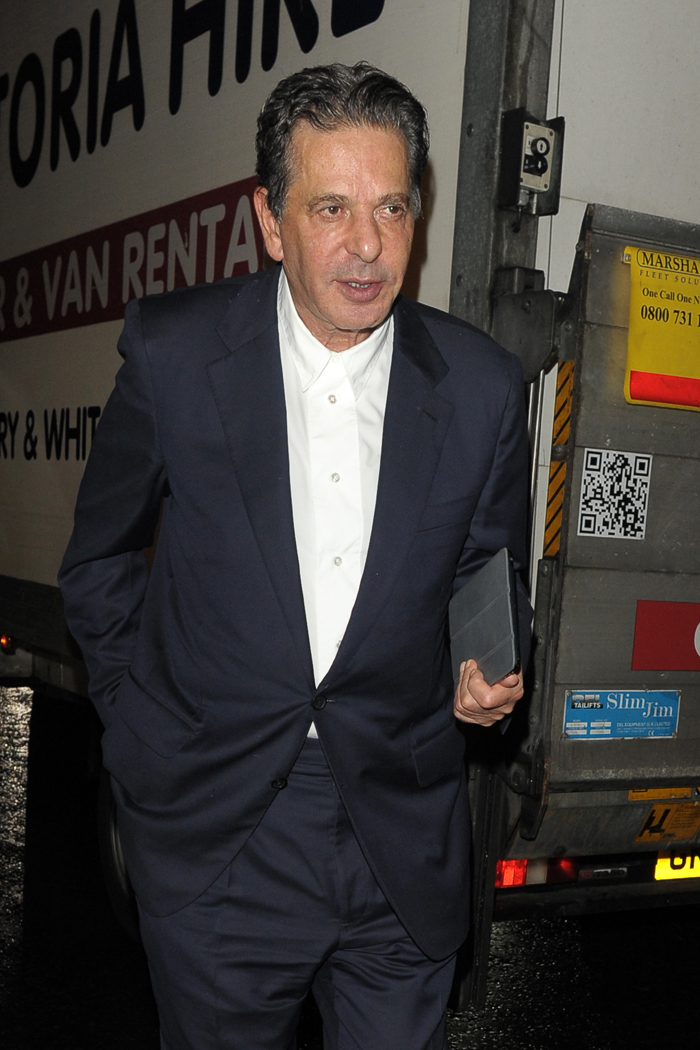 We haven't talked much lately about Nigella Lawson and Charles Saatchi. It was kind of nice that way. I was glad that Charles had stopped threatening suicide because Nigella wouldn't pay attention to him after filing for divorce. Of course you remember that he choked her in public, but Nigella was strong enough to GTFO and never look back.
Then Charles swiftly found himself another pretty woman who inexplicably wanted to be with a choker. These are pictures of television presenter (and sometimes fashion designer) Trinny Woodall on 10/3. She was leaving a date at Scott's restaurant with Saatchi although they departed the restaurant separately. Yes, this is the same restaurant where Saatchi choked Nigella. Someone wrote "I love Saatchi" on Trinny's dirty car.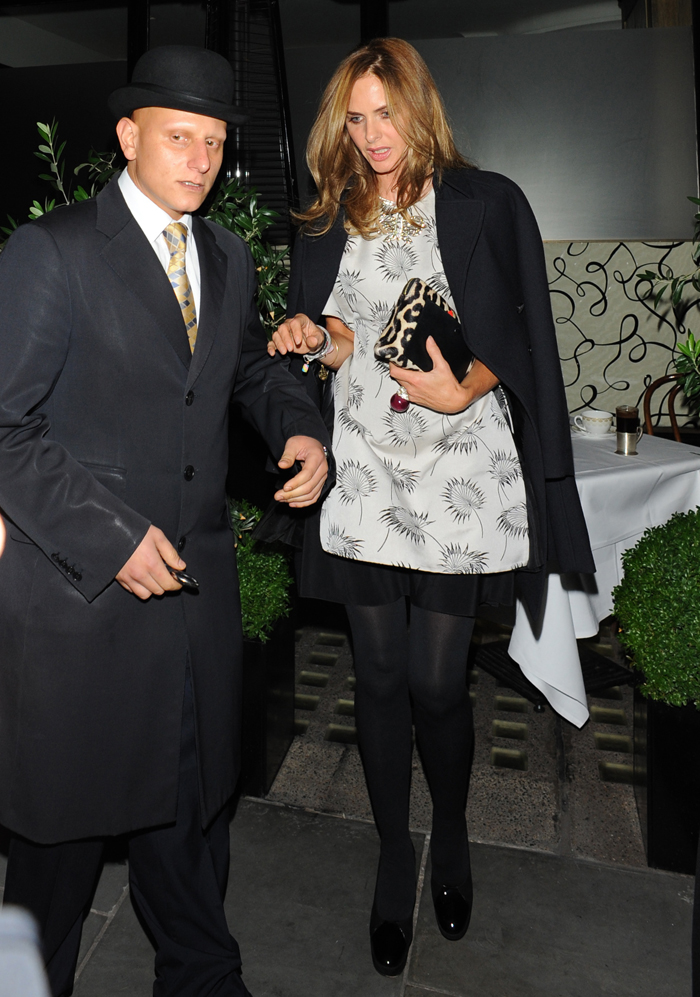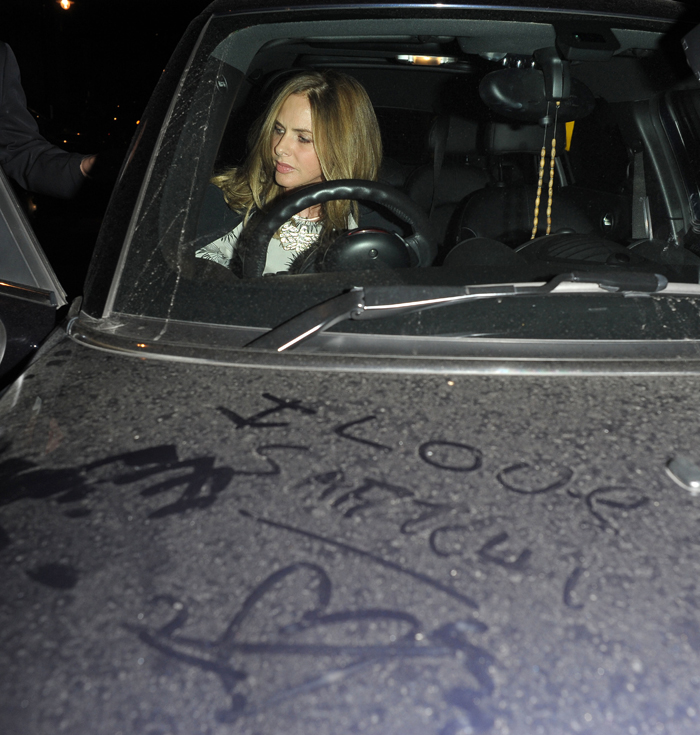 Now I'm wondering if Trinny and Charles have gone south because he's pestering Nigella again. He's so very obsessed with how Nigella failed to defend him, and he's threatening to sue over it:
Charles Saatchi's lawyers have sent a letter to solicitors representing his ex-wife Nigella Lawson threatening legal proceedings against her.

The letter makes a series of allegations about the TV cook's behaviour and will apparently depict their notorious argument outside Scott's restaurant in London in an "entirely different light."

According to the Daily Telegraph, sources report that Mr Saatchi could issue a writ against Miss Lawson, 53, as early as next week. The case could lift the lid on what the advertising tycoon says are the true reasons for their divorce.

Sources claim Mr Saatchi is "determined" the reason they were arguing becomes public. A source close to him told the newspaper: "Charles has been portrayed as the villain in all of this, but there is far more to it than meets the eye.

"Nigella has not given her version of what caused the argument and her silence speaks volumes. He has just been damned by the photographs, her silence, and his acceptance of a police caution — which he did only to protect her from a lengthy probe by officers. But he has never been able to explain the truth about what was going on.

When she and Charles got together following the death of her first husband, John Diamond, she gave him certain assurances and on the day they argued in the restaurant he found out she had not stuck to those assurances. Since then information has come to light that Charles sees as confirming the reason that he was upset with Nigella in the restaurant.'

A source close to Miss Lawson said the allegations in the letter were "untrue."
[From Daily Mail]
Saatchi doesn't get it, does he? The bloke believes Nigella is to blame for not standing up for him, but he doesn't realize that he was the one squeezing her neck. Not the other way around. Saatchi is so upset that Nigella hasn't come forth with her version of events, but why should she have to … now or ever? Maybe she'll talk about it in the future, but it's up to her when and if it happens.
Here's an interesting twist on the story: Vanity Fair promises to "probe" the real reason why Nigella and Saatchi split. The Mail says Nigella refuses to cooperate with VF, which will go ahead with the exposé regardless of Nigella's position:
The 53-year-old celebrity chef is at the center of a new report to be published by the magazine in January that will detail the alleged truth behind the breakdown of her marriage – after her multi-millionaire husband was pictured with his hands around her throat.

MailOnline can reveal that writer Kevin Goldman has been flown to London to interview associates and friends of both Nigella and her ex-husband Saatchi, 70.

However, Nigella has refused to take part in the article – following in the same vein as Gwyneth Paltrow – and has advised friends to steer clear.

And speaking about the Nigella piece, a source said: 'No stone has been unturned, Vanity Fair wanted to get to the bottom of such an abrupt breakup and why the end of the marriage was agreed so quickly.

"Kevin has spoken to a lot of associates of both Nigella and Charles."

The report will be published as it has been revealed noted art dealer Saatchi is threatening to sue his ex-wife for $800,000 in an explosive court case where he wants to reveal "the truth" about their break-up.

After being photographed with his hands around Nigella's throat outside an exclusive restaurant in June, the advertising guru accepted a police caution and then went through a divorce from the 'Domestic Goddess'.
[From Daily Mail]
This is a similar tactic to how Vanity Fair is treating their upcoming Gwyneth Paltrow scandal story. In Goop's case, I find it amusing that VF is hitting so hard because she's so smug and looks at the rest of the world (outside of Beyonce) with such contempt. When it comes to Nigella, VF seems really cruel to try and demand she cooperate with an exposé about her very recent divorce from an abusive man. I get that Vanity Fair wants to rebuild its rep after we all made fun of them for several dead-celebrity cover issues, but leave Nigella alone.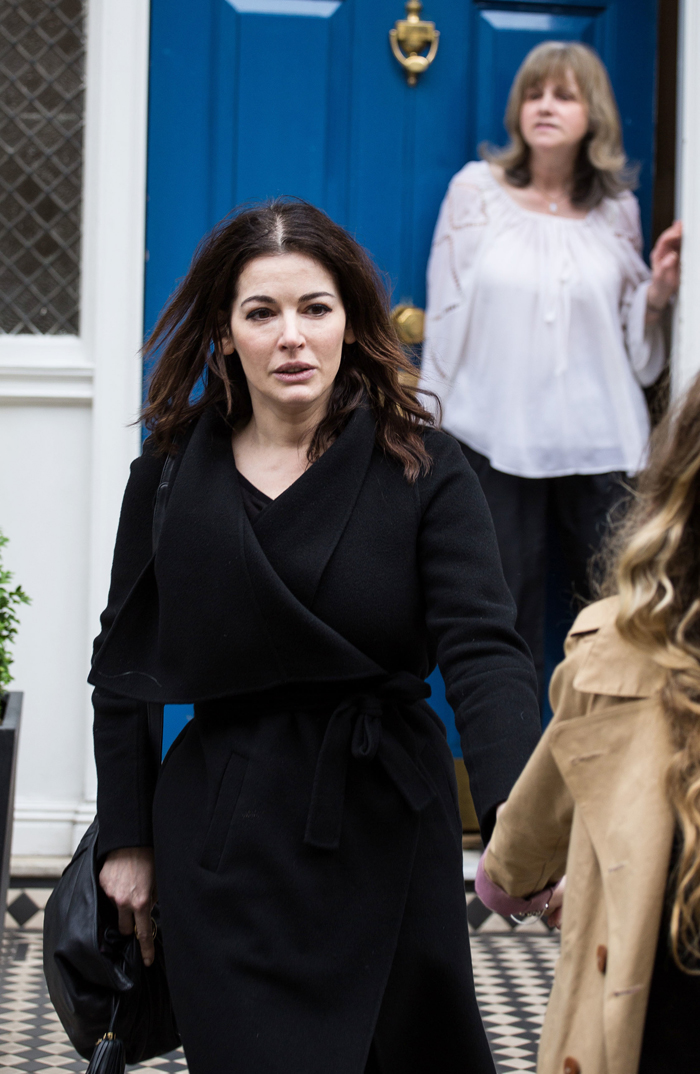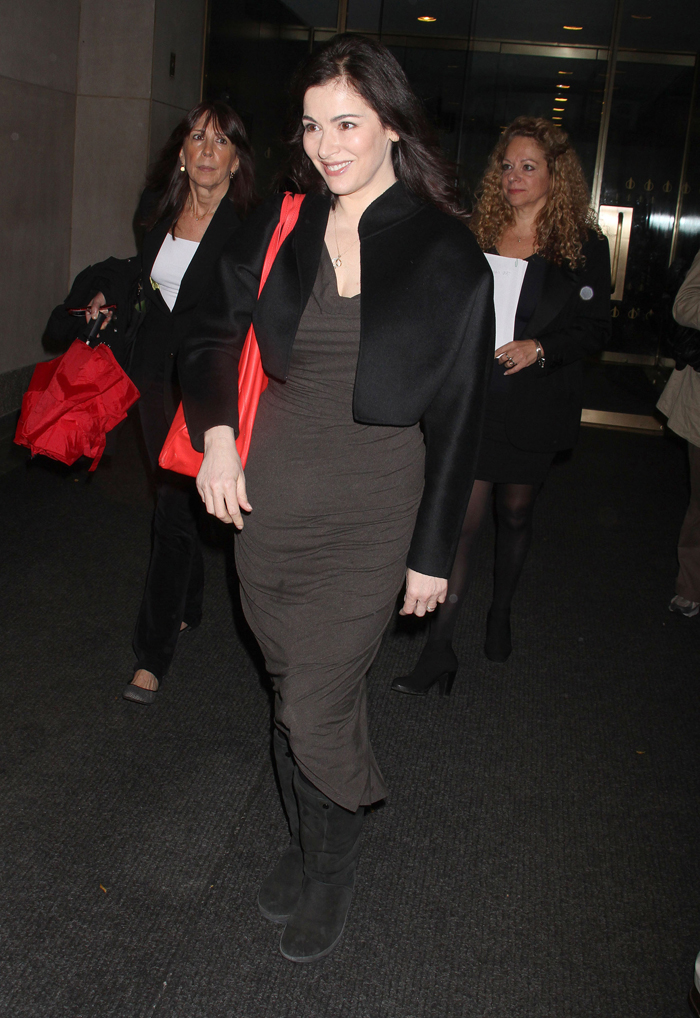 Photos courtesy of Fame/Flynet & WENN