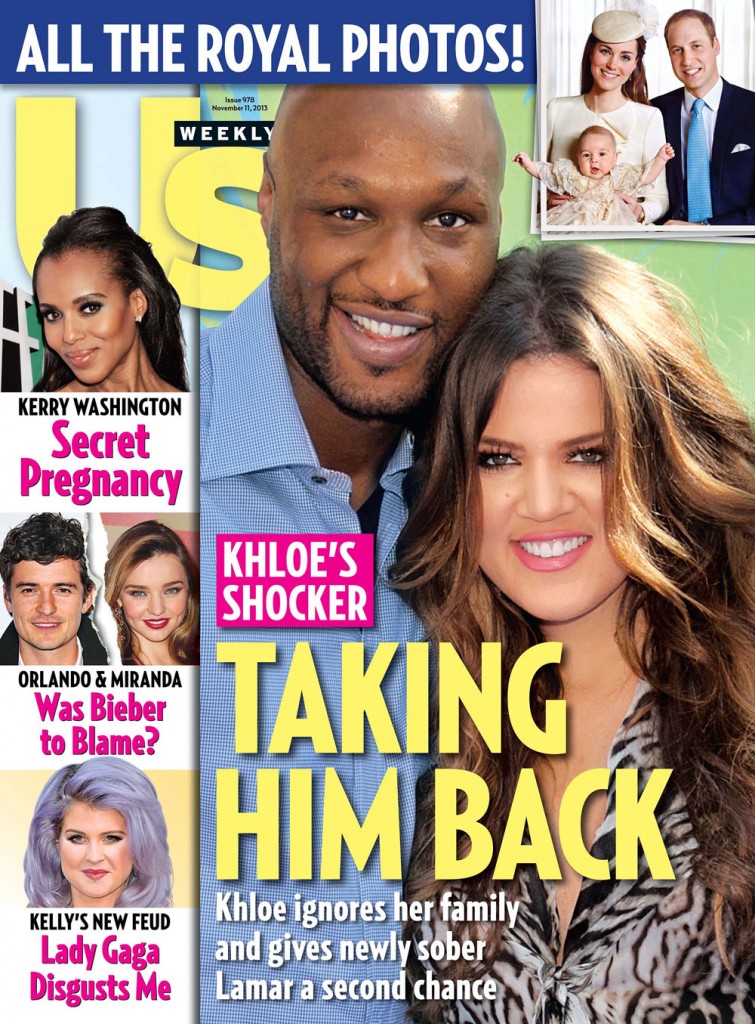 Khloe Kardashian and Lamar Odom's reconciliation covers the new edition of US Magazine. US has been running insider stories about the sad state of Khloe's marriage for weeks now. I'm almost positive they have a solid source in the Kardashian Kamp. US has veered off in a tabloid direction recently with questionable covers about Katie Holmes' hookup with Jamie Foxx and Jennifer Aniston's "pregnancy". It's possible that this cover story is not sanctioned by the Kardashian junta, but I doubt it.
It's hard to recap the madness in Khloe's marriage, but I'll give a brief overview. Lamar is an addict. For the past few weeks, after Khloe kicked him out of the house, he was holed up in hotels with other women and smoking crack. During that time, Khloe had trouble contacting him. Prior to that, for at least a year, he had several longterm mistresses, at least two of whom Khloe knew about and had followed by private detectives. Lamar's career playing for the Lakers is pretty much over, although it's always possible that he gets a job playing for another team for less money.
A month ago, Lamar told TMZ that he had been sober for a few days, by his own willpower and not through any program or doctor's supervision. His motivation seemed to be his NBA career, and in a recent video taken by a paparazzo, he was very optimistic about returning to the Lakers.
According to US Magazine, shortly after Lamar got sober he went back to Khloe, begged for her forgiveness, and promised her that he would magically transform into a faithful husband. And she took him back:
The cover story of the new issue of Us Weekly gives readers the inside story of how Khloe Kardashian is giving Lamar Odom a second chance after he apologizes. Odom has clocked a few days of sobriety, reveals a source, and he came straight to Khloe.

"Lamar broke down and apologized deeply to her." More than any promise, seeing a semblance of the man she married cooled her anger. "He got clean, and that's why she started talking to him again," says the insider. "She was willing to give him a second chance." It was also important to Odom that he make amends with his mother-in-law, and Khloé agreed. "She told Lamar she would bring him to Kris' so he didn't have to go alone," says the insider. Momager Kris Jenner was a tough sell. "Lamar was super emotional," says the insider. "He told Kris he never meant to hurt them or their daughter. He said disappointing them was the biggest mistake of his life." Kris broke down in tears and hugged Odom. "She told him she loved him and he said the same," says the source. "But she also told him, 'Don't you ever do this again.' "
[From US Magazine, received via email]
For what it's worth, TMZ shot down the reports of a reconciliation, saying that a recent sighting of Khloe and Lamar at a Kanye West show did not mean that the two were back together. Radar also claims that the two aren't officially together, but that Khloe is leaning in that direction now that Lamar is sober. Is this just PMK playing both sides of the media to get us to keep talking about her dysfunctional family? It could be, or US could be jumping to conclusions.
I tend to think that this happened, and that Khloe and Lamar are in some kind of honeymoon reunion period. Khloe loves Lamar beyond reason, and she seems to want to forgive him. She seems to think that her love can "save" him from drugs and from cheating. I'm sure he talks a good game, but look at how he treated her for ages. He was cheating for a long time, it wasn't the drugs. I don't think he's capable of being faithful by any stretch. Khloe doesn't need to save this guy, she needs to save herself from being treated like a doormat. She deserves much better. I was hoping that she had something going on with The Game, that she was devising an exit plan for herself, and that she was finally wising up to reality. Maybe it will still happen for her and I hope it won't take another massive humiliation and betrayal for her to reach that point.
This photo is from April, 2012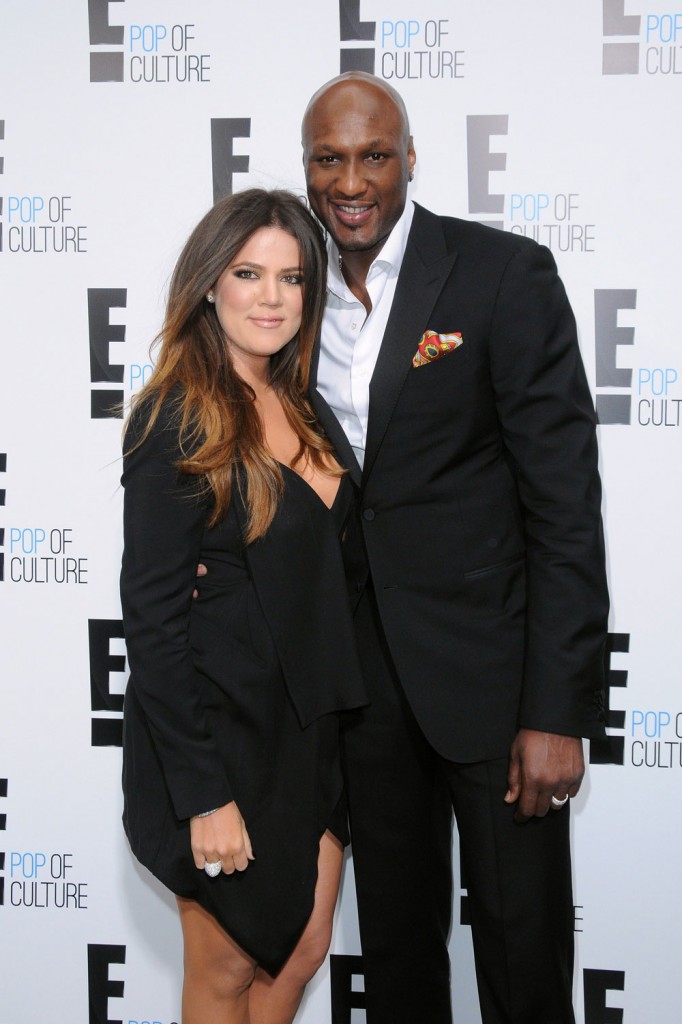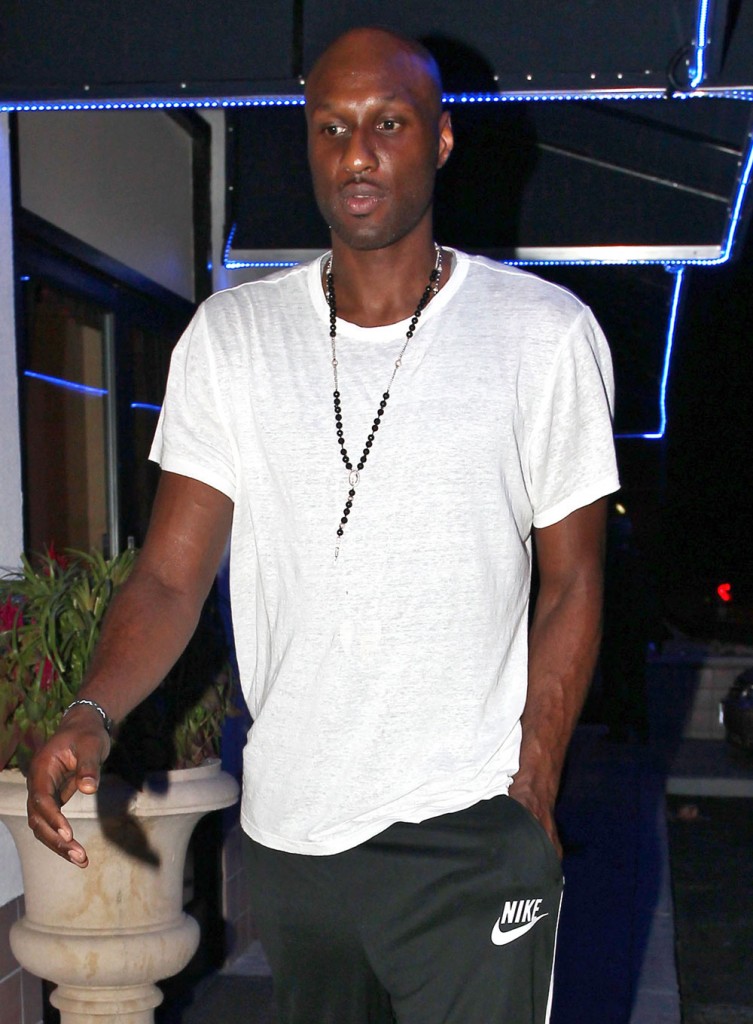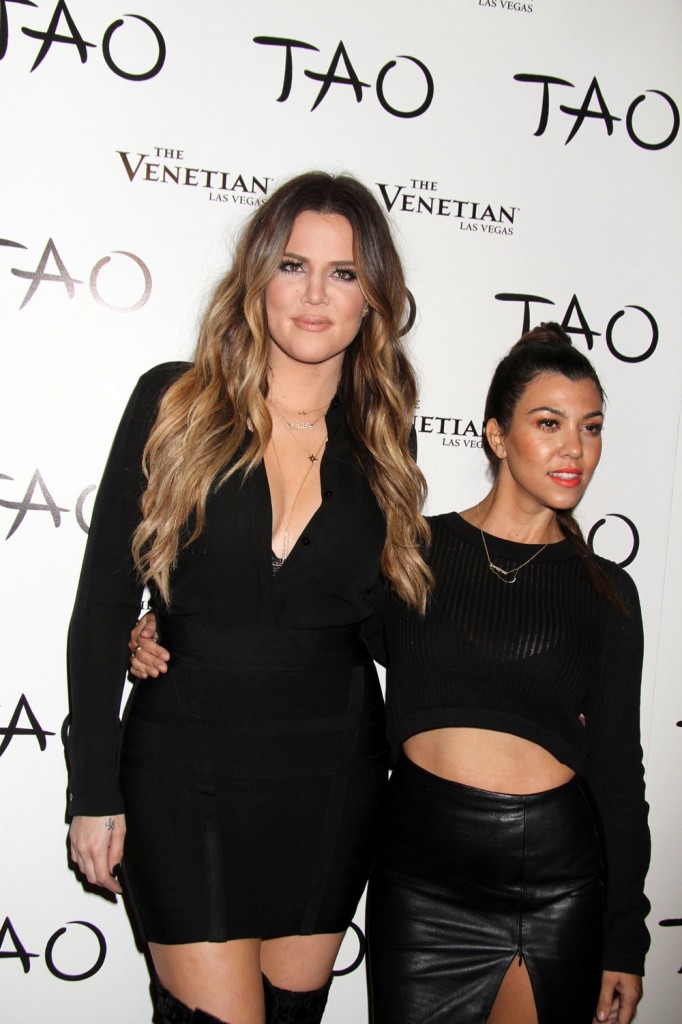 Khloe is shown celebrating her 33rd birthday at Tao on 10-25-13. Lamar is shown out on 10-15-13. Credit: WENN.com and FameFlynet