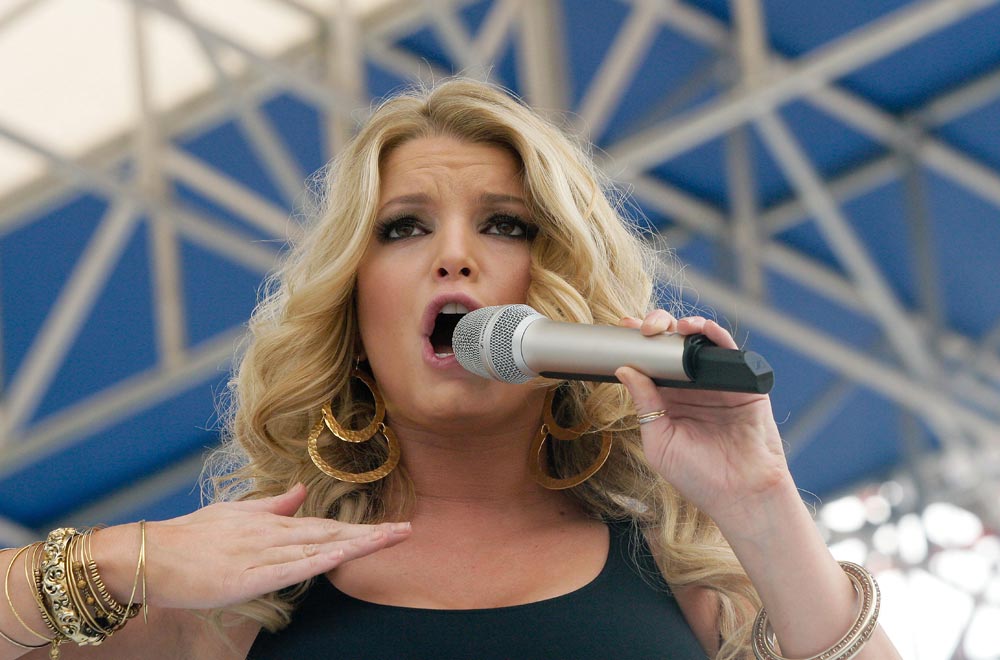 Jessica Simpson had people talking earlier this week when photos came out of her looking like she'd recently put on weight. Jessica's minor weight gain wouldn't have been so obvious if it wasn't for the the incredibly unflattering outfit she was wearing. She's a beautiful woman with a normal, sexy figure but she chose to wear a tight blank tank top, a bizarre stacked leopard print belt with gold buckles and tight high-waisted jeans that emphasized every pound.
Commenter brianne pointed out that it looked like Jessica was "dressing with the mindset that she's still superthin," with an outfit that would have looked fug on anyone.
Jessica's younger sister, Ashlee, and her former trainer, 5 Factor Diet author Harley Pasternak, have spoken out against the media's focus on Jessica's figure. Ashlee got indignant and was surprised that people even talked about it while Pasternak said that Jessica looks great.
"She has curves where a woman needs to have curves. We all go a little bit up and a little bit down. But she's healthy," Pasternak tells Extra…

But Pasternak says "she's still sexy. She's still a beautiful woman. And I have no problem with the way she looks."

Adds the trainer, "I think if more people looked the way she looks now, the country would be a lot healthier."
[From US Magazine]
Pasternak is absolutely right and Simpson looks beautiful, notwithstanding the outfit, and is by no means overweight. It's nice to see a celebrity who isn't starved to some warped ideal of perfection. Now if only Jessica could learn to dress well, and could quit oversharing, she'd be all set.
Ashlee Simpson didn't handle the criticism of her sister's weight as well, and that's understandable. She sounds like she's been ignoring all the tabloids that her family has been courting for the past ten years, though, and considers it some great injustice that her sister's weight is even mentioned. She blogged that she was "disgusted" by the coverage and said that we would never say the things that were written in the press about her sister to the women in our lives:
Since when did a woman's weight become newsworthy…

I am completely disgusted by the headlines concerning my sister's weight. A week after the inauguration and with such a feeling of hope in the air for our country, I find it completely embarrassing and belittling to all women to read about a woman's weight or figure as a headline on Fox News.

All women come in different shapes, sizes, and forms and just because you're a celebrity, there shouldn't be a different standard.

Is this something you would say to your wife, daughter, mother, grandmother, or even a friend?

I seriously doubt it.

How can we expect teenage girls to love and respect themselves in an environment where we criticize a size 2 figure?

Now can we focus on the things that really matter.
[From Ashlee Simpson's blog via People]
Ashlee made the same argument that Jennifer Love Hewitt did and made a reference to a size 2 while trying to address criticism of small sizes in general, not her sister's particular size. She's right and it sends a very negative message to young girls especially when we focus on celebrities' weight. Jessica Simpson appeared on several magazine covers in her Daisy Dukes when she got super fit for her "Dukes of Hazzard" role in 2005. Her diet and exercise plan were featured all over the press and she encouraged it. Now that she's gone the other way, the press is going to point it out. They don't need to be nasty about it, though.
Jessica Simpson has issued a statement, that "Going from a size 2 to a size 8, that's not fat. If I weren't Jessica Simpson, no one would care." That's true, and many people don't care anyway.
Photo credit: WENN