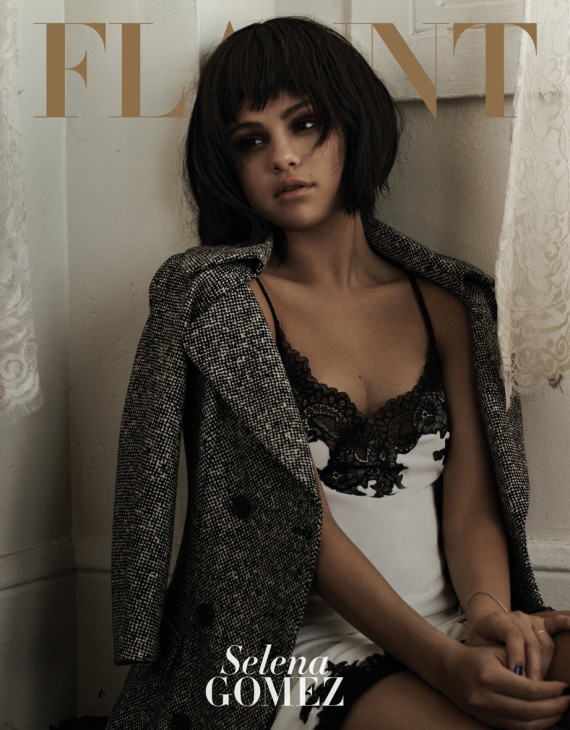 Selena Gomez covers the December issue of Flaunt magazine. She was snapped by Amanda de Cadenet, which is unexpected. The shoot is sultry and slightly sexy without going full Terry Richardson. Selena has recently spoken of how she's constantly told she's not sexy enough. She also insists that she'll forever be "the girl you take home to your parents, not for the night." This shoot does make me feel a wee bit uncomfortable. Yes Selena is a 21-year-old woman, but her baby face makes her look 16. The bouncy wig doesn't help matters, but I'll get over it. The yellow coat is absolutely fantastic.
The interview is titled, "Escape from Cracker Barrel and the Search for Transcendence," which alludes to Selena's belief that she'd be working at Cracker Barrel if she hadn't made it big. Throwing "search for transcendence" in there makes the piece feel all James Franco, but I'll blame that on odd writing. Among other topics, Selena discusses how Lorde doesn't like Selena's music. Lorde recently stated, "I'm a feminist, and the theme of her song is, 'When you're ready come and get it from me.' I'm sick of women being portrayed this way." Let's do this:
She saw a ghost once: When she was sixteen, the place she lived in had a dollhouse left by the previous owners, well-lit and built on a little hillside. She saw a girl in a white dress running by. It happened fast and she made her stepdad go and look. Later, she and her very first boyfriend were taking a walk around the property and he saw something pass by, out of the corner of his eye, right behind her. "We weren't allowed to go anywhere because we were kids." Her boyfriend didn't believe in ghosts, not at all, but when he told her what he saw, she knew that they were real.

Her conversation with Jared Leto: He asked her why she didn't show other sides of herself to the public and she returned that there would be nothing left for people she cares about. "There's nothing left for me, and there's nothing left for my friends, and there's nothing left for my family."

On the future: When I ask her where she'll be at 26, Selena Gomez says, "I hope that I've left a bigger impact." A ten-year plan? "Oh, God. I don't know" she says. "I hope that I'm really happy by 30. I'm hoping I'm super satisfied with who I am."

She's not perfect: "Obviously I've made a lot of mistakes because I'm human and I go through all of it. I do think you do you have to make your own mistakes and they make you who you are."

On Lorde dissing her: "That's not feminism. [Lorde is] not supporting other women. That's my honest opinion, that's what I would say to her if I saw her. I actually covered her song in all of my shows that I've done so far. I'm not sure if I'm going to continue that."
[From Flaunt]
"Obviously I've made a lot of mistakes…" That right there made me think Selena finally and truly regrets dating Justin Bieber for any amount of time. I've been worried that she'll take him back again, but the Brazilian brothel bust must have put a nail in it. I hope.
What Selena says about Lorde's dis is interesting. On one hand, I get Lorde's point of view, but "Come and Get It" is such a throwaway, innocuous song that it's hard to get worked up over it at all. Selena's response is puzzling because she seems to take the perspective that feminism means every woman should support all other women. As in … feminists aren't allowed to criticize what any woman says or does, ever. That's obviously not true, but I can see why she wouldn't want to cover Lorde's song ever again.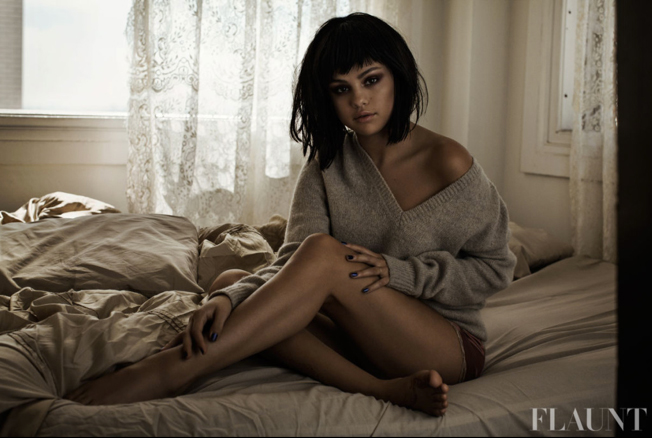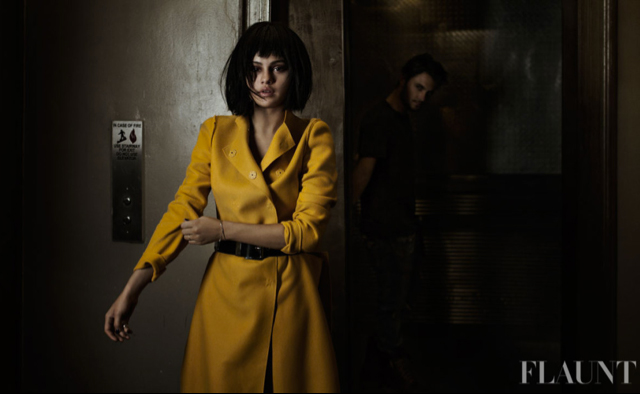 Photos courtesy of Flaunt magazine