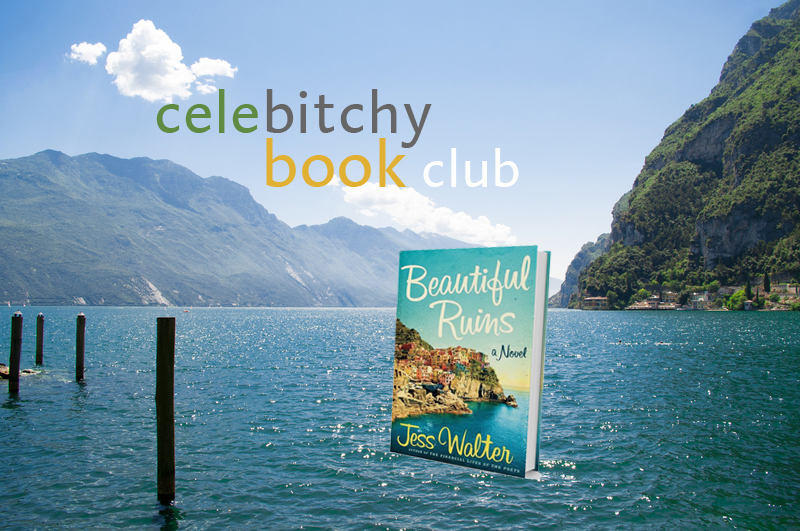 Celebitchy's take (SPOILERS):
Our selection this month was Beautiful Ruins by Jess Walter. It's hard to do justice to how much I enjoyed this book and to how it resonated with me. Walter introduces multiple characters across decades and yet somehow makes it easy to follow who is whom, how they're connected to each other, and where you are. The dialogue and characters are both poignant and funny, meaningful yet ordinary. I got the sense that Walter was trying to strike a balance between writing a sweeping, masterful novel and conveying that there was nothing special about this particular story, or his characters. He did that by including multiple secondary characters and plotlines to underline his point, which never felt hackneyed or overwrought.
The novel starts in 1962 with a young Italian innkeeper who recently inherited the only hotel on a remote Italian island. Pasquale dreams of creating a vacation destination, and has improbable plans for a tennis court on a rocky cliff overlooking the ocean. A beautiful American actress named Dee Moray comes to stay at the hotel, and it's unclear at first if she has the wrong island. It turns out that she's been hoodwinked into believing she has cancer when she is in fact pregnant with actor Richard Burton's baby (although you don't really get that confirmed until about halfway through the book). Dee was brought to the island to keep her as far away from Burton, and from production for Cleopatra, as possible. Pasquale falls in love with Dee, although their relationship does not get physical and it's hard to tell at first if she reciprocates.
We're transported to current day, when an elderly Pasquale comes to Los Angeles to seek out Moray. He gets in contact with the squirrelly producer who orchestrated Dee's sequestration in 1962. While we wait for Pasquale and Dee to be reunited, we're introduced to other characters over the space of the intervening time, including the producer's assistant, another guest at the Italian hotel, a young screenwriter who wants to pitch his idea to the producer, and Dee's adult son.
Some of my favorite moments in the book had to do with Hollywood, gossip and scandal of course. There was a wonderful subplot concerning the scandal of Elizabeth Taylor and Richard Burton's affair on the set of Cleopatra. Our conniving producer, Michael Deane, wrote a rejected memoir detailing how he spun Liz and Dick's affair into publicity for the film, which had a bloated budget and was in danger of not breaking even at the box office. Deane's treatise on how he realized that we all want trashy entertainment was spot on:
We want what we want.

Dick wanted Liz. Liz wanted Dick. And we want car wrecks. We say we don't. But we love them. To look is to love. A thousand people drive past the statue of David. Two hundred look. A thousand people drive past a car wreck. A thousand look…

When the picture opened I needed Dick to be boning Liz in the dining room of the Chateau Marmont. And I needed Eddie Fisher to go limping away.
Kaiser's Take:
I enjoyed this book for what it was – I didn't really consider it a difficult or challenging read, but it was different from the books I usually read for pure pleasure (legal thrillers, detective stories), so it was nice stepping out of my comfort zone. Since CB did such a good job of recapping the basic story, so I'll just do some bullet points for my favorite/least favorite parts:
*I liked all of the historical elements of post-WWII Italy, how so many of the younger men were gone and how there were remnants of the war (both good and bad) all around. One of my favorite parts was the gun turret/bunker where the German soldier had painted beautiful portraits.
*I got a bit tired of all of the stuff with the WWII veteran and barely functioning alcoholic Alvis – I could have done without the chapter of his book, quite honestly.
*The Claire Silver character was enjoyable even though she seemed like such a cliche – the D-girl looking for depth? Yeah. We get it. But I enjoyed her section of the book a lot.
*A pleasant surprise: when it turned out that Pasquale hadn't been moping around for Dee for 50 years. I liked that he had lived a full life with children and grandchildren and an adoring wife, and that he sought out Dee when he was ready.
*I can't imagine that Richard Burton's estate was happy about this book, although when you think about it, there probably ARE a few Burton children out there beyond the ones we know about. That man got around, mostly before he got with Elizabeth Taylor, but he still got around a little during and after Elizabeth too.
*I really questioned the Dee's wisdom of never telling her son Pat any kind of details about the circumstances of his conception. I mean, you don't have to tell the kid right off the bat that he's Richard Burton's kid, but shouldn't you tell him at some point, perhaps in his teenage years or his 20s? Especially considering Burton's well-documented alcoholism and Pat's inherited propensity for addiction(s).
*Everyone got a Hollywood ending for the most part, did you notice? Everyone got some version of what they wanted. It was sentimental and rather sweet.
So, would I recommend this book to people? Sure. As I said, I enjoyed it, it's an easy read and it's a nice enough story. I think I enjoyed it more than our last book club selection, A Visit From the Goon Squad.
Our next Celebitchy Book Club Selection is… The Paris Wife by Paula McLain. We will be discussing it December 8th!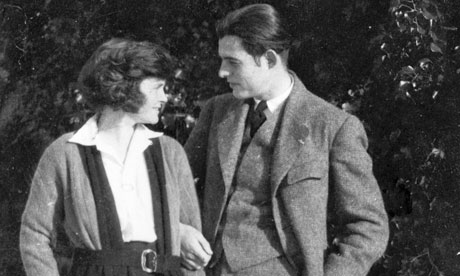 Header photo credit: greenpapillon / photocase.com