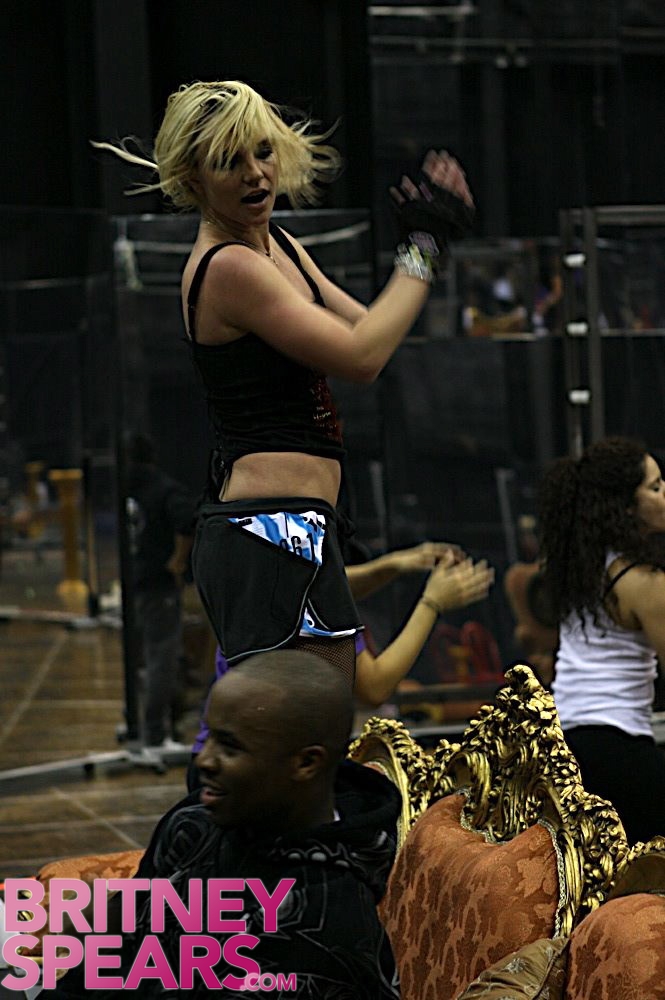 New pics posted on the official Britney Spears website show the rehabbed pop star looking fierce in rehearsals for her upcoming "Circus" tour. Clad in a skimpy bikini top and low-rise sweats, Spears is shown dancing up a storm and looking seriously hot. But she's still getting steamed under the collar about the amount of time her ex-husband's new girlfriend, Victoria Prince, is spending around their two boys – and she has no problem letting K-Fed know it.
On Monday, a longtime Spears insider called this column to share tidbits from a nasty phone fight between the entertainer and K-Fed — mostly focusing on Spears' obsession with Prince, especially when it comes to her children.

Calling the conversation a "total hysterical screaming match," the source claimed Spears told Federline in no uncertain terms she did not want "that [c-word] anywhere near my kids." The witness also reported that Federline apparently went into some detail — on the other end of the phone line — telling Spears, "You really don't have much say about that." That was a clear reminder the singer still has limited parental rights when it comes to her sons Sean Preston and Jaden James.

Britney is furious because she and Federline had gone to a couple of counseling sessions she thought might lead to a reconciliation, but he thought were more to help them have a civil relationship as they deal with their kids, etc.

Another Spears associate said Spears and Federline recently had been getting on so well, Britney had invited him to join her next tour in some capacity. She has now reportedly rescinded that offer, though Federline apparently told her he never even would have thought about it.

The Monday argument is only the latest in several similar disagreements the former couple has had the past few days — all centered on similar issues, particularly Prince's increasingly high-profile role in the boys' lives.

The good news: "Unlike in [other traumas in] the past, Britney didn't go take a pill or a drink, but went downstairs and did some yoga to calm down. … I think that's a good sign she's growing up and dealing with Kevin's b.s.," added the source.
Well, I suppose doing yoga instead of getting hopped up on booze and pills is progress for Britney – but after all this time, she should be able to understand the difference between K-Fed trying to get along for the sake of the kids and trying to get back together with her. It doesn't seem as though there is any interest in a reconciliation on his end, so she needs to let that go – and that includes calling his girlfriend the c-bomb. This latest incident probably stemmed from some new paparazzi photographs over the weekend of K-Fed and Victoria taking the boys out to eat. Sean was pictured sitting in Victoria's lap looking very happy. I'm sure Brit feels threatened by that, especially since Sean doesn't seem to have bonded with his mom the way Jayden has.
But if the boys seem to like Victoria, and she treats them well, it really is the best case scenario in a divorce. Britney should be happy about that. And about her six-pack abs.
Here's Britney looking amazing practicing for her upcoming concert tour. Photo credit: BritneySpears.com