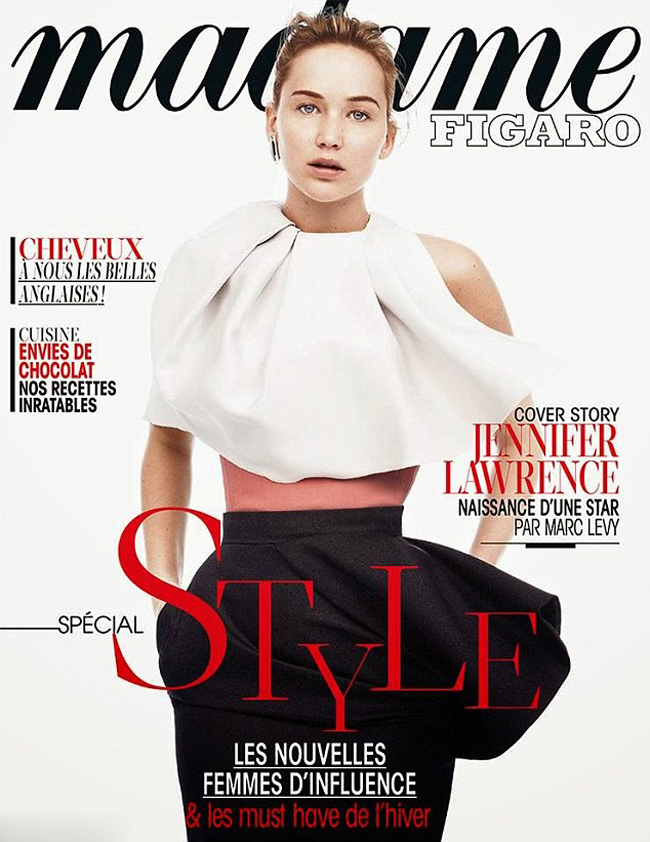 Jennifer Lawrence covers the December issue of France's Madame Figaro magazine to promote Catching Fire. The cover leaves me a bit cold, which isn't something I'm used to when it comes to JLaw. It's probably the open-mouthed gaze, right? Very few models or actresses can get away with that expression, but photographers love to request that look all the time. These clothes are all Dior, by the way.
In the interview, Jennifer reveals something that we've never heard before now. She claims to have experienced a huge case of social anxiety during childhood, and she says it only went away when she started acting and modelling. It's hard to believe that the biggest dork in Hollywood once suffered from an extreme case of shyness. This does sound like shyness, I think. Maybe a bit of depression too. You be the judge:
JLaw's childhood change: "My nickname was 'Nitro,' as in nitroglycerin. I was hyperactive, curious about everything. When my mother told me about my childhood, she always told me there was like a light in me, a spark that inspired me constantly. When I entered school, the light went out. We never knew what it was, a kind of social anxiety. But I had friends."

Acting cured it: "I went to see a shrink. Nothing worked. One day, I begged my parents to take me to a casting. We went to New York, and that's where I started acting. Just on stage, my mother saw the change that was taking place in me. She saw my anxieties disappear. She found her daughter, the one who had this light and joy before school. I finally found a way [to] open the door to a universe that I understood, that was good for me and made me happy, because I felt capable, whereas before I felt worthless."

She's trying to stay unaffected: "I want my life as normal as possible. One of the dangers in the film industry is that things are too fast … I want to keep it simple."

She takes her BFF on location: "At the end of a day of shooting, I can go home and hang out with her. Do what we do … and not share time with someone who works for me."
[From Madame Figaro]
What do you think? Some of you are very skeptical about Jennifer's "aww shucks" persona. She herself has stated how she can't believe we're not all tired of her yet. I can see how a child could be depressed and then gain a spark back once they discover their calling in life. JLaw was so into acting that she graduated high school two years early so she could start her career.
I've included the rest of the editorial at the bottom of this post, but first, here's an adorable spoof from Sesame Street. Introducing The Hungry Games: Catching Fur starring Cookiness Evereat, Finnicky, and … Pita. That piece of bread's face looks a lot like Josh Hutcherson. I'm kinda creeped out and fascinated at the same time.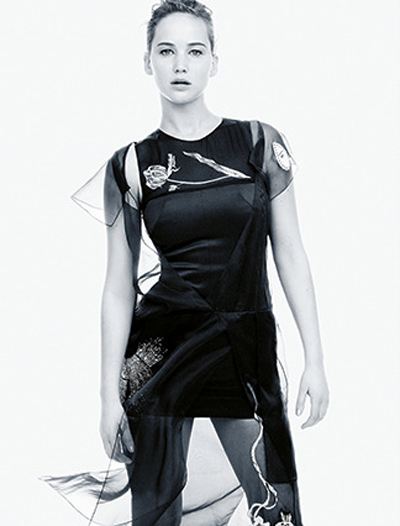 Photos courtesy of Madame Figaro