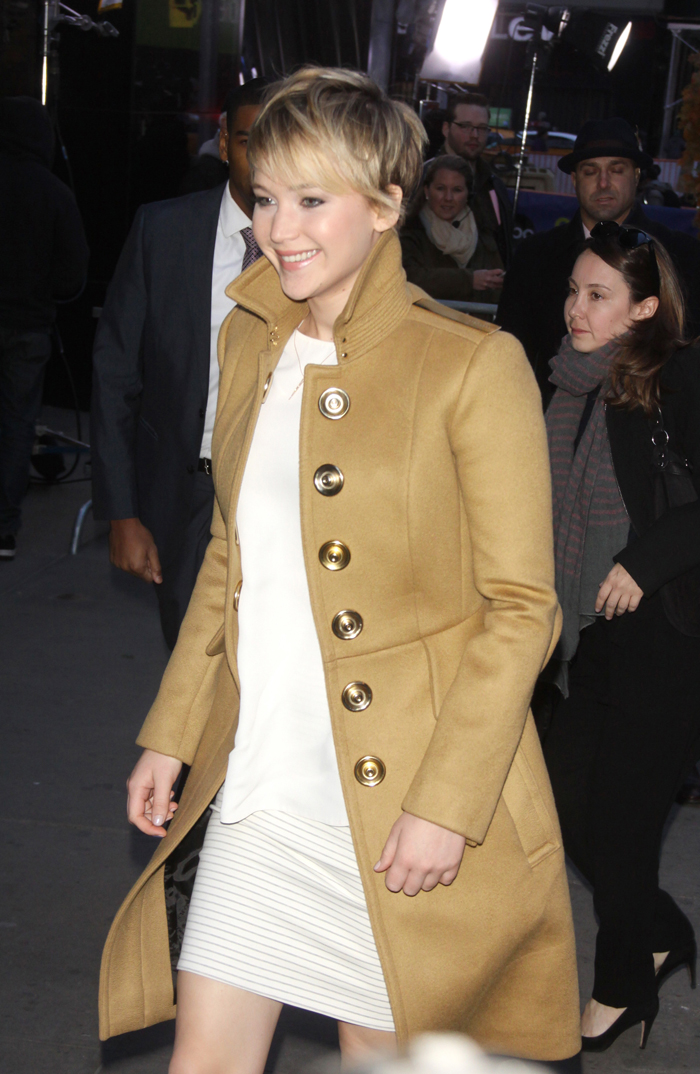 This is a catchall post for residual Jennifer Lawrence stories for the week. Yes JLaw is a bit overexposed right now, but Lionsgate would have it no other way for their leading lady. In that spirit, here's some photos of Jen yesterday making final NYC publicity rounds for Catching Fire. She stopped by GMA and was wearing an excellent Burberry Prorsum coat with the slightest of peplums. Once she hit the GMA soundstage, JLaw revealed a very breezy Thakoon white silk shirt and white-and-grey striped skirt. She told Robin Roberts that she nearly turned down the Katniss role. There might have been another starlet annoying you right now in place of JLaw! Here's some excerpts (with one that alludes to Jen's criticism of The Fashion Police calling people fat), and I will discuss after the clip:
Why she talks about body image: "It's kind of become funny to make fun of each other, and I also don't like other women slaughtering women. And all of us are just being so mean. We're so responsible for this younger generation, and media, it's what kids are watching. It's teaching people how to talk to each other and relate to each other. I don't like it. Why can't we just be nice? It's like we grow up and then get right back into high school."

She was terrified of her LA premire look: "I think any time a girl has to show her thighs it's never going to be her favorite look. I loved it, I loved the dress — if someone else wore it. It's hard for any woman to look at a picture of herself and [like it]."
[From GMA]
Jennifer makes a good point about being girl-on-girl hate. Notice that she's not erroneously espousing the definition of feminism like Selena Gomez, Courtney Stodden, or Miley Cyrus have done. She's not saying women all have to support every other woman no matter what. JLaw is merely saying we need to stop tearing each other down for sport.
Which brings me to my point. In response to yesterday's post about Jennifer's Letterman speech about sh-tting her pants, I'm puzzled at how some of you commented that JLaw must get her roles by getting on her knees for Harvey Weinstein. Seriously. Harvey is slimy, but do we have to imply that women can only be successful if they're sleeping their way to the top? What's even grosser that these comments are coming from people who called me sexist for admitting I'm tired of seeing a naked Miley Cyrus. Yes, I read you.
All seriousness aside, I have to wonder what Dior thought about JLaw's little pooping story. They had to know what they were getting into with Little Miss Fart Jokes. She's never made a secret of her love of bodily functions. I think that might be the reason why I adore JLaw so much. We both shamelessly love fart jokes. My poor daughter is just mortified at her own mother's immaturity when one of our dogs fart. Instant hilarity! There's so much to frown about in life, so what's wrong with lightening the mood with fart jokes? Honest question.
Anyway, the poop story was only part of the full Letterman interview (which is very endearing if you have to patience to watch 20 minutes of Dave and Jlaw bouncing off each other). At one point during the discussion, Jennifer insisted, "for every person who likes me, there are a lot of people who don't." That's not the first time she's acknowledged the hate.
A few more loose ends with bullet points:
* Liam Hemsworth talked to E! Online and said when it comes to being sexy, "I'd say just do what Jen does." When asked about JLaw's recent comments about Miley ("Sex sells, and for some disgusting reason young sex sells even more."), Liam responded, "I agree with her. I would say exactly that."
* This week's issue of Star says Jennifer is tired of worrying about who doesn't like her: "Jen's not at all concerned that Miley, Kelly [Osbourne] and Joan [Rivers] are offended by things she's said. They aren't the kind of people she's trying to earn respect from."
* American Hustle is coming. Here's a really cute clip of Jennifer blowing up a toaster oven and getting in Christian Bale's face in the aftermath. The language is NSFW: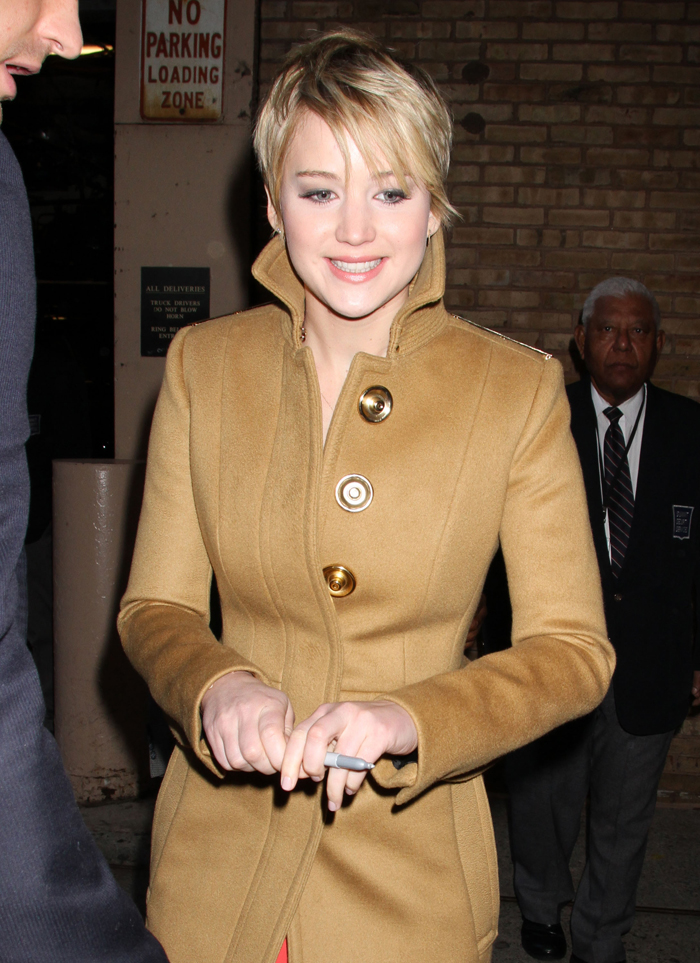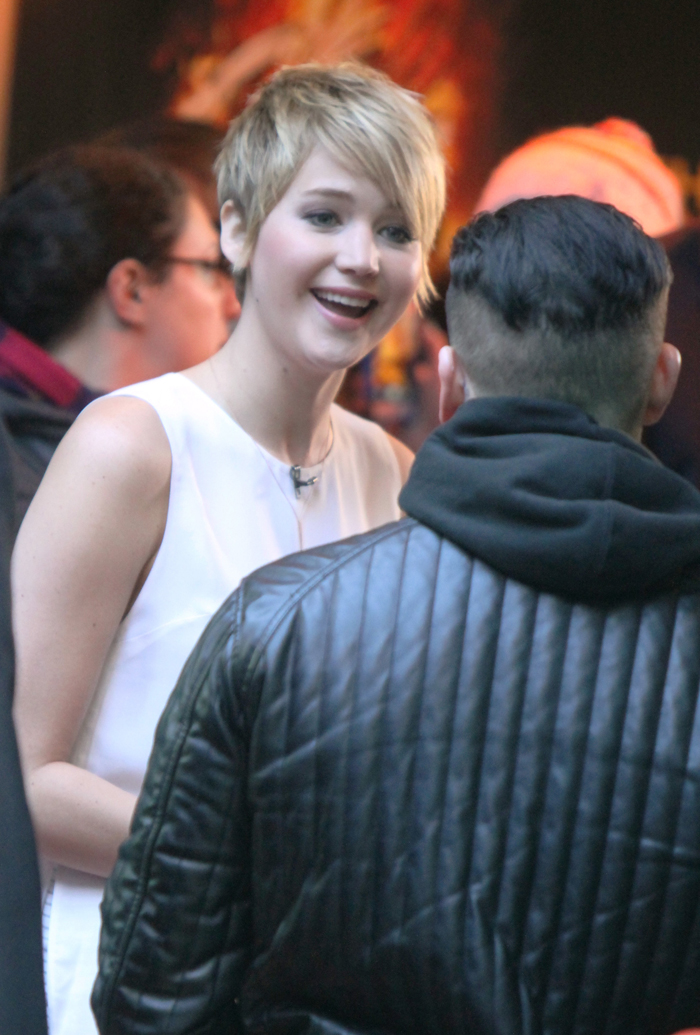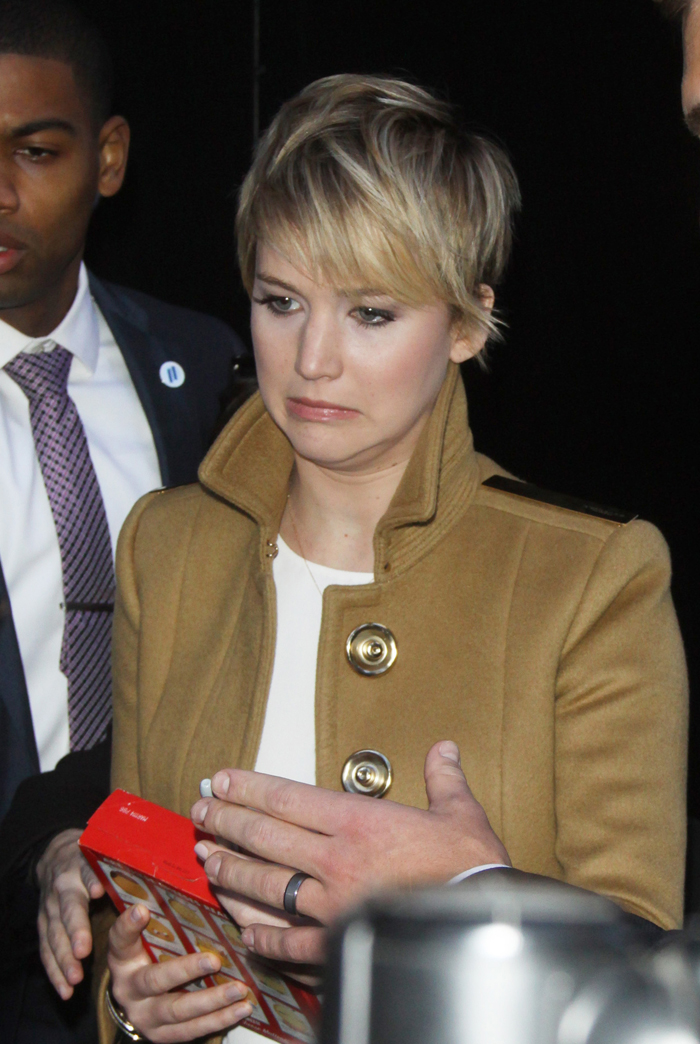 Photos courtesy of Fame/Flynet & WENN