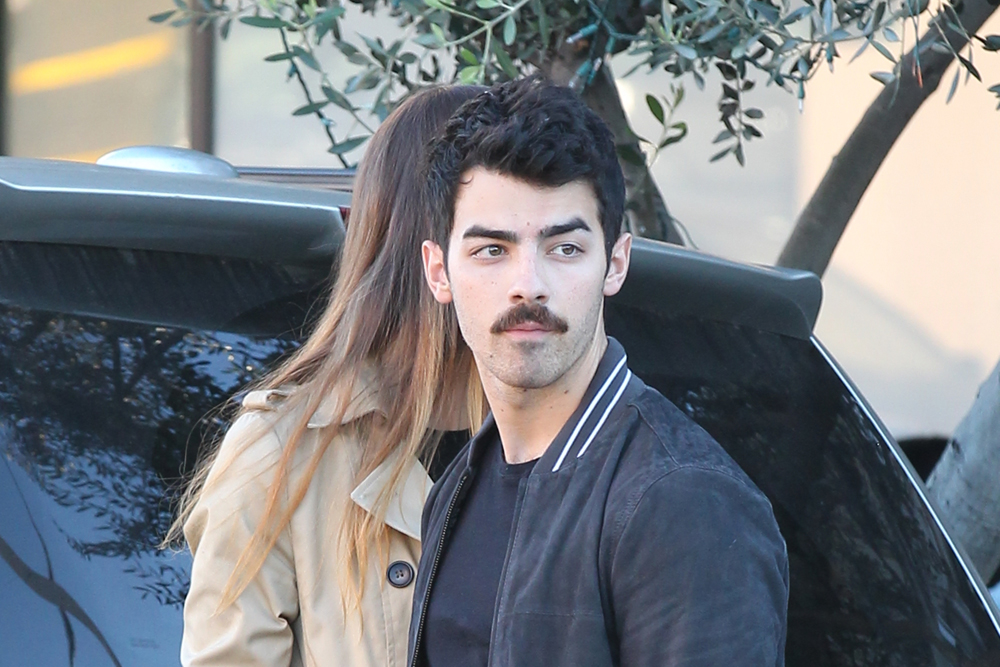 Here's a photo of Joe Jonas out in Hollywood yesterday with his girlfriend, Blanda Eggenschwiler. You can't really see her in this picture, but even if she was visible, it wouldn't matter. That 1970s cop moustache is all that anyone could ever possibly care about in this frame, and it is absolutely killing me. I'm getting flashbacks of the Jonas Brothers' 3-D concert movie because Joe dressed up as a nightstick-waving cop with that very moustache. Does he remember? Is this a joke on all of us? Who knows.
For reasons that don't entirely make sense to me, New York Magazine has published an enormous essay from Joe in its Dec. 9 issue. It's a very long piece, and there's a lot of stuff — mostly about the rise of the Jonas Brothers and the inevitable bust-up — that I'm cutting out. Joe claims that the bros broke up because they weren't "jelling" for a long time, and a huge screaming match brought things to a head. He also throws a bit of shade at Kevin's marriage, but none of that is too interesting, so you can read the full piece if you so desire.
One theory that's been floated to explain the JoBros breakup is that Joe may have a drug problem. Joe denies being an addict or doing any hard drugs, but he does say that when he first smoked pot, it was Miley Cyrus and Demi Lovato shoving the joint into his hand. Oh nooooo:
On the Disney channel: "Disney is great at creating fame. They've done it with so many pop stars and young actors, from Hilary Duff to the High School Musical crew. Miley Cyrus played an already-famous pop star on a Disney show, Hannah Montana, and as we were starting to blow up, we got a boost by playing ourselves, as her favorite band on her own show. We got a sitcom called Jonas in which we played characters named Kevin, Joe, and Nick Lucas, members of an already-famous band. But the thing about the show was that some of the writing on it was terrible. It just ended up being some weird slapstick humor that only a 10-year-old would laugh at. They took out the kissing scene that Nick had. I had to shave every day because they wanted me to pretend like I was 16 when I was 20 (when the show was done, I cut my hair off and grew as much of a beard as I could). We went along with it at the time, because we thought Disney was our only real shot, and we were terrified that it could all be taken away from us at any moment."

The Disney shackles: "Disney made us more famous than we ever knew we could be, [but] being a part of a company like that comes with certain expectations. Not overtly, but there was a subtle vibe. We were working with Disney in 2007 when the Vanessa Hudgens nude-photo scandal happened. We heard that she had to be in the Disney offices for a whole day because they were trying to figure out how to keep her on lockdown. We'd hear execs talking about it, and they would tell us that they were so proud of us for not making the same mistakes, which made us feel like we couldn't ever mess up. We didn't want to disappoint anyone—our parents, our fans, our employers–so we put incredible pressure on ourselves, the kind of pressure that no teenager should be under."

Media training: "We were just kids. That's the reality. We were frightened little kids. So you got all this responsibility that's foisted upon you and you're expected to be perfect. I went through media training, and I hated it. They'd teach you how to change the subject, whenever you were asked an uncomfortable question, by saying something like, 'Oh, that reminds me of my dog! I have a great story about my dog!' Playing dumb is the best way of getting out of anything. We also had a strategy for who would take which kinds of questions. If it was a serious question, Nick would answer it. If it was lighthearted, Kevin would. Nick and I took questions related to our music and explaining what certain songs meant. We even did a Good Housekeeping story with our mom where we were wearing these horrible pastels. It makes me cringe just to think about it."

About those purity rings: "The topic that dominated news coverage of us for a long time was the whole promise-ring thing. We couldn't escape it. It started when I was really young–I must have been 10 or 11. There's a program people do in some churches called True Love Waits, where you wait for marriage to have sex. Kevin and I decided to join–Nick tried it later. Fast-forward a few years, we've started playing music and we-re working with Disney and we have these rings. I remember this interview with this guy whose entire agenda was to focus on the rings. Now I know that I don't have to answer any questions I don't want to. Like, why do you even care about my 15-year-old brother's sex life? We decided to take the rings off a few years ago. I lost my virginity when I was 20. I did other stuff before then, but I was sexually active at 20. I'm glad I waited for the right person, because you look back and you go, 'That girl was batsh-t crazy. I'm glad I didn't go there.'"

Disney rebellions happen for a reason: "Being a part of the Disney thing for so long will make you not want to be this perfect little puppet forever. Eventually, I hit a limit and thought, Screw all this, I'm just going to show people who I am. I think that happened to a lot of us. Disney kids are spunky in some way, and I think that's why Disney hires them. 'Look, he jumped up on the table!' Five, six, ten years later, they're like, 'Oh! What do we do?' Come on, guys. You did this to yourselves."

On drugs & alcohol: "The first time I smoked weed was with Demi and Miley. I must have been 17 or 18. They kept saying, 'Try it! Try it!' so I gave it a shot, and it was all right. I don't even smoke weed that often anymore. I was caught drinking when I was 16 or 17, and I thought the world was going to collapse. But I was in another country, and it was legal there. My 21st birthday, I fell down a flight of stairs. I was unconscious that time, and my whole team was scared to death that somebody was going to get a picture. Now I appreciate wine or a vodka-soda at the end of the day every once in a while."

On the future: "Now that I'm 24 and have control of my life, I'm going back to the drawing board. I've been through a sh-t-ton of stuff, but I'm genuinely excited because now I can go back to the studio with those people who I used to work with. I don't have to rely on anyone else's opinion, whether good or bad, and hear them say, 'No, no, you can't go write with them. That's too weird for us.' Because weird works. Look at Lorde."
[From Vulture]
I have no earthly idea where Joe Jonas plans to go with his career from here. He claims to have recorded an initial solo album that never saw the light of day. Then he recorded another, Fastlife, that was actually released by Hollywood Records in an effort to make him "the new Justin Timberlake." Dude, not even JT is Justin Timberlake anymore.
One positive thing I will say about Joe — he does acknowledge in this interview that Disney "made" him and his brothers. Disney itself has claimed no responsibility for raising children, but it can't deny the effect it has on many of its stars. Joe seems more humble than many former Disney kids, and he fully believes that he would have never become famous without the machine. You can see him raging against the machine a bit in this interview, but he still gets it. To me, that kind of sentience is refreshing compared to Miley Cyrus claiming to have built an entire empire for herself at age 11. I'm not surprised at all that Miley and Demi were the ones to pressure Joe into trying drugs, but he's the one who smoked that joint.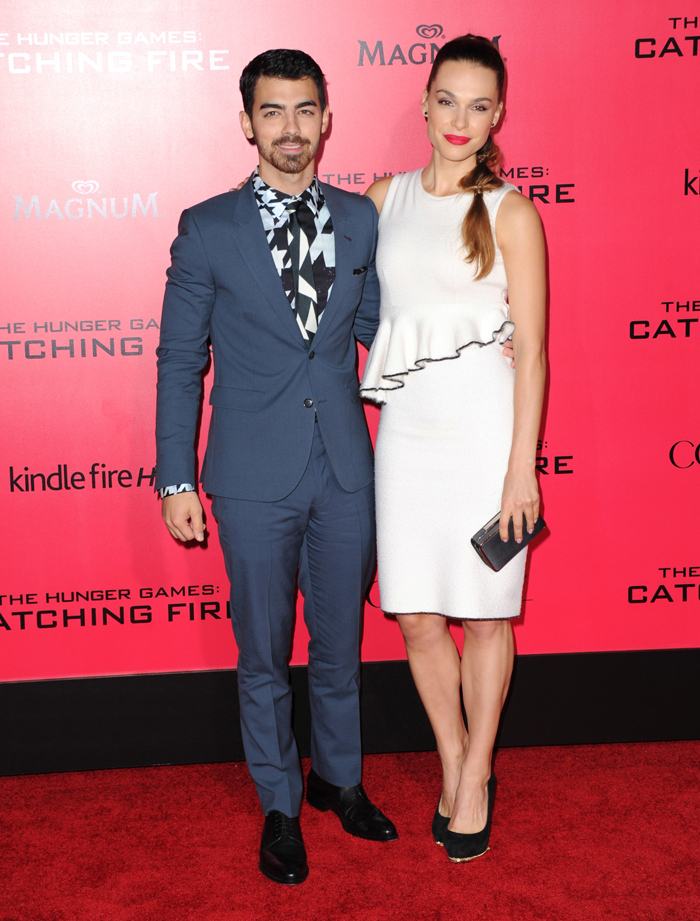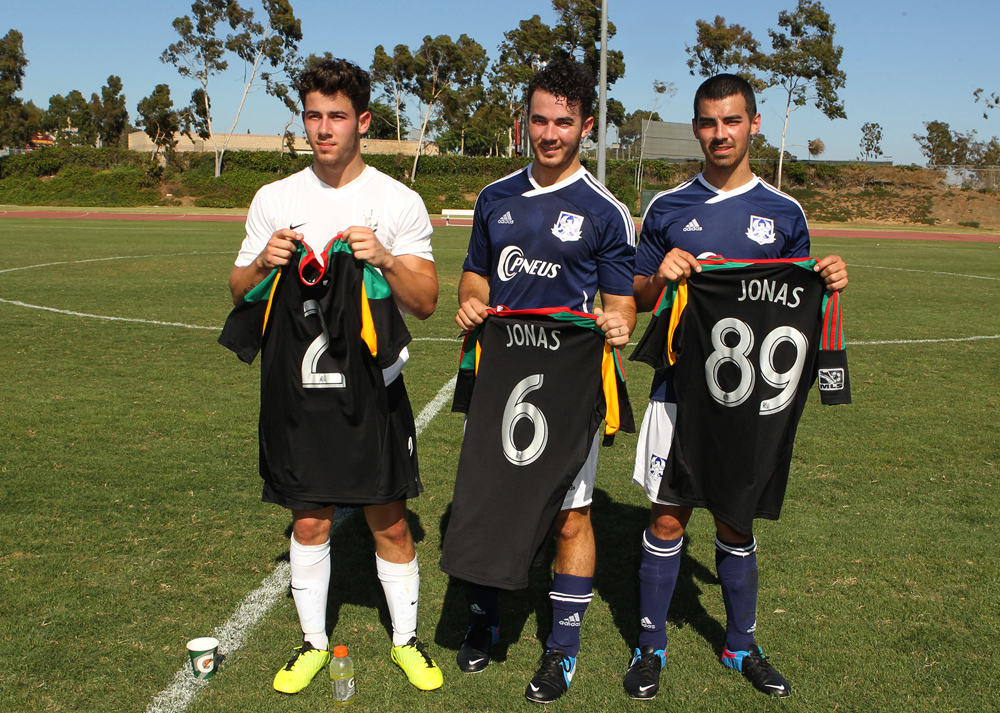 Photos courtesy of WENN