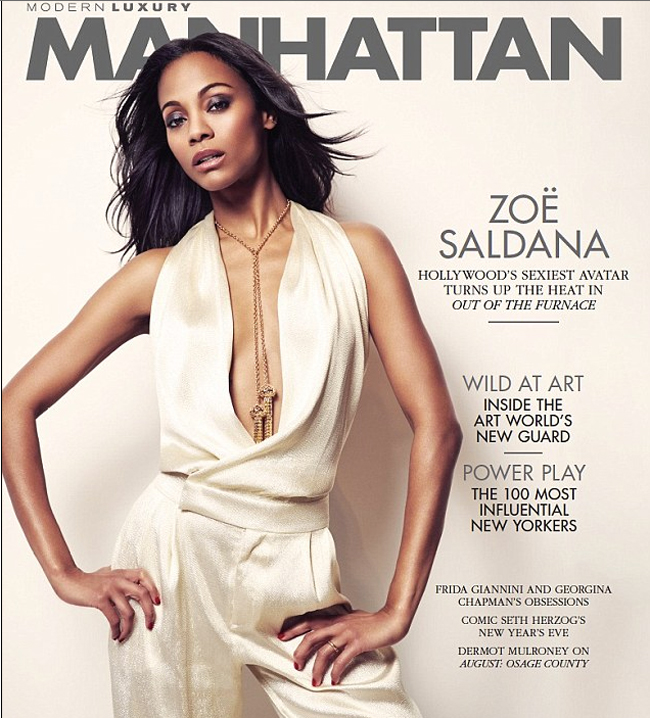 Zoe Saldana covers the January issue of Modern Luxury's Manhattan magazine to promote her new film, Out of the Furnace, which costars Christian Bale, Woody Harrelson, and Casey Affleck. Zoe plays Bale's lover, and the movie is a gritty crime drama that (if the trailer is any indication) looks pretty damn compelling. The cast is just incredible, and the trailer is full of action, emotion, and intrigue. Woody plays a bad guy, which should be fun to watch. Zoe's character looks like more than ths usual stock "girlfriend" too.
The magazine spread is rather beautiful in a bland way, but the interview is slightly more interesting. Zoe talks about how she refuses to play the part of a clichéd Hollywood starlet. Do we buy what she's selling here?
On gender injustice: "It's very hard being a woman in a man's world, and I recognised it was a man's world even when I was a kid. It's an inequality and injustice that drove me crazy, and which I always spoke out against – and I've always been outspoken. I love learning new skills, especially those you're told girls aren't good at – like parallel parking. Hey, I'm going to learn to ride a Ducati!"

She doesn't "generic" or "sexy bombshell" characters:
"I'm known for being selective in parts I either pick or pursue, and what matters most is that they be good female roles where the character isn't cardboard or objectified, and where there's real substance. No generic girlfriend or wife, and no sexy bombshell. Enough of that already!"

The power of ballet: "Before ballet, I had trouble concentrating, and I wouldn't even try to concentrate on things I wasn't interested in. The barre, the piano, the breathing – they calmed and centred me, and allowed me to learn lessons physically, which is how I learn best."

Her family's work ethic: "My sisters and I weren't raised to be princesses; we were taught to want love and to recognise love, but not to be tempted to sacrifice things you can provide for yourself for love. We were taught to work."
[From Modern Luxury - Manhattan]
Zoe's attitude towards her career may seem odd because her breakthrough role was in the super-major blockbuster (Avatar) to end all blockbusters. Yet she didn't predictably head down the romantic comedy route. I can appreciate such an offbeat and unexpected career path.
Here's the rest of the Manhattan photo shoot. I've also included some photos of Zoe attending a taping Extra! yesterday. Her little black dress looks fun and kicky from a distance, but it's kind of a mess in close-up view.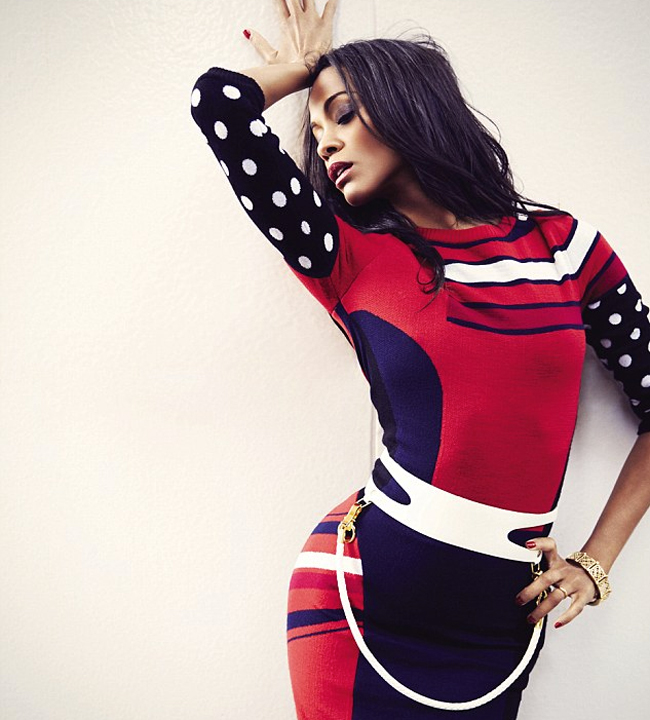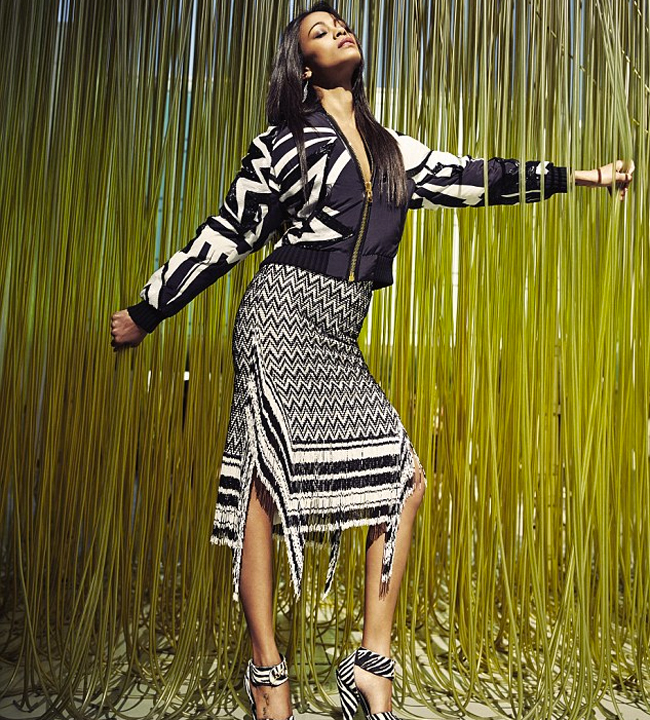 Photos courtesy of Manhattan magazine & WENN