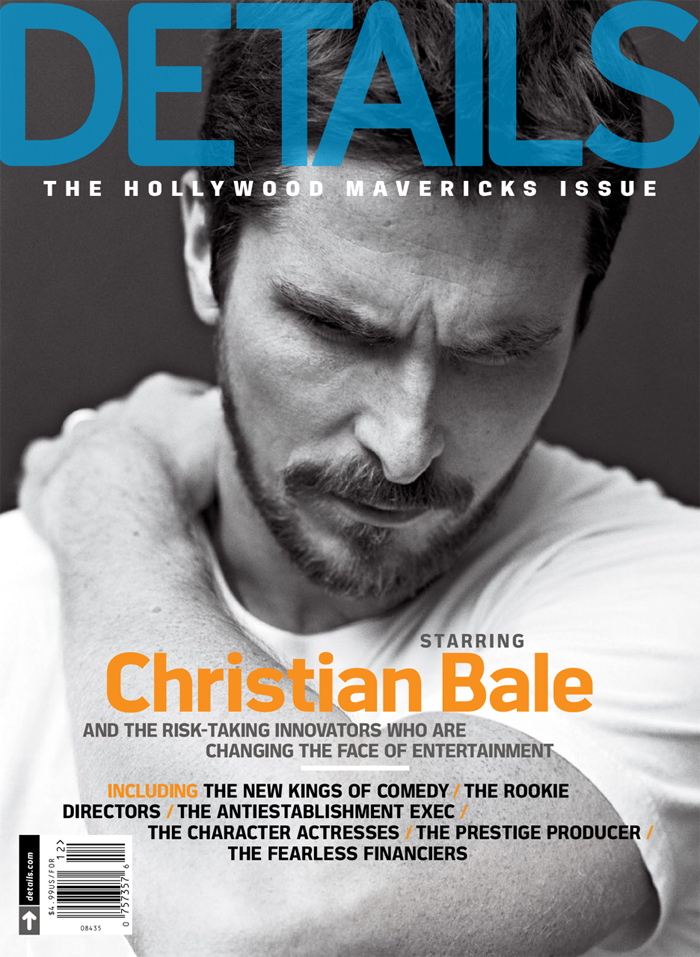 Christian Bale covers the January issue of Details to promote Out of the Furnace (which looks really good) and American Hustle, which is prime Oscar bait to the max. In an odd twist, Christian decided that the best way to ugly himself up for this role (because that's his "method") was to gain weight and wear a wiglet. Usually he loses tons of weight while aiming at Oscar gold. Man, his metabolism is going to rebel one day.
The Details cover is amusing because Christian is all, "Don't look at me. I'm such an artist," but the interview is surprisingly friendly. A few years ago while promoting Terminator: Salvation, Bale developed a reputation for railing against his press duties. He'd often embark on a rant during a feature interview, including the time he went off on a GQ journalist for asking him if he ever wanted to do comedy. He subjected the poor journo to a speech on how he hated pushing product as Bruce Wayne; he was so mad when they put "stuff, goo, in his hair, okay?" Then he kept insisting, "I can't stand havin' my photo taken. Can't f—in' stand it. What I'm tellin' you is that I will not ever be a model. If I'm ever modeling, you'll know I really f—ing need the money." This particular discussion came at about the same time that the infamous set freak out hit YouTube.
Bale has grown up a bit since then. He talks a lot here about his habit of "uglying" up for a role, but insists he's not an overly sensitive artiste any more. Bale also dismisses the internet backlash against Ben Affleck as Batman:
On his "brave" combover in American Hustle: "Hey, I hope I've done braver things. But it's certainly bold, isn't it? [Laughs] I've always been fascinated by the dynamics of those things, though that was something we invented. I don't know that anyone has ever done it precisely that way, with glue."

On his character's beer gut: [Laughs] "I ended up with a herniated disk, which was a combination of the extra weight and slumping a lot. It's my own fault–nobody asked me to gain the weight. I just saw Irv as being a bit of a rolling ball, full of momentum."

Why does he play "nut-jobs" for David O. Russell? "We both love them, and I love the ideas he comes up with, and he seems to enjoy mine. We have a very humorous and at times poignant relationship. We can knock each other senseless–not physically, metaphorically–and still want to get up and give each other a hug at the end of the day. We can disagree in a way that two people who respect each other can. And when it feels like a true partnership, you do. I never had brothers. I grew up with women around me always, but what I saw of friends of mine who had brothers–man, they could have the worst fallings-out, but they were always right there for each other. Sometimes I'm calling him crazy, and sometimes he's calling me crazy, but it's never a straight and easy path that leads to good shit. I almost talked myself out of American Hustle."

On pulling his "finger out of his ass" and taking the role: "I like doing whatever I'm doing, you know? I'd like to never work again if I could–who wouldn't? But once I start working, or most of the time, anyway–there have been exceptions, believe me–I think, 'Oh, right, now I remember what I like about this.'"

On picking a role: "It's all over the map for me, to be honest. I'd say inconsistency is something I enjoy. But sometimes it's the character, sometimes it's the director, sometimes it's the script, and sometimes–holy sh-t–it's all three! And sometimes you just want or need to work, you know? Looking back over the films I've made, it's been every reason under the sun for doing them."

What role is closest to his own identity? "I'd be the worst person to tell you that. I barely know what color my own eyes are. I get kind of blind when I'm looking at characters. Other people point it out, and I go, 'No, no, that's a character, there's nothing of me.' But of course there always is. The idea is to bring nothing of yourself, but it's probably impossible. I stay awake at night worrying about it."

On the business of Hollywood: "I'm a f—ing awful businessman. I got no idea how to sell a film. I don't know why people want to see certain films. But it's a strange brew, you know, because I don't feel like an artist or anything–there's way too much business involved in this whole thing for that. But equally there's way too much creativity for this to be like any normal business."

On Ben Affleck's Batman backlash: "Somebody pointed it out to me. Look, there's no middle ground on the Internet. It's just extreme feelings. They love you or abhor you. Ben knows that, and I doubt if he spent one minute worrying about it."
[From Details]
Someone's had some press coaching, right? He's a lot nicer (and a lot less "smartass") in this interview than he has been in the past. I have a feeling Christian would be a lot happer if he could act in a vacuum — lose and gain weight for his all-out roles and win peer-based awards but not worry about selling films to the general public. That's not how it works, obviously, and especially when he signs up for blockbusters like his Batman movies. Bale is a magnifent actor, I'll give him that. Despite all of his gimmicky weight tricks, he always brings a character to life.
Here are several American Hustle stills. So much bad hair, so little screentime.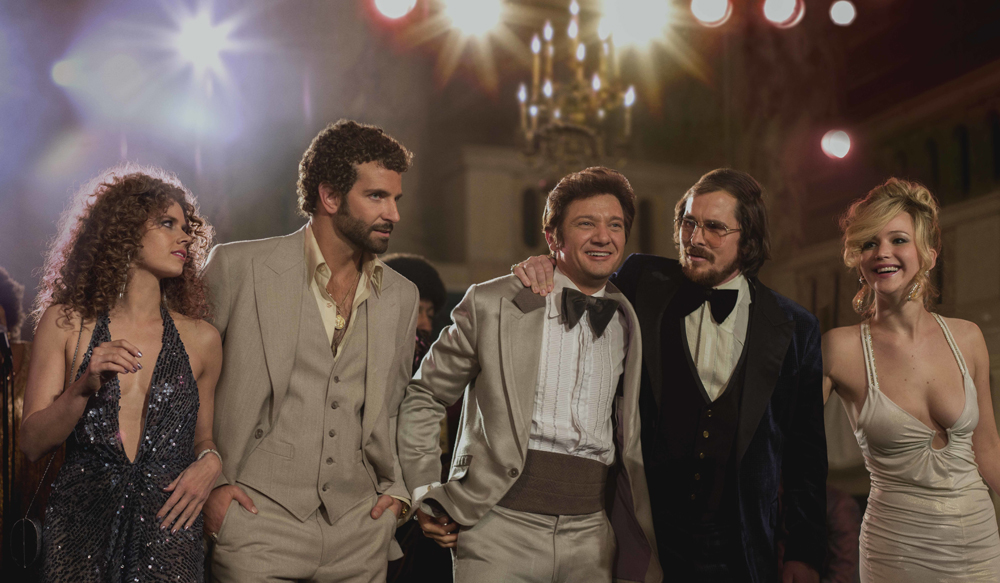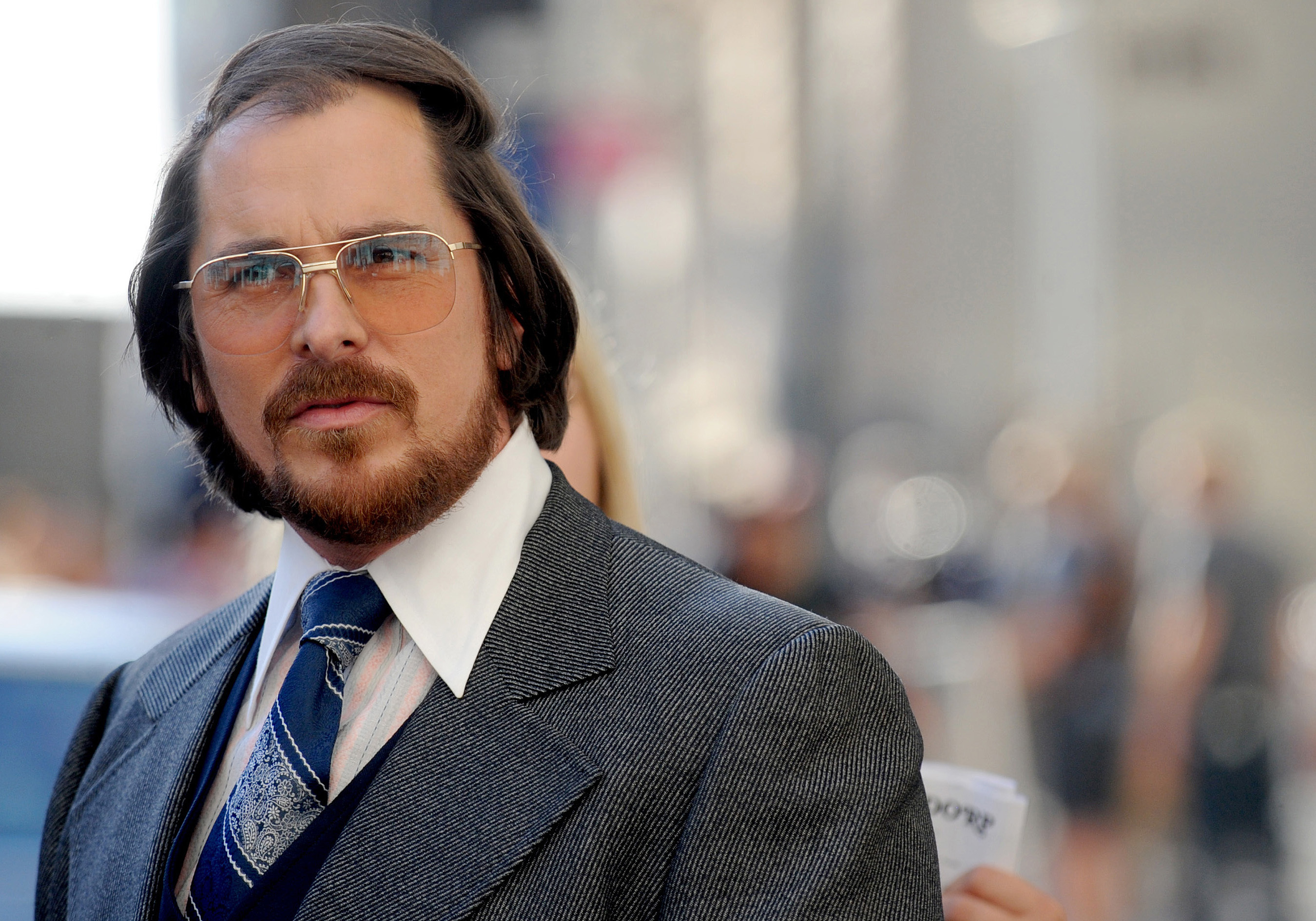 Photos courtesy of AllMoviePhoto & WENN