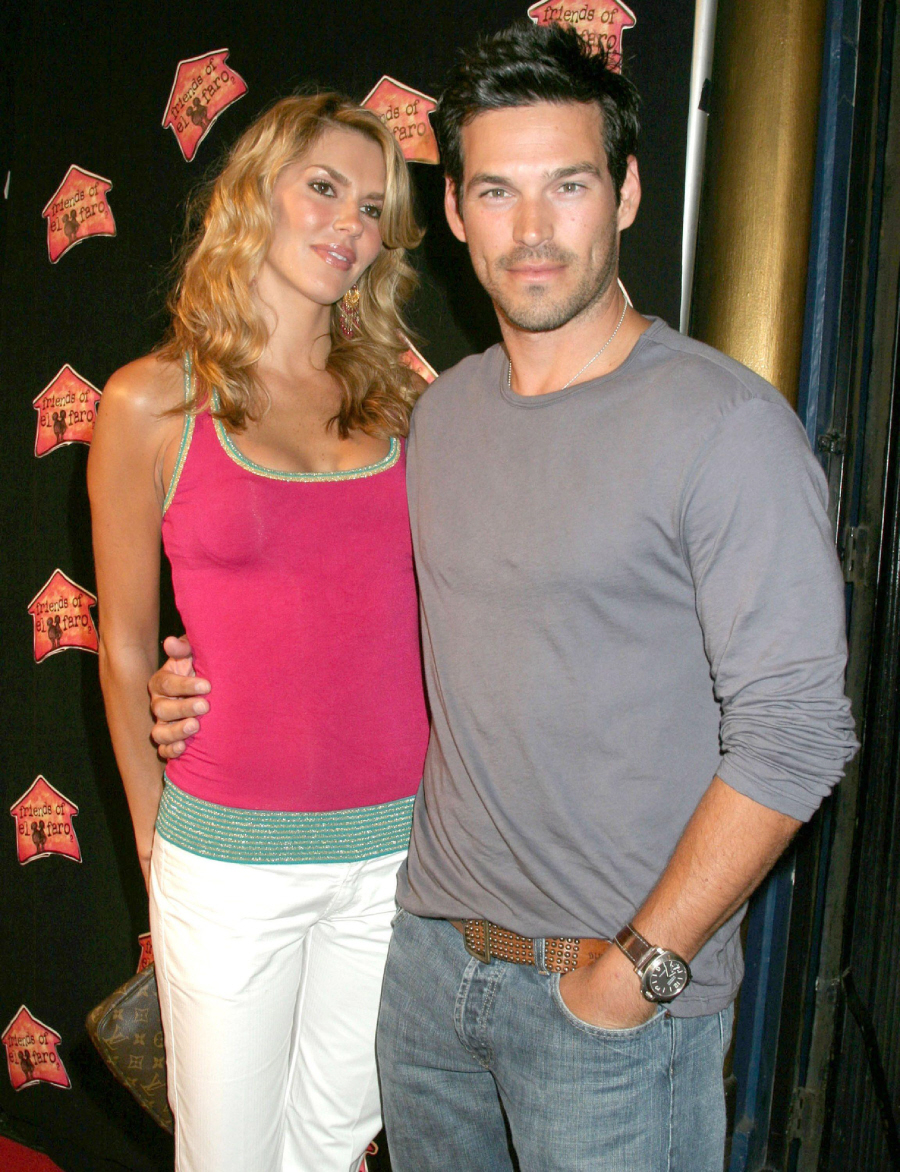 As we discussed a few days ago, Brandi Glanville is racist. I'm not even hedging about it – this whole incident (the inciting incident and everything that came after) has been textbook racism. In fact, Buzzfeed recently ran a great piece about "racial microaggressions" that minorities and mixed-race people hear on a daily basis, and guess what? Stereotypes about black people's hatred of swimming is on there. As I said in the previous post, the RHOBH incident would have been bad enough but Brandi compounded her error but giving a bulls—t non-apology and even throwing out a "but I say that to all my black friends!" Well, Brandi is still talking. She wrote a RHOBH blog on the incident and now she's basically saying that she's not racist because she was once married to a Hispanic guy and she's banged a bunch of black guys. Seriously, that's her argument.
First and foremost, I really do want to sincerely apologize and say I am truly sorry for the insensitive joke I made about Joyce not getting in the water and to anyone of my friends or fans of the show I offended.

I generally tend to speak before thinking, which is something I wish I could change about myself. But it has been 41 years now and I don't really see that happening. I generally feel like the more you protest about something the guiltier one usually looks, but after looking at social media (which is ruining all of our lives BTW) I guess I need to prove myself a little further.

To start off, I have been in several romantic relationships over the years with African American men and still have close relationships with those ex-boyfriends even now. For over 20 years now, I have had girlfriends from pretty much every ethnical background. Sometimes (actually a lot of times) these girlfriends and I joke inappropriately with each other. These jokes are clearly not ready for TV.

I married and have two children with a Cuban man whose parents were both born and raised in Cuba, and I consider my children to be multi-racial. I am not a racist and I apologize for my insensitive joke. The moment those words came out of my mouth I regretted them and felt like I just handed Joyce/Jacqueline the gift that she had been waiting for to have another go at me and give herself the attention she clearly was craving.

All of that being said, I hope you see that although it didn't go too well, I was just trying to be funny — as I always try to be. Life is not worth living if you can't laugh with your close friends. In the future, I will remember in to hold back with people who I now see are only looking to take me down so that they can have a something for themselves.
Well, she's right, her kids are multiracial. They are half-white, half-Cuban. And I don't doubt that she banged dudes who were every race under the sun. Does that make it better? Eh. The argument is still "I'm not racist, ask all the black guys I've banged!" And that's not an argument. Also: I think it's kind of rude to put this on Joyce (who, by the way, I couldn't pick out of a line-up because I barely pay attention to these Real Housewives). Yes, it's petty girl drama but don't say something rude, obnoxious and racist and then say, "She's only mad because she's out to get me!" You did it to yourself, dude.
Also – all of the other Real Housewives are falling all over themselves to condemn Brandi. It's kind of funny. Joanna Krupa, Kyle Richards, and Kenya Moore have all issued statements or tweets or what have you. Kenya tweeted that Brandi needs "rehab and penicillin." YIKES.
Brandi also made a video before that episode of RHOBH even aired. Brandi knew that the sh-tstorm was coming and she tried to prepare her fans for it, saying: "I just wanted to give you guys a heads-up on what's about to happen. You're about to completely hate my guts. Sadly, I'm a d–k in the next three episodes. However, I will say you don't get to see the entirety of what happened because they can't show everything they shot… You don't understand why Joyce and I don't get along, you don't understand why I'm being a bitch to her it just looks like I'm being a bitch to be a bitch. I have to have a reason to be a bitch. I'm not just a bitch." HOLY CRAP HER WHITE DOG IS NAMED "SUGE KNIGHT". Okay, Brandi, now you're not racist?!?!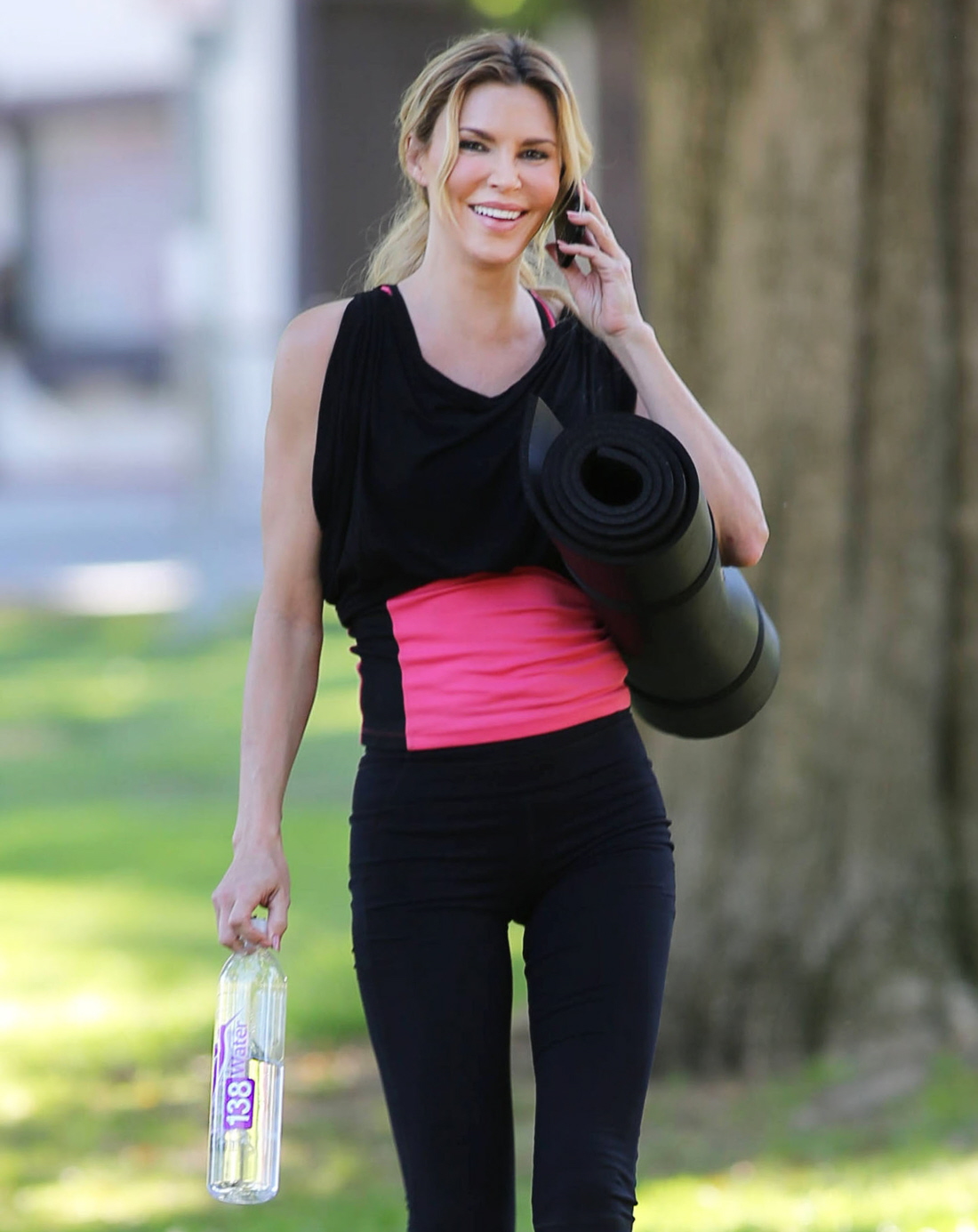 Photos courtesy of WENN, Fame/Flynet.