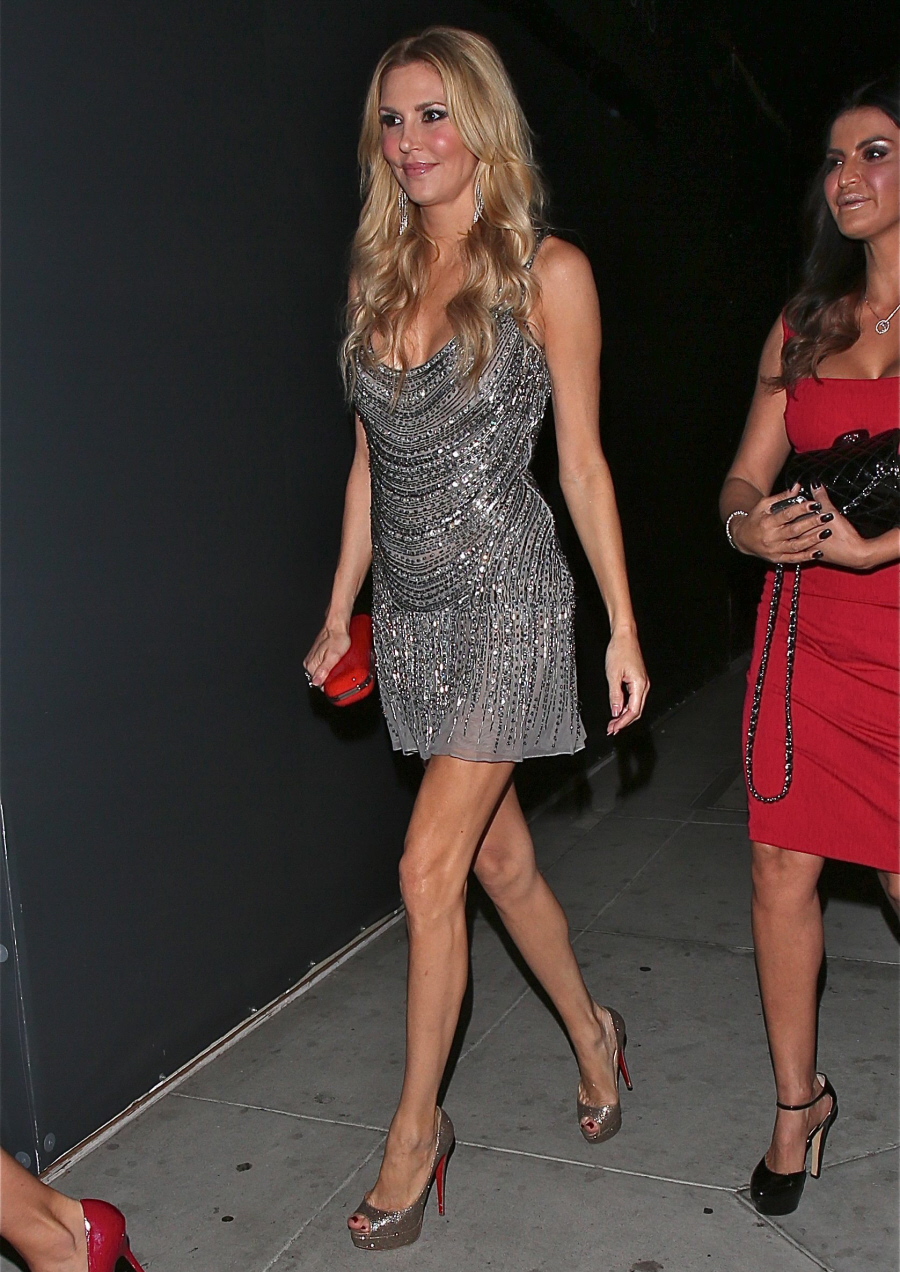 Brandi Glanville is a racist. For real. But don't let that label fool you – this is a teachable moment, potentially for Brandi and for all celebrities of every level of fame. The basic story is that Brandi said some really racist BS when she was drunk off her ass during Real Housewives of Beverly Hills. That was bad enough – the fact that "in vino veritas," Brandi says insulting, racist BS to someone's face. But then in the kerfuffle that came after that incident, Brandi made it ten times worse by her half-assed, ignorant, ridiculous "apology". She actually used the "I have black friends!" defense and she actually "apologized" using the incredibly offensive "I'm sorry you were offended" tactic. This whole thing is a racist disaster.
Brandi Glanville stepped into it again. On the Monday, Dec. 9 episode of Real Housewives of Beverly Hills, the outspoken reality star, 41, got drunk during a pool party with her bikini-clad castmates, and predictably said something she shouldn't have — and this time, the insult wasn't just ugly, but racist. After newcomer Joyce Giraud admitted that she couldn't swim, Glanville quipped, "You're black."

Following a stunned silence, LeAnn Rimes' nemesis explained. "It was a joke and my black friends would've laughed crazy, 'cause they don't go in the pool because they will get their weave f*cked up . . .All my black friends can't swim. Is that bad?

Giraud retorted: "Yes, I'm black. What's your problem? Puerto Ricans are black, they're Indian and they're Spanish. So I am a mix of three cultures and I'm very proud to represent all three."

Immediately after that episode's broadcast, Glanville came under fire via Twitter from offended fans. Fellow firebrand Kenya Moore of Real Housewives of Atlanta even chimed in. "Not all black women wear hair weaves, half the women on Beverly Hills Housewives are wearing some fake hair. Brandi could not be more ignorant."

Well aware of her error, Glanville then called in to speak with Andy Cohen on Watch What Happens Live! to explain herself.

"I know what I said was definitely inappropriate, but I say a lot of inappropriate things. I'm not racist, I'm just inappropriate 90 percent of the time! It definitely was not sensitive and I apologize to anyone I offended," the bestselling author said, though she wasn't done defending herself. "But to be honest with you, my friends and I joke with each other this way and they're from all different backgrounds. So I'm sorry and I guess TV's not ready for the real Brandi, but should I censor myself? Is that gonna be exciting?"

Cohen wasn't completely satisfied with that argument, and pressed Glanville further — asking her if she thought the remark was racist.

"I think it was definitely inappropriate," she conceded. "I'm the least racist person of all time. I think the more you defend it, the more you look guilty, so I don't really have to say that much more. I am very sorry with whomever I defended. Defended. Offended!"
If I was Brandi's publicist, here's what I would have written for Brandi: "Holy s–t, I was so drunk when I said that, I didn't know what I was saying and I'm really and truly sorry. I'm going to STFU now, go ahead and yell at me, I deserve it." I'm actually MORE offended at Brandi's apology and explanation than I am with the inciting incident. This is more than "inappropriate" and more than "don't censor Brandi." She just comes across as offensively ignorant across the board. Poorly played, Brandi.
Also – it's a peeve of mine when someone declares their non-racism just after doing or saying something racist. Declaring "I'm not racist" as a blanket defense for your previous actions means nothing. YOU don't get to decide whether or not you, your actions and your words are racist. Other people get to judge your intent and your words for themselves and they determine whether you are racist. And right now, Brandi's intent and her words are majorly offensive.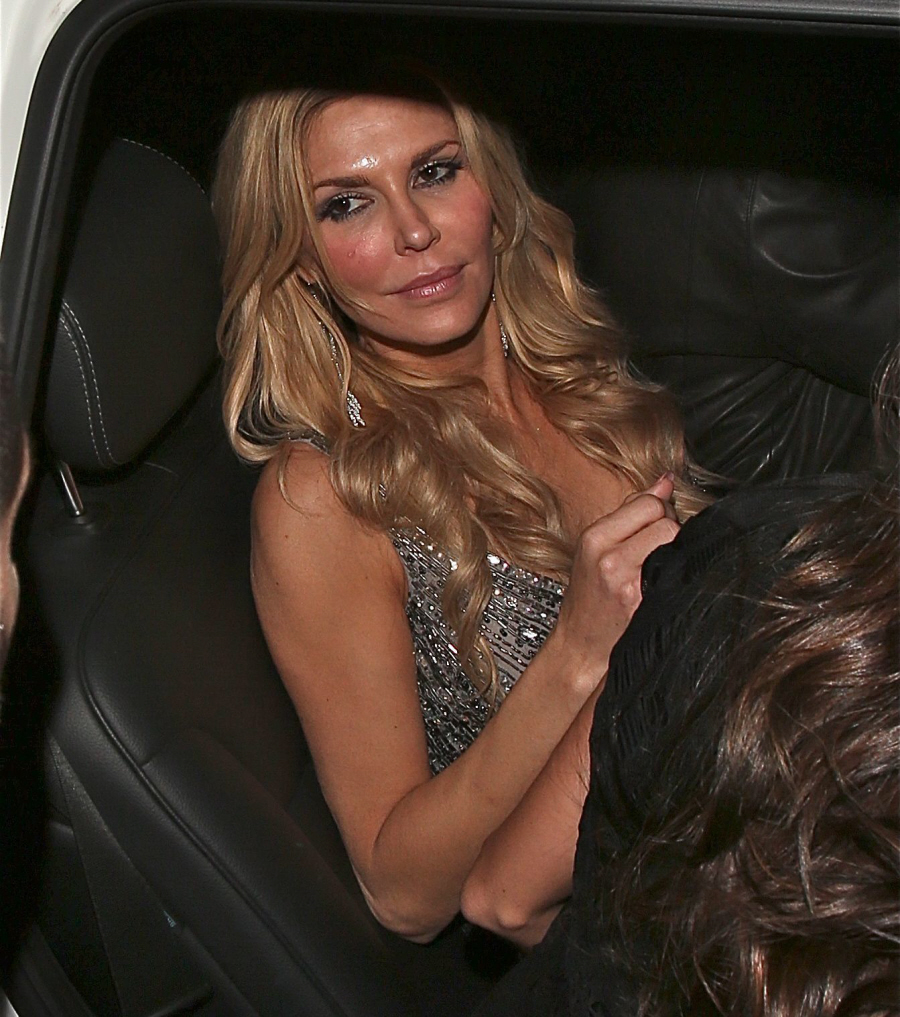 Photos courtesy of WENN.