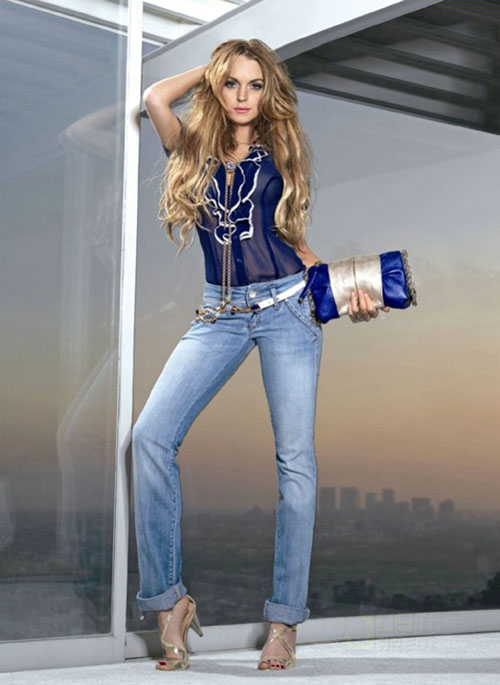 Lindsay's latest paying gig: posing for an ad campaign for Italian designer Fornarina. But where are the film roles? Photo credit: Bauergriffin.
And the hits keep on coming for troubled actress Lindsay Lohan. Last year, her guest spot on ABC's "Ugly Betty" was cut short, her film "Dare to Love Me" was indefinitely shelved, with a possible release date of 2010, and her other movie, "Labor Pains" is also in limbo after test screenings didn't go so well. She was rumored to be starring in a new comedy with Jack Black, but that seems to have disappeared, too. Seems like the only work she can get these days is modeling for ad campaigns and playing sidekick to her girlfriend's DJ gigs. Now, reports are surfacing that "Big Love" and "Mamma Mia" star Amanda Seyfried has beat Lohan out for a role in the much-anticipated adaptation of Oscar Wilde's "A Woman of No Importance," co-starring Annette Bening.
Mamma Mia! star Amanda Seyfried has beaten Lindsay Lohan to the lead role in a big-screen adaptation of Oscar Wilde play A Woman Of No Importance. Mean Girls star Lohan was first linked to the part in 2006, but she appears to have lost out to Seyfried, who will step back in time for the upper-class dark comedy, set in Britain's Victorian era.

She will star opposite Sean Bean, who will portray womaniser Lord Illingworth, and Annette Bening will play his mother, according to Variety.
It certainly isn't a big surprise – with questions swirling about Lindsay's sobriety, and rumors about her on-set antics at "Ugly Betty," casting her in a major role would be a huge risk that not many studios would be willing to take until she proves herself to be reliable. And Seyfried is a hot commodity right now, winning critical reviews for her role as the daughter of a Mormon polygamist family on the HBO drama "Big Love," and gaining even more visibility as Meryl Streep's daughter in "Mamma Mia." As a veteran of the business, Lindsay should know all too well that there is always another pretty, talented young actress waiting in the wings if you should stumble.
Amanda Seyfried is shown looking smashing at the Golden Globe Awards. Photo credits: Bauergriffin.