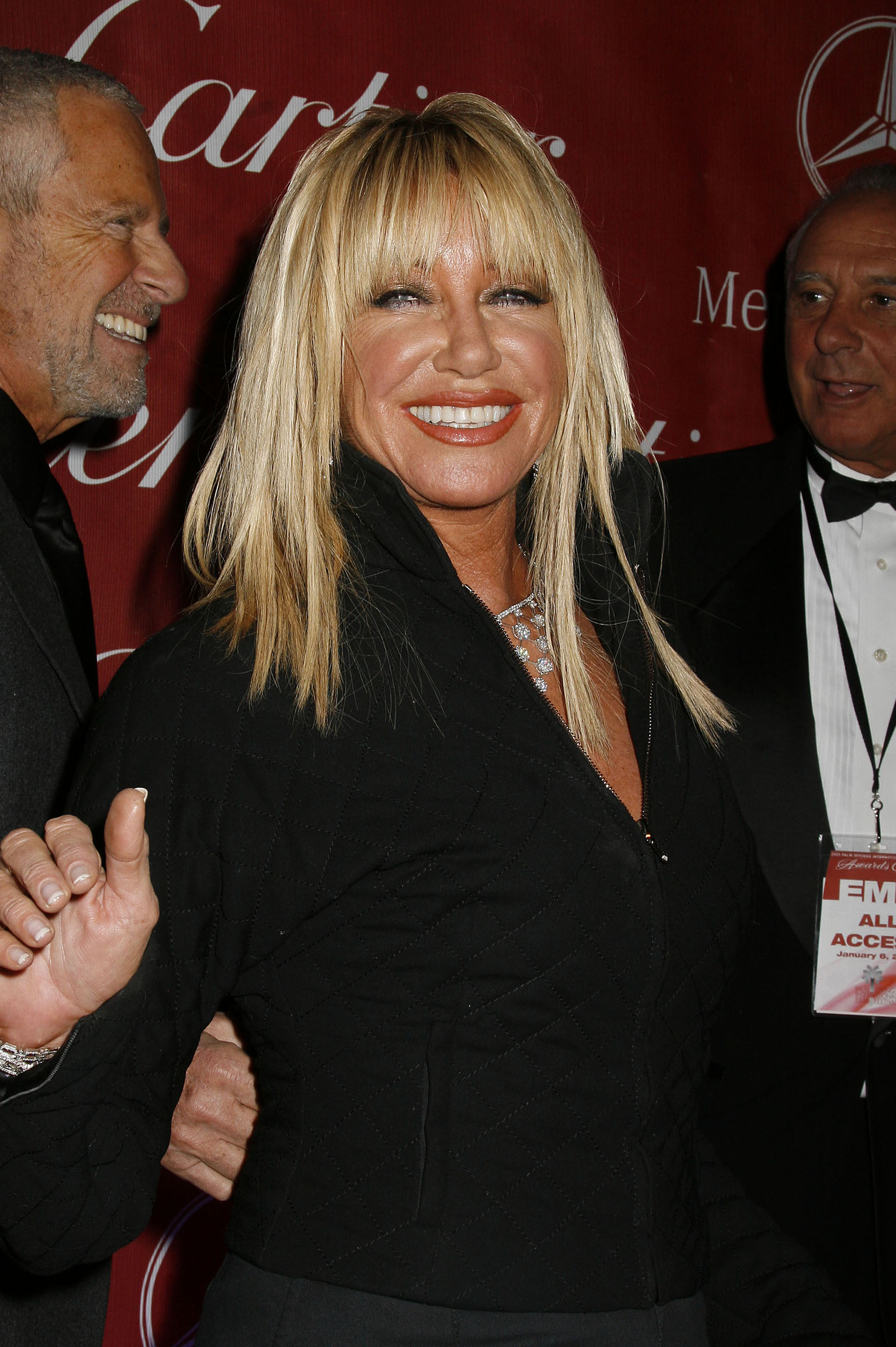 Suzanne Somers is obsessed with youth. She was on "Oprah" yesterday, where she admitted that she takes 60 pills a day, along with estrogen and progesterone creams. Oh, and estriol, which she injects vaginally. That's quite the hardcore routine. Somers admits she comes across as a nut and is obsessive about her routine. Which is a bit of an understatement.
Suzanne Somers has always been preoccupied with staying fit and looking young. But has the former Three's Company star gone too far? On an appearance Thursday on "Oprah," Somers, 62, invited cameras into her home to watch her daily routine of hormone injections and supplement popping.

She begins with rubbing a syringe of estrogen on one arm, every day. For two weeks out of the month, she rubs progesterone on the other. After that, she injects estriol vaginally, which she graciously spared the audience from watching. But it doesn't end there.

She can't start her day without taking 40 pills, 15 of which she downs in a thick, yellow smoothie her husband makes for her (she says it's the secret to their marriage!). Then she ends her day with an additional 20 pills at night before bed.

While she admits the routine makes her seem "like some kind of fanatic," she says it has helped her beat the "Seven Dwarfs of Menopause: Itchy, B**chy, Sleepy, Sweaty, Bloated, Forgetful and All Dried Up."

"I wanna be there," she said, pointing to her head. "Until I'm 110. And I'm going to do what I have to do to get there."
[From Fox News]
The Huffington Post has a video of Suzanne's routine. I will admit she looks good for 62, but what would really make her look better is a hairstyle that wasn't all the rage in 1995. And that wouldn't require any pills! I have a theory that all women keep whatever hairstyle they have at forty for the rest of their lives. Suzanne was clearly trendier than the average woman so she's stuck with the hairstyle she had at about fifty.
This is one of those great opportunities to lecture about moderation – which she does do in the brief Oprah clip. Somers basically says that she knows she's really extreme about her routine, but it's just something she's fanatical about and she's not saying other people ought to take it that far.
A lot of it really depends on what she takes. Some people don't like taking a multivitamin/multimineral and prefer to take things separately. If that's the case, it's not quite so crazy. She does look good for her age, but I bet it takes a lot of work to keep up with that kind of regimen. However many women have managed to age gracefully without 60 pills a day. I'm sure there's a sane middle ground somewhere.
Here's Suzanne with husband Alan Hamel at the 2009 Palm Springs International Film Festival Awards on January 6th. Images thanks to WENN.