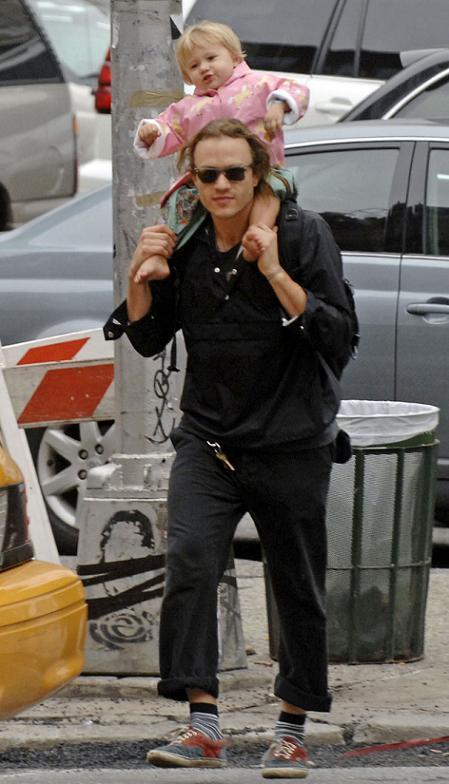 A year after Heath Ledger's death, one of the last pieces just fell into place. In September, MSat reported that the insurance company covering Heath's policy was refusing to pay the claim because his death could have been a suicide – even though all medical evidence proved that it was accidental. Lawyers representing Heath took action against the insurance company, and his now $10 million claim will be paid out.
A lawsuit involving Heath Ledger's $10 million life insurance policy has reached a confidential settlement, documents filed Wednesday in a Los Angeles court show.

The suit had been filed by a lawyer, John S. LaViolette, working on behalf of the actor's daughter Matilda, 3. The suit claimed that ReliaStar Life Insurance Company had refused to honor the policy because it asserted that Ledger's death could have been a suicide.

"The parties are pleased they were able to reach an amicable settlement," said attorney William Shernoff, who represents Matilda and LaViolette.

The New York Medical Examiner found that Ledger, 28, died of an accidental drug overdose in January 2008.

The papers also show that LaViolette is seeking to be appointed as guardian of Matilda, who is the beneficiary of the insurance policy.
[from People]
There has been an excessive number of controversies and legal disputes over Heath's death. Immediately after his passing, there were concerns within Heath's own family over his father's ability to execute the will, then he was exploited by a woman who said that they had a child together (which proved untrue). There were even questions – because Heath's will was outdated – whether his daughter Matilda would get anything. It's good to see that this is finally all being put to rest.