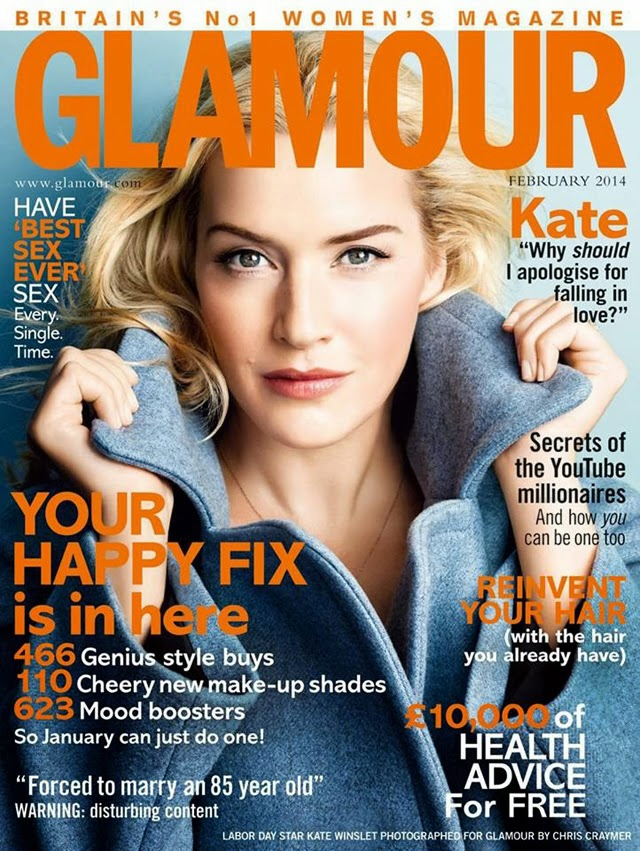 Kate Winslet covers the new issue of Glamour UK, the February issue. I assume she's promoting Labor Day, which… I don't know, you guys. I think it looks like a funky Hallmark movie and the idea of Josh Brolin and Kate Winslet together romantically just doesn't do anything for me. Anyway, I think the interview was done shortly before Kate gave birth, and definitely before she named her newborn son BEAR WINSLET. But even before the birth happened, Kate had a lot to say about baby names and the name of her lover/husband, Ned RockNRoll. Honestly, I thought these quotes were hilarious (not intentionally hilarious, but funny all the same):
On the possibility of giving Bear Winslet the name "RockNRoll": "We haven't ever really had that conversation; it was always going to have my name. Mia and Joe have it as part of their name, so it would be weird if this baby didn't. Of course we're not going to call it RocknRoll. People might judge all they like, but I'm a f–king grown-up."

Whether she cares about losing the baby weight: "Having just had a baby, I'm not going to be thinking about my arse."

She still wonders if she's a good actress: "Acting is bloody scary. I still have moments when I think 'I can't do this – everybody thinks I'm absolutely sh*t."

On her privacy: "When Ned and I got married – the lengths we went to: 'Don't tell me over the phone!' The sad thing is, anyone who was in the public eye, you just expected your phone to be hacked. Still now, I'm having a private conversation, I'll say, 'Don't tell me over the phone.' The assumption is that if you're successful you probably think you're something special, so we probably ought to take you down a peg or two. But I don't think I'm special at all. The reality is I absolutely love my little life – which is, away from all the other, a little life. I trundle along; we have friends over; I make dinner. It's weird because the two worlds are so different: from fishfingers for tea to film sets. But that's the case for any actress who's a mother. Sure, I could have lots of people who do the cooking, the driving, all that jazz- but I would be unhappy. I wouldn't want my children raised that way."

On her refusal to read about herself: "I don't actually read anything in the press, because if I did, I would be a crazy person. But no one knows about my life. No one knows what's really happened in my life. Believe me, at the end of the day, all that matters is that I'm not any kind of f–ked-up. No one has a right to comment on anyone's life or the choices I do or don't make. It's very easy to be judgmental until you know someone's truth. People have no idea at all. The lovely thing for me is that I don't have to say what's happened in my life that has taken me down this path. I just can't even begin to tell you how lucky I am that I suddenly feel I've got something wonderful."

On the media's harsh remarks about her children: "It's quite sad that we live in a nation where the press choose to be unkind about the fact that I [had] a baby. It baffles me, truly, that you can publicity treat a person like that. It's not very nice. I'm really sorry to be the nation's press that I fell in love and got pregnant; I do apologize if you deem that irresponsible."
[From The Mail & The Gossip Center]
I could parse every single one of these quotes all day long. I love them. But let's just break down the first part, about the RockNRoll name. First: "We haven't ever really had that conversation; it was always going to have my name." So, she got married for the third time and pregnant for the third time and it's all about this crazy, amazing, life-changing love, but they've never sat down and had a conversation about the baby's surname? That's weird. Secondly: "Of course we're not going to call it RocknRoll." LMAO!!! Gurl, WE TOLD YOU. We told you that you looked like an idiot for falling in love with a dude who changed his name to "Ned RockNRoll." You didn't listen. Don't get all huffy, baby doll! Thirdly: "People might judge all they like, but I'm a f–king grown-up." Prove it. Prove it by not naming your son BEAR WINSLET.
Also, Winslet had some recent thoughts about Miley Cyrus too:
"You hear horror stories where you think, 'God, who's looking after these people and why does it seem like they're losing their way?' I mean, you think about someone like Miley Cyrus, and I said to my daughter the other day, 'I'm this close to opening my mouth about what's going on with that girl.' Who is actually saying [to Miley], 'Stop for a second, what do you want, who are you?'"
I've heard a lot of people say this kind of stuff about Miley recently. I think because it was the close of the year and Miley was all over the place in the last half, so it became "the Year of Miley" or "The Year of the Twerk" or whatever. I heard someone – and I will not identify who, but they said it to my face – say that Miley needs to be hosed off and locked up for a year until she figures out how to be in the public eye without being so vapid and stupid.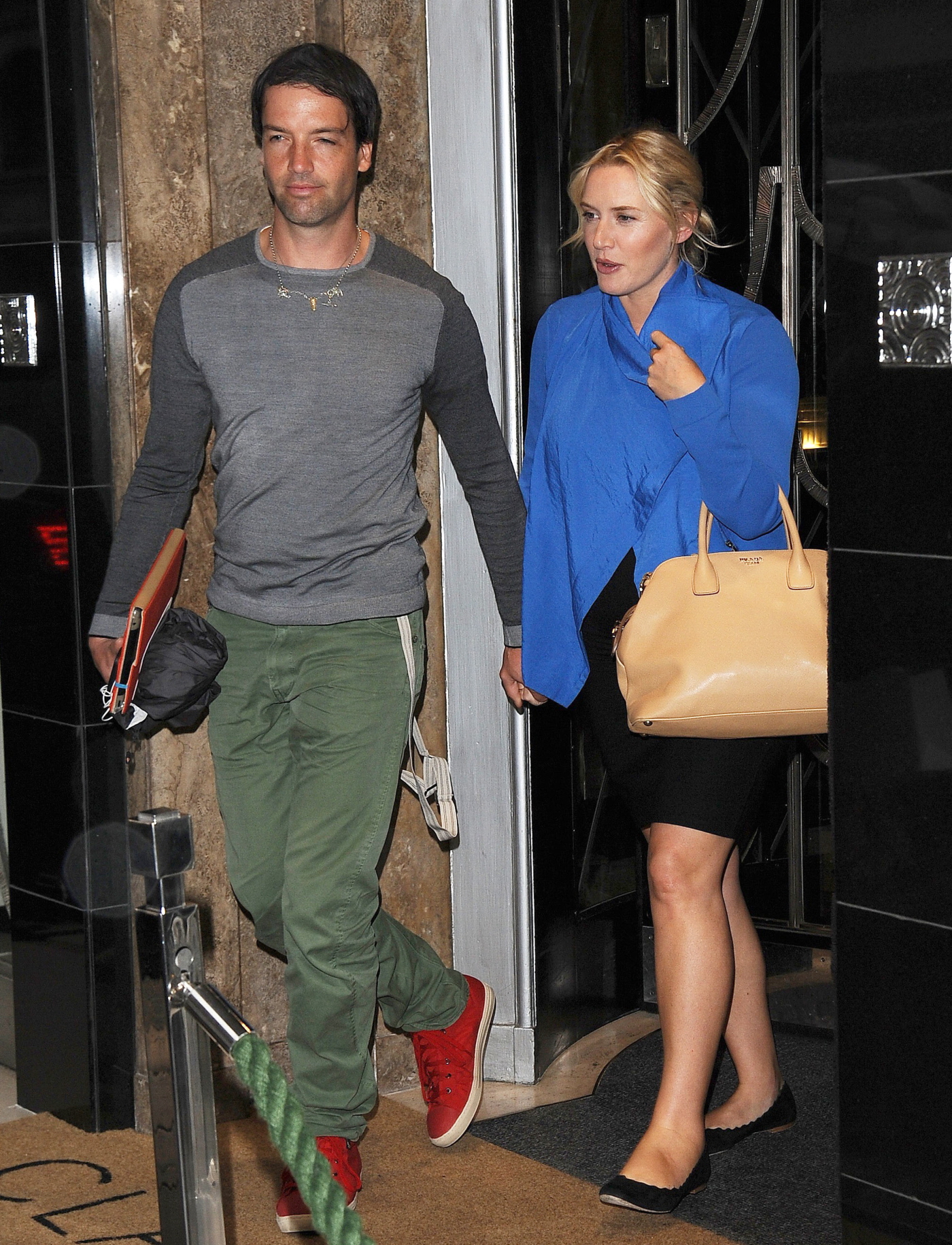 Photos courtesy of Glamour UK, Fame/Flynet.