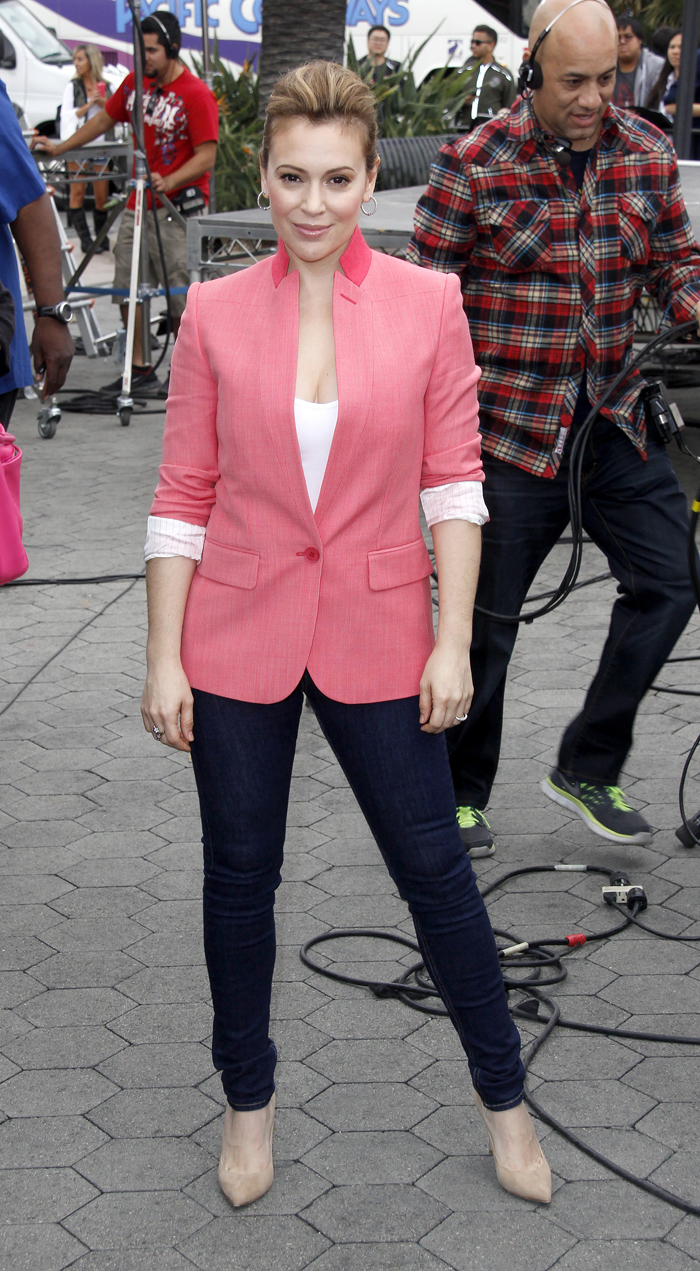 Here are photos of Alyssa Milano looking like a boss at the taping of Extra. Last week, we discussed Alyssa's righteous call out of Jay Mohr, who made rude remarks about Alyssa's figure after they both appeared at a Nascar event. Alyssa always looks spectacular, but Jay decided to be a major a-hole by podcasting, "It seems like she had a baby and said, 'I don't really give a s—' … I read it on her gut."
Alyssa kept it classy. She responded with a "So sorry you felt the need to need to publicly fat-shame me" and ended with a "send my love to your beautiful wife." Some of you thought Alyssa may have been throwing shade at Jay's wife, model Nikki Cox, who has had some obvious work done. I didn't see Alyssa doing that at all. I think she's a genuinely nice person and would never imply anything about another woman's looks. Plus Alyssa is gracious without effort.
Well Jay felt the fury of the internet upon him. He took to his blog to explain the incident away as a failed joke. He said he was improvising content for his podcast and thought people would find "the incongruousness of my statements" to be funny. Jay continued, "I know full well how much words can hurt people, having seen my wife get destroyed by the tabloids, and I am embarrassed that I didn't think before I spoke. Alyssa is an extraordinarily beautiful person–both inside and out. Sometimes comedians go too far." Yes Jay went too far with this dumb little "joke." For the record, Alyssa did accept the apology:
.@jaymohr37 Thank you. Apology accepted. (She grunts while aggressively yet cautiously prying off her head-to-toe Spanx). #PassTheCookies

— Alyssa Milano (@Alyssa_Milano) January 3, 2014
Apology or not, one can be certain that this exchange will weigh heavily on Alyssa's mind for the rest of her life. Many of us can remember specific incidents of being teased about weight. It's something that sticks with you. Those words crawl into the deepest crevices of our minds and never leave. Alyssa has spoken to Extra about how terrible Jay made her feel:
Actress Alyssa Milano stopped by Extra at Universal Studios Hollywood today and responded to the recent remarks that Jay Mohr made about her weight to Mario Lopez.

Milano explained, "Well, he made a comment that was not so nice about my weight and I called him out on Twitter about it… I just think he was trying to make a joke and not think about it, but I heard it actually on Christmas Day and it hurt me, I was affected by it and I wanted to remind him that I'm a human being and that this hurts."

Mohr said things like, "It seems like she had a baby and said, 'I don't really give a sh-t" … I read it on her gut," along with "Melissa what's-her-name was very nice but didn't look so great. Somebody sat in the director's chair and was not wearing Spanx and I was like, 'Jesus Christ.'" Jay has since apologized for "fat shaming" Milano on his blog, explaining his jokes fell flat.

Alyssa, who responded to Mohr on Twitter, writing, "@jaymohr37 So sorry you felt the need to publicly fat-shame me. Be well and God Bless. Please send my love to your beautiful wife," told Mario, "I think it's an interesting statement about where we are socially that people feel that they can sort of rip a woman's body apart after having a baby. I think we've plastered these celebrities on tabloids about how much weight they gained during their pregnancy and how quickly they lose it afterwards and so it's sort of, unfortunately, everyone's fair game and I don't think it's fair."

The TV star continued, "I gained 55 pounds when I was pregnant, I still have 10 more to lose. [My son] is 2 in four months."
[From Extra TV]
Good for her. Jay apologized and seemed sincere, but that doesn't mean Alyssa needs to drop the entire subject. He deserves to feel just as shamed as he made Alyssa feel. She's also using the incident to spread awareness. I find it really bittersweet that Alyssa mentions how she still has "10 more to lose." See, Jay's words still bother her, and they probably always will.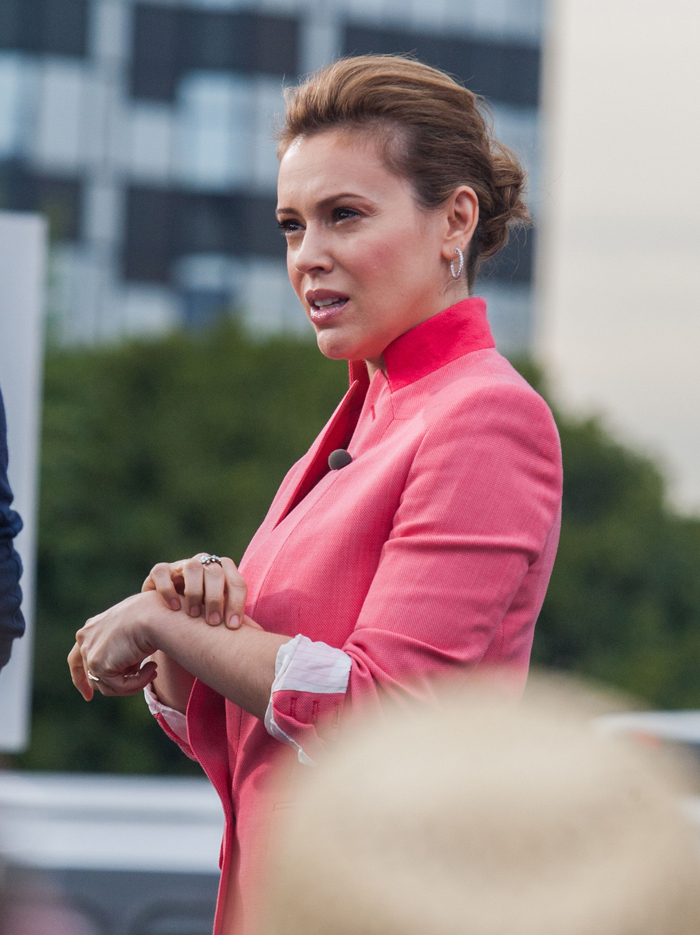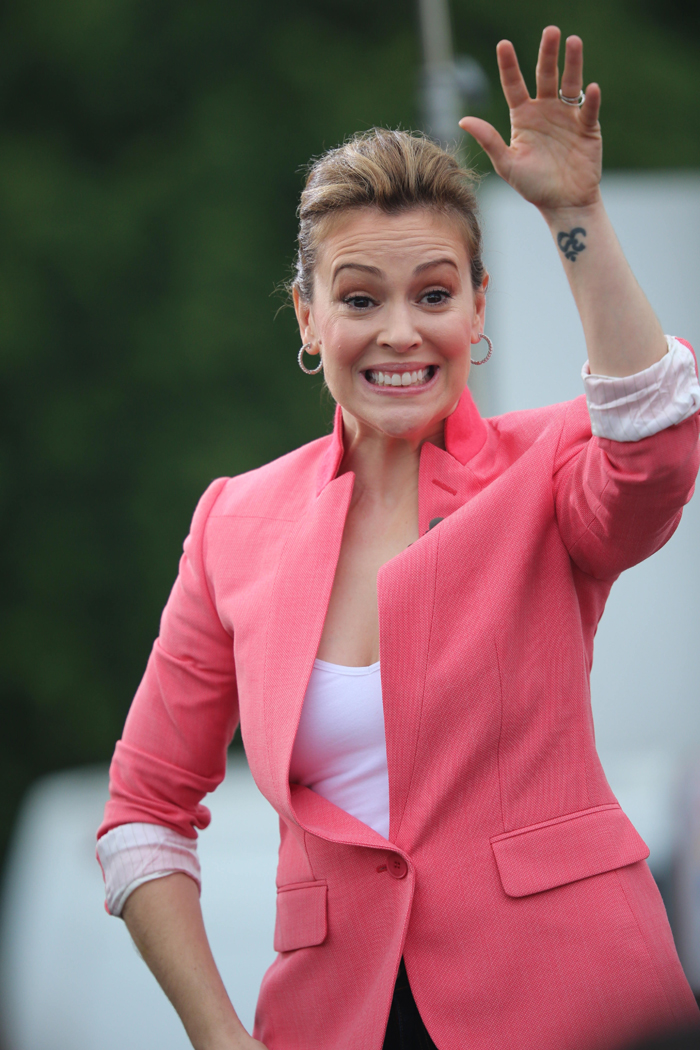 Photos courtesy of Fame/Flynet & WENN