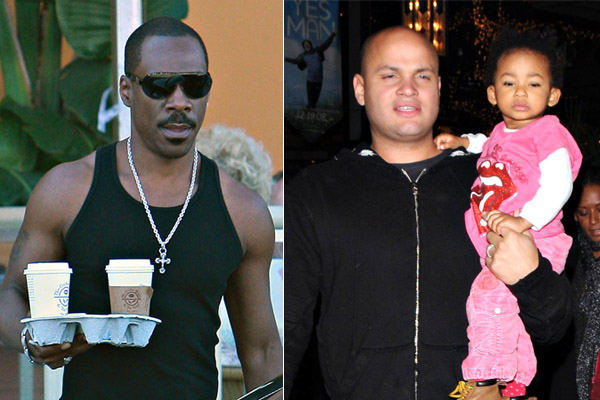 Eddie Murphy and Melanie B's daughter, Angel Iris, turns two in April. Eddie Murphy briefly dated Mel B in 2006. When she revealed that she was pregnant he refused to take responsibility for the baby until a DNA test proved he was father. While Eddie has paid court-ordered child support, he has yet to meet Iris:
"To see the kid, he'd have to see the mother," a friend of the Norbit actor, 47 (who has five other children by his ex-wife Nicole Mitchell, and two from a previous relationship), tells OK!. "Maybe when she's older, Eddie will see Angel, but not now."

Mel, 33 (real name Melanie Brown), says, "I want Angel to know she has two parents who love her so much," but the insider scoffs, "Mel's a crazy woman. Eddie wants to stay far away from her."
When Angel turned one Eddie said he wouldn't see her because he was tricked in the pregnancy, and he didn't want to see Mel B. The situation has since changed for both of them. Mel B has married her long time friend and music producer Stephan Belafonte, and Eddie Murphy was also briefly married to Tracy Edmonds, before refusing to legalize their Bahamas commitment ceremony, which lead to their split.
What I don't understand is that Eddie already has 8 children, five with his former wife Nicole Mitchell and one each with Tamara Hood and Paulette McNeely. Presumably he likes children, and enjoys being a father, so why doesn't he want a relationship with his daughter? Eddie and Mel do not need to see each other, he could have established a relationship with the child and avoided her mother for the most part. Why give up the joys of parenting, and cheat your children out of a sister, over a petty spat?
The good news is that Eddie and Mel seem to understand that their daughter won't wait for them to grow up and behave like adults, and they are said to be coming to a 'secret' arrangement regarding visitation rights.
Eddie Murphy is shown out getting coffee in Studio City, CA on 11/7/08. Melanie Brown is shown out with her husband Stephen Belafonte, and her two daughters, Phoenix Chi, almost 9, and Angel Iris Murphy Brown, nearly 2, in LA on 12/23/08. Credit: Fame