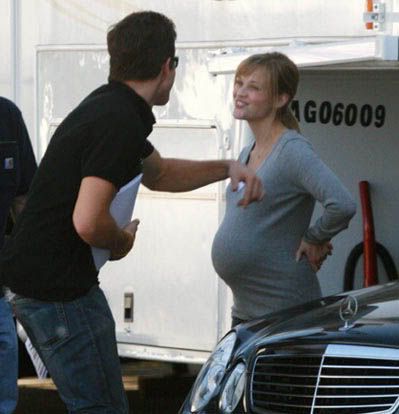 Reese is shown flirting with Jake while wearing a prosthetic pregnany on the Rendition set
Perez Hilton is reporting that he has some insider information claiming Reese Witherspoon and Jake Gyllenhaal really are a couple. I've been burned in the past reporting on his exclusives, so I don't know why he's fooling me at this point. I don't really believe it, but I may as well cover it.
There was a story at the beginning of the month that Reese stopped by a NYC apartment to see Jake on March 1, and that he was seen at her hotel the next night. I said at the time that it sounded like they were just friends, so we'll see.

And there's a new rumor that Josh Hartnett and Penelope Cruz are a couple. Cruz was recently linked with Orlando Bloom, but he has moved on to another chick that looks remarkably like her. Hartnett was trying to get with drunken Brit Sienna Miller, but she was turned off by his romantic ways when he tried to woo her with flowers and paparazzi-monitored dinners.
Now Hartnett and Cruz were seen trying to have a romantic private dinner with their hands all over each other:
Spanish actress Penelope Cruz is going out of her way to keep her new romance with Josh Hartnett out of prying eyes after enjoying public affairs with Tom Cruise and Matthew McConaughey. The star and her actor beau fled from trendy Los Angeles restaurant El Coyote on March 21 after learning all private rooms were taken.

Cruz and Hartnett then showed up at another top restaurant, The Little Door, where they asked for the restaurant's secluded Blue Room, according to In Touch magazine.

A waiter tells the publication the couple left through separate doors, but "before they went, they kissed goodbye," adding "they were touchy-feely all night, holding hands and kissing… They were cute."
Only time will tell with these new couples, but I can't help but think each of these relationships, if it's even real, will be short-lived.
Here's Penelope Cruz biting into an Oscar at the Sanremo music festival at the beginning of this month: